Cranberry Jalapeno Granita is a non-alcoholic recipe that is a fun and delicious addition to any holiday party or meal.  Adults and children alike will enjoy this special treat at Thanksgiving and Christmas holidays.  Granitas are as cool and delicious as ice cream, but much lighter, more refreshing, and a lot easier to make.  They are a great palate cleanser between courses or a wonderfully light option to heavier holiday desserts.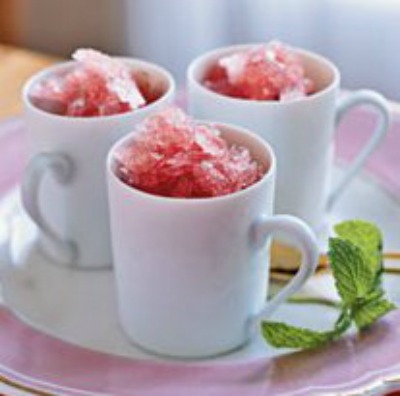 More great Cranberry Recipes and also Ice Cream, Sorbet, Granita, and Gelato Recipes recipes.
Please check out my Prime Rib Dinner Menu which includes this refreshing Cranberry-Jalapeno Granita.
Cranberry Jalapeno Granita Recipe:
Keyword:
Cranberry Jalapeno Granita Recipe
Ingredients
2

cups

cranberry juice

cocktail

1/3

cup granulated

sugar

4

(5-inch)

mint

sprigs

1

jalapeno

chile pepper, seeded and sliced*

2

tablespoons

lime juice,

fresh-squeezed

Mint

leaves (for garnish)
Instructions
In a small saucepan, add cranberry juice, sugar, mint sprigs, and jalapeno chile pepper; bring just to a boil. Remove from heat and cover pan; let stand 15 minutes.

After 15 minutes, strain the cranberry mixture through a fine mesh sieve into an 11- x 7-inch baking dish; discard solids. Cool to room temperature; stir in lime juice.

Cover tightly with plastic wrap and freeze approximately 45 minutes or until icy at edge of pan.

After 45 minutes, whisk to distribute frozen portions evenly. Cover and freeze again until icy at edge of pan and overall texture is slushy (be sure to scrape the ice crystals off the sides and into the middle of the pan) about 45 minutes.

After 45 minutes, again whisk to distribute frozen portions evenly. Cover and return to freezer and freeze about 3 hours or overnight until frozen solid.

When ready to serve the granita, remove from freezer. Using a fork, scrape granita down length of pan, forming icy flakes. Return to freezer for at least 1 hour. Can be made 1 day ahead. When served, the granita should look like a fluffy pile of dry red crystals.

To serve, scoop flaked granita into tall goblets or parfait glasses. If the granita is too solid you can allow it to sit in the refrigerator for half an hour until you can scrape it with a fork.

Garnish with mint leaves, and serve immediately with iced tea spoons.
Source:  Recipe and photo are from Cooking Light Magazine, November 2007.
Comments and Reviews