Zabaglione [zah-bahl-YOH-nay] is a famous Italian custard dessert.  The French refer to this as Sabayon and it is used as a dessert or a sauce.  Once zabaglione is made, it can be served and eaten at once, warm.  It can also be cooled and served chilled over fruit, such as this Mango Zabaglione recipe.  This is a light, refreshing, and perfect warm weather dessert.   Enjoy this cool refreshing dessert on a warm evening.  Makes for an elegant dinner party dessert that is easy to make.
This is an unusual recipe because it uses whole eggs instead of just egg yolks, plus the Zabaglione is made using a food processor.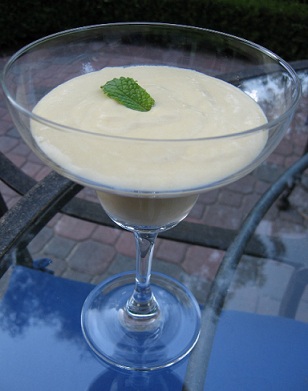 Mango Zabaglione Recipe:
Keyword:
Mango Zabaglione Recipe
Ingredients
1

cup

heavy whipping cream

1

large

mango,

ripened, peeled, and coarsely diced

1

teaspoon

lime juice,

fresh-squeezed

2

large

eggs

1/2

cup granulated

sugar

1/4

cup

fruity white wine

(Sauvignon Blanc, Riesling, Pinot Gris, etc.)

1

tablespoon

white rum
Instructions
In your food processor using the metal blade, beat the cream approximately 35 to 40 seconds or until thickened. Remove the whipped cream from the food processor bowl into another bowl and place in the refrigerator.

Place the diced mango into the processor bowl and puree approximately 1 to 2 minutes or until it is completely smooth. Scrape the sides of the bowl. Add the lime juice and process again for at least another minute.

Add the eggs and process for approximately 45 seconds. Scrape down the sides of the bowl; set aside.

In a small saucepan over medium heat, stir together the sugar and the wine. Bring to a boil, stirring to dissolve the sugar and making a syrup; remove from heat. With the processor running, slowly and carefully pour the hot syrup through the feed tube. Process for approximately 30 to 45 seconds. Add the white rum and process an additional 20 seconds more; set aside.

Remove the chilled whipped cream from the refrigerator. Gently spoon it over the pureed mango mixture. Pulse the processor until the cream just disappears and is blended in with the mango. Remove the zabaglione from the processor and transfer to a large bowl. Cover with plastic wrap and refrigerate for at least 8 hours or overnight. NOTE: The zabaglione will not hold for more than 2 days.

When ready to serve, gently spoon the Mango Zabaglione into wine goblets. Garnish with fresh berries of your choice or fresh mint leaves.
Sources:  Mango Zabaglione recipe and photo are courtesy of Diane Rodriguez of Pleasanton, CA.
Comments and Reviews