Mango Custard really highlights the delicious flavor of fresh mangos.  When fresh mangos are in season, be sure and enjoy this wonderful mango custard recipe.  This custard is so smooth, refreshing, and fruity tasting.  It is a simple, easy to make, and delicious dessert.  Made with ripe mangoes and custard powder, it is light, creamy and perfect for any meal.  Using a custard powder or an instant pudding mix makes this mango custard recipe so easy to make.  Give it a try and delight your family!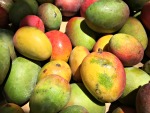 The mango is know as "The king of the fruits" because they are so popular in many parts of the world.  Once you enjoy your first mango, you will definitely be a fan and desire more.  Mangoes are one of the most popular fruits in the world.  Loved for its taste, mango also has immense health benefitsIt is said that they fight cancer, alkalize the body, aid in weight loss, regulate diabetes, help digestion, clean your skin, and make the perfect snack.
This recipe and photo are courtesy of Diane Rodriguez of Pleasanton, CA.
Mango Custard Recipe:
Keyword:
Mango Custard Recipe
Ingredients
2

tablespoons

Bird's Custard Powder*

1/2

cup

milk

(can be whole milk or 2% low-fat, but not skim)**

1

large ripe

mango,

peeled and cut into chunks (about 1 1/2 cups)

3/4

cup

milk

(can be whole milk or 2% low-fat, but not skim)

1/2

cup granulated

sugar

1

teaspoon

lime juice,

fresh-squeezed

Mint

leaves (optional garnish)
Instructions
In a small bowl, mix the 2 tablespoons Bird's Custard Powder into the 1/2 cup of milk, stirring well until custard is completely dissolved; set aside.


Place the mango chunks into a blender with 3/4 cup of milk. Puree for approximately 2 minutes.


Pour the mango puree into a 1 1/2 quart saucepan and place on the stove on low heat. When the puree becomes warm, add the sugar and stir in well.

Stir in the lime juice and then stir in the prepared Bird's Custard Powder mixture. Bring the mixture just to a near boil, stirring constantly, to completely dissolve the sugar. Stirring continually, bring the mixture back to a boil until it thickens. Allow to boil for approximately 30 to 60 seconds, still stirring constantly, and then remove the pan from the stove.

Allow to cool for about 10 minutes, stirring every couple of minutes.

Pour into custard dishes or small bowls. I use four (4) ice-cream sundae dishes. Place the custard in the refrigerator for 4 to 5 hours to firm up.

Serve garnished with a mint leaf (if desired).

Makes four 3/4 cup servings.
Recipe Notes
* Bird's Custard Powder may be purchased online or at specialty food stores.  If you want, you can, substitute an equal amount of instant vanilla pudding mix or cornstarch.
** I used Lactaid Lowfat 2% milk to make these, but regular milk is fine.
Comments and Reviews