This is this souped-up Pecan Praline Pie version that the Southern people make for Thanksgiving dinner.  This is a delicious alternate to the classic pecan pie. Give it a try and you will see how good it is.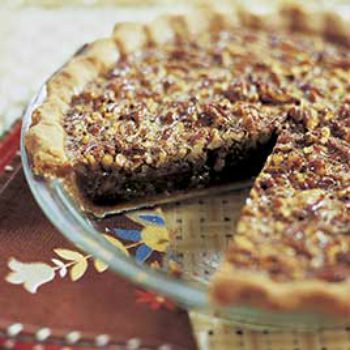 Pecan Praline Pie Recipe:
Keyword:
Pecan Praline Pie Recipe
Servings
:
8
to 10 servings
Ingredients
Pecan Pranline Pie Filling:
8

tablespoons (1 stick or sube)

unsalted butter,

cut into 1-inch pieces

1/4

firmly-packed cup dark

brown sugar

1

teaspoon

salt

3

large

eggs

1/4

cup

dark corn syrup

1

tablespoon

pure vanilla extract

2 to 4

tablespoons

bourbon

or liquor of your choice

2

cups whole

pecans,

toasted, cooled, and broken into small pieces*
Pie Crust:
1 1/4

cup all-purpose

flour,

plus extra for dusting work surface

2

firmly-packed tablespoons dark

brown sugar

1/3

teaspoon

salt

8

tablespoons (1 stick or cube)

unsalted butter,

cut into 1/4-inch pieces and chilled

3 to 4

tablespoons

ice water
Instructions
Pecan Praline Pie Instructions:
Prepare and bake Pie Crust and set aside.

Lower oven temperature to 275 degrees F. If the pre-baked pie shell is not still warm, place it in the oven while you prepare the filling.

In a medium saucepan over medium heat, cook butter, brown sugar, and salt together until sugar is melted and butter is absorbed, approximately 2 minutes. Remove the butter mixture from the heat source and whisk in the eggs, 1 at a time, until combined. Whisk in the corn syrup, vanilla extract, and bourbon. Return the pan to medium heat and stir constantly until the mixture is glossy and warm to the touch, approximately 4 minutes. NOTE: Do not overheat; remove pan from heat if mixture starts to steam or bubble. Temperature should be about 130 degrees F. Remove pan from heat and stir in toasted pecans.

Pour the cooked pie filling mixture into the warm pie shell. Bake approximately 45 to 60 minutes or until the internal temperature registers approximately 200 degrees F. on your cooking thermometer. Remember that the pie continues to cook after it is removed from the oven. Do not over bake! The center of the pie should be set but still wobbly; residual heat will finish the job.

Remove from oven and let pie cool completely on a wire rack at least 4 hours. NOTE: Pie can be refrigerated for up to 1 day.

Serve pie at room temperature, accompanied by whipped cream or vanilla ice cream.
Pie Crust Instructions:
In the bowl of your food process, pulse flour, brown sugar, and salt until blended. Add the chilled butter pieces and pulse until flour is pale yellow and resembles coarse cornmeal, approximately 10 to 15 (1-second pulses). Place crust mixture into a medium-size bowl.

Using a rubber spatula, fold 3 tablespoons ice water into the flour mixture, then press against side of bowl (if mixture doesn't hold together, add up to 1 more tablespoon ice water). Squeeze dough together and flatten into a disk shape. Dust with flour, wrap in plastic wrap, and refrigerate at least 30 minutes or up to 2 days before rolling.

When ready to bake, remove dough from refrigerator and let stand until dough is malleable enough to roll out, but still cool, approximately 10 to 20 minutes.

Roll dough on a lightly floured surface into a 12-inch circle. Roll dough over the rolling pin and then unroll it evenly into a 9-inch Pyrex pie plate. Fit dough into the pie plate and flute edges. Refrigerate dough for 40 minutes, then freeze for 20 minutes.

While dough is chilling, adjust oven rack to middle position and heat oven to 375 degrees F.

When ready to bake the pie crust, line the pie shell with two (2) 12-inch pieces of aluminum foil, fitting foil so that it hangs over edges of crust. Distribute 2 cups pie weights (or beans) over the foil. Bake pie crust until the dough under the aluminum dries out, approximately 20 to 25 minutes. Carefully remove the aluminum foil and weights, and then continue to bake the crust until it is firmly set and lightly browned, approximately 10 to 15 minutes. Remove pie crust from oven and set aside.
Recipe Notes
* To toast the pecans, spread them on a baking sheet and bake them until fragrant, approximately 5 to 7 minutes (watch as they can burn easily).  When the pecans have cooled, use a rolling pin to gently break the pecans into 1/2-inch pieces.

I get many readers asking what cooking/meat thermometer that I prefer and use in my cooking and baking. I, personally, use the Thermapen Thermometer. Originally designed for professional use, the Super-Fast Thermapen Thermometer is used by chefs all over the world.  I only endorse a few products, on my web site, that I like and use regularly.
You can learn more or buy yours at: Super-Fast Thermapen Thermometer.
Sponsored Content
Sources:  Photo and recipe from Cook's Illustrated, Holiday Baking, 2007, by Bridget Lancaster.
---
You might also like:
Pecan Pie – Classic Pecan Pie
The only way this pie could be better tasting is to serve it warm and top with a big scoop of vanilla ice cream.  In some parts of the United States, pecan pie is a Thanksgiving tradition.  Once you start eating the pie, it is very hard to stop!
Chocolate Pecan Pie
This chocolate pecan pie is taken above and beyond the usual pecan pie's corn-syrupy incarnation.  A layer of bittersweet chocolate adds richness to the dessert while simultaneously balancing its sweetness.
Fig Pecan Pie
I first tasted this delightful fig pecan pie on a trip in western Australian.  This pie is absolutely wonderful!  The figs are a delightful addition to the traditional pecan pie.
Comments and Reviews