Amish Pie Recipe
The origin of the name Shoofly pie and Wet-Bottom Shoofly Pie Pie has been debated for years and will probably never ultimately be solved.  The most logical explanation is related to the fact that during the early years of our country, all baking was done in big outdoor ovens.  The fact that pools of sweet, sticky molasses sometimes formed on the surface of the pie while it was cooling, invariably attracting flies, show how such a pie could come to be called Shoofly Pie.
Shoofly pie seems to be a variation of the older Treacle Tart. Treacle is the British generic name for any syrup made during the refining of sugar cane; i.e., Treacle, Black Treacle, Molasses, Golden Syrup, and Blackstrap are all treacles.  During the 17th century, treacle was used chiefly as a cheap from of sweetener.  By the late 1700s, refined sugar became affordable to the masses in Britain and overtook treacle as a general sweetener.  Molasses was often substituted for treacle in colonial American recipes.  Many early cookbooks have Molasses Pie recipes.
Enjoy this traditional Pennsylvania Dutch country treat that has been popular since the 1800's.  We can thank the Amish settlers for the creation of this sweet treat.  The Amish usually eat Shoofly pie as a breakfast dish, like coffee cake or donuts.  It is also a must to enjoy with a big dollop of whipped cream on your slice of pie.
Check out more detailed history of Shoofly Pie and also out more great Pie Recipes.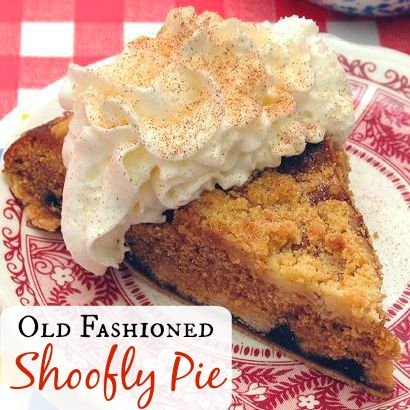 Wet Bottom Shoofly Pie Recipe:
Keyword:
Amish Pie Recipe, Wet Bottom Shoofly Pie Recipe
Ingredients
3

tablespoon solid

vegetable shortening

or butter, room temperature

1 1/2

cups all-purpose

flour

2/3

firmly-packed cup

brown sugar

1/4

teaspoon

salt

1

teaspoon

baking soda

1

cup

hot water

1

cup

King Syrup

or dark molasses*

1

egg
Instructions
Preheat oven to 400 degrees F.

Prepare pie pastry. Using a floured rolling pin, roll pastry 2 inches larger than an inverted pie plate. Fold pastry into quarter folds and ease into pie plate, pressing firmly against bottom and side; set aside.

In a large bowl, using a pastry blender or two knives, cut shortening or butter into flour, brown sugar, and salt until mixture is crumble and particles are the size of small peas; set aside.

In a large bowl, add baking soda and hot water; stir until baking soda is dissolved. Add molasses (or molasses and corn syrup combination) and egg; beat until well blended. Pour into prepared unbaked pie shell, filling half full (you may not need to use all of the filling - if you overfill the shell, it will overflow during baking). Trim overhanging edge of pastry 1/2 inch from rim of plate.

Gently sprinkle prepared crumb mixture evenly over top of the pie (crumbs will both partly sink and partly float).

Bake 10 minutes and then reduce oven to 350 degrees F. Bake an additional 35 to 40 minutes or until the internal temperature registers at least 160 degrees F. on your cooking thermometer and a knife inserted in center comes out clean

Remove from oven and cool on a wire rack before serving. This pie is best served at room temperature.
Recipe Notes
* Can substitute 1/2 cup dark molasses and 1/2 cup light or dark corn syrup.

I get many readers asking what cooking/meat thermometer that I prefer and use in my cooking and baking. I, personally, use the Thermapen Thermometer. Originally designed for professional use, the Super-Fast Thermapen Thermometer is used by chefs all over the world.  I only endorse a few products, on my web site, that I like and use regularly.
You can learn more or buy yours at: Super-Fast Thermapen Thermometer.
Sponsored Content
Sources:  Photo from the Dutch Kitchen restaurant in Frackville, PA. and the Yoder's Deitsch Haus restaurant in Montezuma, GA.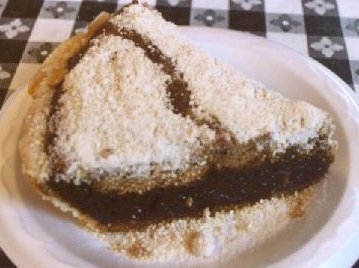 Comments and Reviews