Vegan No-Cook Recipe – Video Tutorial

Vegan chia seed pudding is a no-cook easy-to-make dessert that is very rich and satisfying.  Using coconut cream gives it a very rich and creamy taste.  This delicious pudding takes just minutes to make and has enough protein and nutrients to be a quick meal or dessert option.
There are a variety of flavor options that you can choose to customize this dessert to your taste preference.  My favorite variation is made using the Mint Simple Syrup instead of the agave syrup, and garnished with shaved chocolate.  Delish!
Chia Seeds:  You may know Chia as the sprouts that grow on the porous clay figurines called Chia Pets, however there is much more to it than that!  Chia has both nutritional and medicinal benefits.  The seeds are an excellent source of essential fatty acids and are a great addition to a healthy diet.  Chia Seeds are an edible seed that comes from the desert plant "Salvia hispanica," a member of the mint family that grows abundantly in southern Mexico.  The seeds are either white or black and both types are highly nutritious.  Learn more about the Ancient Chia Seed – How it Can Benefit Your Health.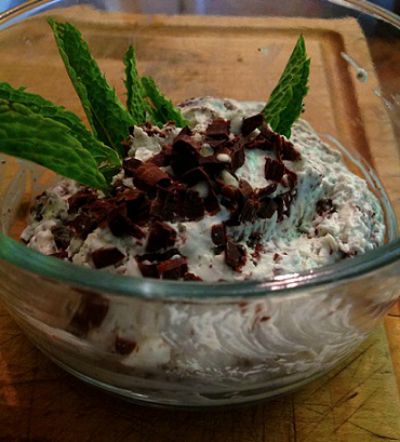 Chai Seed Mousse with shaved chocolate and mint leaf garnish
Vegan Chia Seed Pudding Recipe:
Keyword:
Vegan Chia Seed Pudding Recipe
Ingredients
Flavor Option Idea (add to taste):
Instructions
In medium-size bowl, using a wire whisk, blend together the coconut cream, coconut or almond milk, and agave syrup; blend until smooth.

Add the Chia Seeds and your Flavor Option (your choice if desired); blend thoroughly.

Either leave the prepared Chai Mousse in the bowl you prepared it in or place into small ramekins.

Refrigerate for at least 3 hours, preferably overnight.

To serve, garnish with mint leaves. Serve chilled or at room temperature.
Recipe Notes
* Coconut cream is very similar to coconut milk but contains less water.  The difference is mainly consistency. It has a thicker, more paste-like consistency, while coconut milk is generally a liquid.  Can usually be found in your local grocery stores.
Comments and Reviews