During a recent lunch with St. Suprey CEO Emma Swain, we poured just as dessert arrived from a bottle of her winery's pale yellow 2009 Moscato, a sweet yet elegant wine with aromas and flavors that to me symbolized the special opportunities for pairing during the holidays.  This is a time for elegant wine, both with feasts and in a gift box.  After all, few presents will impress a friend or colleague more and if you add some special gourmet touches to the holiday feasts by incorporating some imaginative wine selections, all the better.
For this special time of year, let's take a stroll down the wine path less traveled, sampling some classic wines that have a prominent place during the holidays.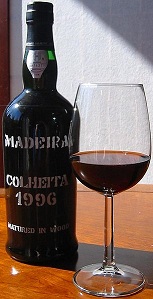 The advantages of serving a dessert wine are myriad.  They add to the majesty of the moment and allow a regal finish for any dinner gathering.  A good, complex Madeira is delicious with enough subdued acidity to qualify it as possibly the ultimate wine with chocolate.  Madeira, inextricably tied to a rocky island off the coast of Morocco, inspires good stories as well.  Call it the wine of choice for our Founding Fathers.  It was John Adams' favorite, George Washington loved it and it isn't far-fetched to assume Thomas Jefferson was enjoying Madeira while composing the Declaration of Independence.  A bottle of Madeira was used to christen the USS Constitution in 1797.
Versatile tawny Port qualifies as an aperitif and a dessert wine particularly suited for serving alongside desserts that contain nuts.  Pecan pie,  pumpkin pie,  and creme brulee make a nice fit and with cheese boards, give this delightful wine some exposure and don't be surprised how popular it soon becomes.
Vintage Port is firmly established in the holiday celebration tradition and it's a safe guess that dinner guests will expect it to be available.  Not only will it make some cheeses like Stilton and aged Cheddar soar, it is also another fortified wine that becomes a memorable accompaniment with artisinal chocolates.  The price range for Port is daunting, but real Port comes only from Portugal and during this time of year, we hold back nothing.  Life, friendships and family are celebrated with excellence.
Sherry should be considered, but there is a labyrinth that merits some advice from a trusted wine merchant.  Whether fino, amontillado or oloroso, Sherry has the versatility to qualify as an aperitif, served with main courses or after-dinner enjoyment.  Keep those exotic cheeses, dried fruit and rare nuts on the table.
Late harvest Riesling almost without exception will be welcomed after dinner and many also are commonly served as aperitifs.  Washington State's Ste.  Michelle Winery's Ethos Late Harvest Riesling and Hogue Cellar's Late Harvest Riesling are prime examples of balance of acidity and sweetness making them quite popular as dessert wines.
The fail-safe planner cannot overlook the power of fizz.  Sparklers lave a place and predictably will be popular Banfi Rosa Regale Brachetto, a red sparkling wine is delicious if you like strawberries.  Saracco Moscato d'Asti is sweet but low alcohol, making it a nice way to close the dining ceremony as guests prepare to leave.
Adding something sweet and distinctive for the glorious holiday celebrations assures that, thanks to you, guests will begin to feel all the joy and goodwill of this spectacular season.
---
Doc Lawrence is a veteran food and wine journalist based in Atlanta and Fort Lauderdale.  Doc Lawrence writes and lectures regularly about subjects in which he is a recognized and acknowledged expert – wine and food, theater, travel and cultural tourism, visual art and music.  His works have earned praise from many editors and publishers.
Check out all of Doc Lawrence's Sips Across America articles.
Comments and Reviews