Wine, Barbecue and Liberty – The All-American Partnership
Jim Sanders' Georgia Brunswick Stew
Thomas Jefferson, author of the Declaration of Independence and one of the most complex and fascinating men this nation has produced, introduced the great wines of Europe to this part of the New World.  It is hard to imagine a celebration at Monticello where the gifted host, Mr. Jefferson, would be serving barbecue with anything but fine wines from his acclaimed Monticello cellar.  For good reason, wine in America, like freedom and democracy, begins with Jefferson.  What we do with Jefferson's gifts is up to us.  He just set the table and from most accounts, did a remarkably fine job of it.
The unofficial barbecue season begins on Memorial Day running full throttle through the fall football season where it is blended into another American tradition, tailgating.  The choice of beverages is fundamental to overall enjoyment and for those stuck in a beer or sweet tea rut (even worse-sodas and sports drinks), there's hope and it's in a pretty bottle with a nice label.
Barbecue is national and even international.  The mid-summer  "I  Love Barbecue Festival" in Lake Placid, New York featured The Best of British Barbecue Team, headquartered in lovely Newcastle, England, hometown of rock star Sting.  I met these lads, Mathew Shropshall, Ben Bartlett, and Viv Harvey, at last year'sJack Daniel's International Barbecue Championship regarded as the Barbecue Olympics.
Thoughts About Pairing Wine:
Pairing wine with barbecue can be tricky.  Smoke has to be addressed.  Oaked wines do not pair well with heavily smoked meat and fowl.  So stay with something somewhat fruity like a Zinfandel, Chianti, or the ubiquitous Beaujolais.  For whites, think about a nice Gewurztraminer or a New World Riesling.  Barbecue is a hot weather ritual and there is no reason that you should not serve a red just slightly cool, near 68 degrees, but still warm enough to have a bouquet yet cool on the palate.
Beaujolais is a  popular cafe wine in France.  The higher end ones are perfect for any style of barbecue.  Light and fruity, Beaujolais loves to be chilled and here are 10 different Beaujolais Crus to pair with any barbecue:
For openers, select Julias, the one named after the world's first great grillers who, according to wine pioneer and French-trained chef Jim Sanders was none other than Julius Caesar.  Sanders, who hosted barbecues like no other I have attended, was responsible for bringing fine French wines to the Deep South and introducing them to a vast number of consumers including a man who would become President, Jimmy Carter.
Childress Vineyards' Fine Swine Wine is like sweet tea with a kick, a rare but popular "cult" wine made to pair with Lexington, North Carolina-style pork barbecue, the city where the winery is located.  They make 500 cases released at the barbecue festival in Lexington and it always sells in hours.  Grilled seafood would be terrific match with their new white wine, a blend of Chardonnay, Viognier and Pinot Gris.
Eoin Connors, a native of Ireland, is a member of the Court of Master Sommeliers who garnered the Best Young Sommelier in the Caribbean/Atlantic Island region from the Chaine de Rotisseurs.  He advises " think pink.   Barbecued fare is smoky, smothered in rich sauces and loaded with spices, so try a wine that is full of lush fruit to stand up to the challenge.  Rose should be served chilled.  They are affordable, versatile and rich in fruit flavors, with no tannins.  Sparkling Rose, especially from Spain made from Grenache and Mourvedre, has brilliant, up-front currant, cherry fruit and finishes with a dry, crisp, heady flavor, which play off spice and tanginess."
While Everything is Barbecuing or Cooking:
The barbecue ceremony requires some wine while the spareribs and Brunswick Stew is cooking. Steve Gibson introduced me a regional wine with French ancestry at his Habersham Winery (in the lovely Blue Ridge Mountains of Georgia), a 2008 Creekstone Viognier. It's crisp and clean flavors have a tad of grapefruit, apricot and melon and a glass is pretty tasty with some lime marinated, bacon-wrapped grilled wild Key West shrimp.
Before the barbecue feast begins, pour everyone a glass of Champagne or sparking wine and toast in gratitude to the distinguished gentleman from Monticello who literally invented America and had the vision to introduce the country to the glory of the grape.Thank you, Thomas Jefferson.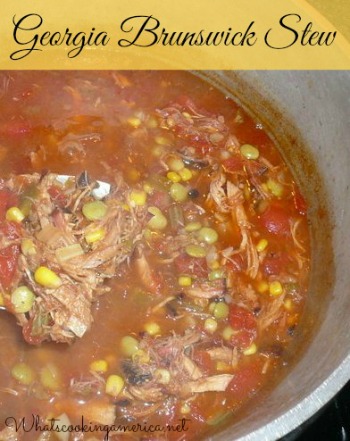 Jim Sanders taught thousands over decades in his wine classes in Atlanta.  Although a product of the Deep South, Jim was more French than anything.  After World War II, where he was wounded five times in the Pacific campaigns, he went to France, bicycled the countryside and found his passion in wine and food.  He learned to cook in Lyon and Paris and met Armand Cottin, president of Labourie-Roi and through this brotherly friendship, developed his own cuvee of 179 Burgundies garnering numerous awards.  
Each day, in the rear of his retail wine shop in Atlanta, Sanders served most anyone who came in wonderful dishes he prepared along with countless bottles of perfectly paired wines.  There was no charge.  On the eve of his death in 1999, Jim Sanders entrusted me with his wine notes, lectures, stories, and recipes.  I found one typed story about an evening long ago when Dr. Martin Luther King, Jr. stopped by and enjoyed a bottle of Burgundy and some good conversation.
Jim Sander's Georgia Brunswick Stew Recipe:
Keyword:
Jim Sander's Georgia Brunswick Stew Recipe
Ingredients
1

(4-pound) baking

chicken,

cut into pieces

Chicken stock

or water

4

pounds

pork,

ground

2

cups

onions,

chopped and divided

2

cloves

garlic,

finely chopped and divided

1

tablespoon

chili powder

1

tablespoon

thyme,

dried

1

tablespoons

cayenne pepper

Coarse salt

and black pepper

36

ounces

tomato juice

4

ounce

tomato catsup

3

cups

corn kernels

(fresh or frozen)

1

teaspoon

Tabasco

sauce or to taste

1

cup

red wine,

preferably Rhone-style
Instructions
In a large pot over medium heat, simmer the chicken pieces in the water or chicken broth until very tender; remove from heat and let cool. Once cool, de-bone and chop the meat finely and set aside.

Meanwhile, in a large heavy pot or Dutch Oven over medium heat, cook the ground pork until 1/2 done.

Add 1 cup chopped onions, garlic, chili powder, thyme, cayenne pepper and a generous sprinkling of kosher salt and black pepper. Continue to cook until the meat is well browned, stirring every few minutes to break up any lumps. Add the finely chopped chicken and stir to combine.

Add the tomato juice, catsup, corn kernels, Tabasco Sauce, and red wine; let simmer for 1 1/2 hours.

Add the remaining 1 cup chopped onions and remaining chopped garlic; let simmer for another 30 minutes. Taste for salt (adjust if needed). Remove off the fat before serving.
Wines:
Beaujolais goes well with Brunswick stew. It does not fight the spices and it has a lot of refreshment value. Otherwise, fairly heavy red wines like Cotes du Rhone complement the spice and flavors nicely as do several Italian reds like Chianti, Bardolino and Montepulciano.
---
Doc Lawrence is a veteran food and wine journalist based in Atlanta and Fort Lauderdale.  Doc Lawrence writes and lectures regularly about subjects in which he is a recognized and acknowledged expert – wine and food, theater, travel and cultural tourism, visual art and music.  His works have earned praise from many editors and publishers.  Check out all of Doc's Sips Across America columns.
Comments and Reviews