Croque Madame Egg Sandwich is good anytime of the day.  Especially for breakfast or brunch.  I know wait look fancy, but it is very easy to make.
This is a French version of the American grilled cheese sandwich with the difference being the egg on top of the sandwich.  The Croque-Madame was invented in Paris sometime around 1910 as a fast food or a quick snack to be eaten in cafes and bistros.  According to some historians, this sandwich is called a Croque Madame because the fried egg on top is reminiscent of a ladies hat.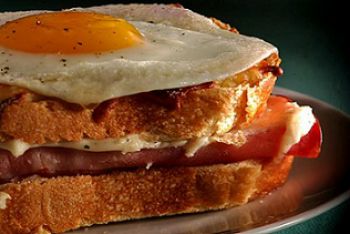 Croque Madame Egg Sandwich Recipe:
Keyword:
Croque Madame Egg Sandwich Recipe
Instructions
Using 1/4 cup of butter, spread butter on one side of each slice of bread.

Make 4 sandwiches with slices of ham and cheese piled onto the center only of the buttered bread and top with the remaining slices of bread, buttered side down. Butter the outside of the bread.

In a large non-stick frying pan or medium heat, fry each sandwich until the cheese has melted and the outside is golden brown. Remove from heat. Use a round, fluted cutter and cut each sandwich into a circle.

While the sandwiches are frying prepare the poached eggs.

Use a pan that is at least 3-inches deep so there is enough water to cover the eggs and they do not stick to the bottom of the pan. To prevent sticking, grease the pan with a little oil before filling with water.

Bring the poaching liquid to a boil and then reduce to a simmer before adding the eggs (bubbles should not break the surface).

Break each egg onto a saucer or into small cups or bowls. Slip eggs carefully into simmering water by lowering the lip of each egg-cup 1/2-inch below the surface of the water. Let the eggs flow out.

Immediately cover with a lid and turn off the heat. Set a timer for exactly three minutes for medium-firm yolks. Adjust the time up or down for runnier or firmer yolks. Cook 3 to 5 minutes, depending on firmness desired.

Remove from water with slotted spoon. Lift each perfectly poached egg from the water with a slotted spoon, but hold it over the skillet briefly to let any water clinging to the egg drain off. Drain well before serving.

In a small saucepan over low heat, melt together the remaining 1/4 cup butter and parsley.

To serve, place one sandwich on each individual serving plate. Top with one poached egg and drizzle with parsley butter. Serve immediately.
Recipe Notes
* Gruye or Emmentaler cheese may be substituted.
Source:  Photo by Bob chamberline, Los Angeles Time newspaper, March 2010.
Comments and Reviews