Egg White Frittata Breakfast Sandwich is inspired by my work associate, Rachel, who creates her own version of an Egg McMuffin, but much healthier and tastier.  I decided to give it a try with egg whites and spruce it up with a variety of savory vegetables cooked frittata style.  This Egg White Frittata Breakfast Sandwich makes the perfect breakfast sandwich.  Adults and children love this breakfast sandwich,  If you use the 100 calorie high-fiber English Muffin, the whole meal is 315 calories, 7 grams, of fiber, and 26.2 grams of protein. What is better than a healthy breakfast that is easy to make and portable?
More great Egg Dish Recipes and Sandwich Recipes.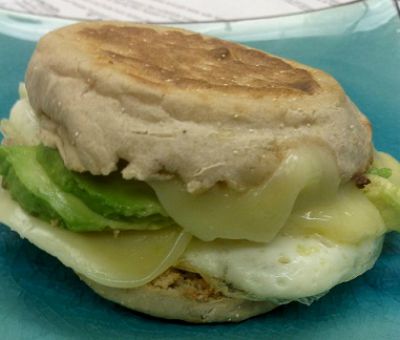 Egg White Frittata Breakfast Sandwich Recipe:
Keyword:
Egg White Frittata Breakfast Sandwich Recipe
Ingredients
1

tablespoon

green onion,

chopped

1/4

cup

mushrooms,

sliced

1/4

cup baby

spinach,

chopped

1

(8-ounce) container

egg whites

1/2

teaspoon

pepper

1/2

teaspoon

salt

1

strip lean

bacon

or turkey bacon, cooked and crumbled

1/2

teaspoon

pepper

1/2

teaspoon

salt
Instructions
Preheat oven to 350 degrees. Spray 8- x 8-inch pan with non-stick cooking spray.

Sprinkle green onions, chopped spinach, and mushrooms onto the bottom of prepared baking pan. Let cook in the oven for 5 minutes.

While the vegetables are cooking, pour the egg whites in a bowl. Add salt, pepper, and crumbled cooked bacon to the egg whites and whisk together.

Remove pan (with the vegetables) from oven. Lightly spray the tops with non-stick cooking spray and then pour egg white mixture over the cooked vegetables. Bake in oven approximately 15 minutes or until the internal temperature registers 160 degrees F.

Remove from oven and let cool for 30 minutes before cutting into six layers.

I then wrap and refrigerate the pre-sliced frittata. Use wax paper between each piece and layer in stacks of alternating wax paper and cooked frittata. Seal in an airtight storage bag in the refrigerator.

When ready to make your breakfast sandwich, toast bagel or English muffin.

Remove prepared egg white frittata from refrigerator and the wax paper and place on plate. Heat in microwave the for 15 seconds, turn over and heat for an additional 15 seconds. Place slice of cheese (if desired) on cooked frittata and nestle the frittata in between the slices of a toasted bagel/English muffin. Add your choice of tomato, avocado, or fresh spinach.
Comments and Reviews