Low Fat and Low Calorie Recipe
Peanut Butter and Jelly French Toast is completely satisfying!  At heart, I am still a kid when it comes to peanut butter and jelly. This Peanut Butter and Jelly French Toast completely satisfies this addiction, plus it is low fat and low calorie.  What could be better?
When I make French Toast, it is usually the only dish we want to eat at that meal.  Because of this, I adapted the recipe to make sure everyone is getting their protein for the meal.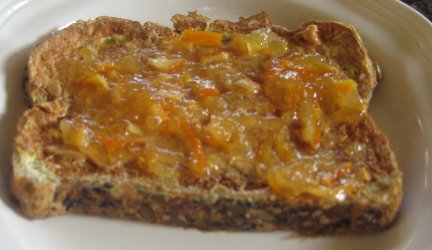 For more great Low Fat Recipes, Low Calorie Recipes, Low Carbohydrate recipes, and Diabetic  Recipes, check out my Diet Recipe Index.  Also check out my Nutritional Chart for fat grams, fiber grams, and calories for all your favorite foods.
Peanut Butter and Jelly French Toast Recipe:
Keyword:
Peanut Butter and Jelly French Toast Recipe
Ingredients
1

teaspoon

pure vanilla extract

1/4

teaspoon ground

cinnamon

(optional)

2

slices

multi-grain bread,

with crusts*

Non-fat

vegetable cooking spray

1

teaspoon reduced-fat

peanut butter

2

teaspoons reduced-sugar sweet

orange marmalade

(I like to use Smuckers)**
Instructions
French Toast Instructions:
My formula is - 1 egg per each slice of bread. This way it is very easy to determine how to increase or decrease the recipe. 1/2 cup egg substitute.

In 9- x 9-inch baking pan or dish, combine the eggs, vanilla extract, and cinnamon; beat with a fork until well mixed.

Layer the bread slices into the egg mixture and let soak about 5 minutes or until most of egg mixture is absorbed, turning once.

On a heavy skillet (I like to use my cast-iron griddle) with the non-fat vegetable cooking spray, place prepared bread in a single layer and cook until the bread is golden brown and crusted on the bottom, about 2 minutes. Turn with bread and cook until the second side is golden, about 1 to 1 1/2 minutes. NOTE: I like to use low heat to cook my French toast.



Makes 2 slices French Toast.
Peanut Butter and Jelly French Toast Instructions:
This is my favorite way to eat French Toast when I am dieting (also when not dieting).  Very filling and so satisfying!

On your hot slice of prepared French toast, spread the peanut butter. Spread the orange marmalade over the peanut butter. Eat and enjoy!

I cannot guarantee the accuracy of the below information. All information is intended for your general knowledge only and is not a substitute for medical advice or treatment for specific medical conditions. You should seek prompt medical care for any specific health issues and consult your physician before starting a new fitness regimen.

Recipe makes 2 servings of one (1) prepared Peanut Butter and Jelly French Toast

Per Serving - 4 Fat grams and 114 calories
Recipe Notes
* I like to use breads with multi-grains, raisins, and/or nuts in them.  It makes the French Toast more nutritional and very tasty.  Fresh bread will absorb batter more quickly than stale bread.  In other words, you can use any type of bread you choose.
** Non-sugar jam or jelly may be substituted.  I personally like a little sugar in my jams and jellies.  Your choice.
Comments and Reviews