Tea Travels!™ – Almonds and How To Use Them
Recipes and Photos by Ellen Easton 2020  – All Rights Reserved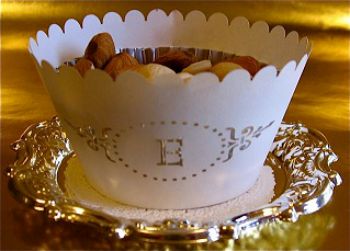 Check out more of Ellen Easton's Tea Travels™ articles and recipes.
History of Almonds:
Almonds are referenced as far back as the Egyptian pharos as having been used as a coveted ingredient in their bread.  Cleopatra was said to have bathed in almond milk.  During Roman Times, almonds were bestowed to newlyweds as a sign of charmed fertility. In keeping with this ancient custom, nowadays, wedding guests are given party favors containing five sugared almonds to represent children, happiness, love, good health, and success.
While the exact origin of the almond is unknown, they are thought to stem from China and Central Asia.  Botanically, the almond is considered a stone fruit related to the cherry, peach, and plum.  Almond trees were planted during the explorer's travels along the "Silk Road" between Asia and the Mediterranean Sea. Soon thereafter, almond trees flourished in the Mediterranean, particularly in Spain and Italy.
The Franciscan Padres, in the mid 1700s, introduced almond trees from Spain to California.
Today, the almond, now indigenous to California's great Central Valley, Sacramento, and San Joanquin, is a dominant production leader of the almond industry, ranking as the 7th largest United State food export.
Almond Nutrition:
The almond is not only a delicious and versatile nut, but also one of the most nutritious.  High in fiber and protein, one ounce of almonds contain 12% of our daily protein needs.  Low in saturated fat (the "good" fat), no cholesterol almonds comprise other protective nutrients including phosphorus, zinc, calcium, and magnesium.
For strong bones, almonds contain vitamin E, folic acid, and compounds call rhizveritrol (an inflammatory and phytochemicals), a possible protector against cardiovascular disease.
Popular on afternoon tea menus, the almond has always found a way to be an inventive ingredient for recipes.
How To Blanch Almonds:
Definition of Blanch – To immerse in rapidly boiling water and allow to cook slightly.
Raw shelled almonds
Saucepan
Strainer or colander
Paper Towels
In a pot large enough to hold the almonds and water needed to cover them, bring water to the boiling point.  Add the raw almond and bring the water back to boiling (making sure the almonds stay submerged).
Let boil for approximately 90 seconds.  Do not over boil as the almonds will cook and not be blanched.  Remove from heat and strain the water off of the almond using a sieve.  Rinse the drained almonds with cold water and strain again.  Place the almond is a bowl.
To remove the skins, press each almond gently between your fingertips to slide the skin off the nut.  After the skin has been remove, place the skinned almonds on a paper towel; pat completely dry.  Once dry, seal the blanch almonds in a resealable plastic bag and store in the refrigerator or freezer until ready to use.
How To Toast Almonds:
Preheat oven to 325 degrees F.  Place shelled, raw almonds on a baking sheet.
Bake approximately 10 to 15 minutes until toasted (watch carefully).  Remove from oven and let cool before using.
If flavored almonds are desired, sprinkle with ground cinnamon or salt before baking.
Almond Recipes – Recipes Using Almonds:
Almond Creme Filling:
1 egg
1 tablespoon all-purpose flour
1 tablespoon cornstarch
1 cup milk
1 tablespoons granulated sugar
1 teaspoon almond extract
1 teaspoon hot water
2 tablespoons heavy or whipping cream, whipped
In a bowl, beat the egg, flour, and cornstarch until smooth.
In a saucepan over medium heat, bring milk almost to a boil.  Remove from heat and slowly whisk the hot milk into the egg mixture.  Place the combined mixture into the saucepan.  Bring the mixture to a boil, stirring constantly, until the mixture thickens; remove from heat.
Add almond extract and hot water, stirring until completely dissolved into the pudding mixture.  Set aside to cool and firm up.
Once cool, fold in the prepared whipped cream.  Refrigerate until thick.
Almond Whipped Cream:
1 cup heavy or whipping cream
1 tablespoon granulated sugar
1 teaspoon almond extract
In the bowl of your electric mixer using high speed, beat together the cream, sugar, lemon juice, and almond extract until soft peaks form.
Almond Glaze:
1/2 cup powdered (confectioners') sugar
2 tablespoons fresh-squeezed lemon juice
1 teaspoon almond extract or to taste
In a small saucepan over medium-low heat, combine the powdered sugar, lemon juice, and almond extract; bring just to a boil. Remove from heat and drizzle the hot glaze over the top of a prepared cake of your choice.
Decorate as desired and serve.
Financier Almond Cake:
1/2 pound butter
2/3 cup blanched almonds, ground
3/4 cup all-purpose flour, sifted
2 1/4 cups powdered (confectioners') sugar, sifted
1 cups egg whites (approximately 8 eggs)
Preheat oven to 400 degrees F.  Spray the interior of your mini-cake molds or muffin tins with non-stick baking spray. Dust the bottom and sides of the pan/pans with granulated sugar.
In a saucepan over low heat, add the butter and let brown. When brown, remove from heat and allow to cool for approximately 10 minutes.
In another saucepan, mix together the ground almonds, flour, and sugar; set aside.
In a large mixing bowl of your electric mixer, beat the egg whites until fluffy.
Add the beaten egg whites to the saucepan with the sugar mixture. Over low heat, whisk the ingredients together until just warm; remove from heat and add the cooled browned butter in a steady stream, whisking continuously, until combined.
Pour the cake batter into the prepared mini-cake molds. Bake approximately 12 minutes or until the cakes are golden brown and firm to the tough. Remove from oven and let cool slightly until the cakes can be easily removed to a wire rack to cool completely.
Yields approximately 48 mini tea cakes.
---
TEA TRAVELS™ – Wishing You Happy TEA TRAVELS!™  Tea is the luxury everyone can afford!™ and Good $ense for $uccess are the trademarked property of Ellen Easton/ RED WAGON PRESS
Ellen Easton, author of Afternoon Tea~Tips, Terms and Traditions (RED WAGON PRESS), a lifestyle and etiquette industry leader, keynote speaker and product spokesperson, is a hospitality, design, and retail consultant whose clients have included The Waldorf=Astoria, Plaza Hotels, and Bergdorf Goodman.  Easton's family traces their tea roots to the early 1800s, when ancestors first introduced tea plants from India and China to the Colony of Ceylon, thus building one of the largest and best cultivated tea estates on the island.

Purchase Ellen Easton's Tea Books:
Each 5 x 7 book is $20 postpaid Continental USA only.  Wholesale and fundraising accounts welcome.  Include name, address, zip code, and phone number for shipping.  All Sales Final. Check or MO order payable to:  RED WAGON PRESS, 45 East 89th Street, STE. 20A, New York, NY 10128-1256.  All inquires to teatravels@aol.com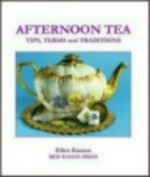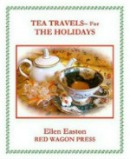 AFTERNOON TEA…TIPS, TERMS and TRADITIONS
72 pages of how to's, 27 photos, history, etiquette and FAQ about afternoon tea, serving styles and more.
TEA TRAVELS™ – FOR THE HOLIDAYS
64 pages, 21 color photos. A complete holiday menu includes 25 easy to prepare recipes; theme teas, decorating & gift ideas; invitation template and secret sources.
Comments and Reviews