These delicious Candied Orange Rinds will be a welcome addition to any holiday party menu, tree trimming, or even wrapped to be given as a gift.  Candied orange rind (or zest) is the orange part of the orange peel boiled and candied in a heavy syrup.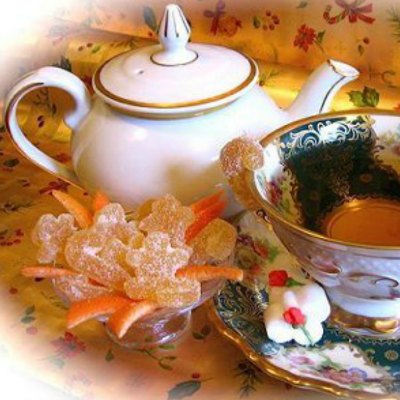 Candied Orange Rinda recipe, comments, and photo By Ellen Easton 2020 – All Rights Reserved.  Hand Decorated Sugars By Reva Paul 2020 – All Rights Reserved.  Candied Ginger By Gingerpeople 2020 – All Rights Reserved.
Candied Orange Rinds - Holiday Tea Treats Recipe:
Keyword:
Candied Orange Rinds
Instructions
Wash the outsides of the oranges and then dry thoroughly. This helps to remove any bitterness from the orange rind and also help soften the rind.

Quarter the oranges and remove the fruit from the rind. Scrape to remove the flesh and all white pith. Cut lengthwise into thin 2-inch long strips of 1/8- to 1/4-inch width.

In a large saucepan filled with cold water, place orange rind strips. Bring just to a boil, remove from heat, and strain; repeat this step two (2) times. Each simmering in fresh water removes any bitter taste.

In a saucepan over a medium heat, completely dissolve the 1 cup of sugar in 1 cup of water. Optional ingredients of orange or almond extract may be added to sugar syrup if desired for flavor. Reduce heat to low; add the orange rinds and let simmer approximately 1 hour or longer or until the orange rinds are translucent. Using a slotted spoon, remove candied orange rind, shaking off excess syrup.

Immediately toss with sugar, using fork to separate pieces so they do not touch. Place on a wire rack to cool and dry completely.

Store in an airtight container for one week. When ready to serve candied orange rinds may be dipped in chocolate.
Recipe Notes
* You could also use the rinds of Clementine, lemon, and grapefruit rinds.
TEA TRAVELS™ – Wishing You Happy TEA TRAVELS!™  Tea is the luxury everyone can afford!™ and Good $ense for $uccess are the trademarked property of Ellen Easton/ RED WAGON PRESS
Ellen Easton, author of Afternoon Tea~Tips, Terms and Traditions (RED WAGON PRESS), a lifestyle and etiquette industry leader, keynote speaker and product spokesperson, is a hospitality, design, and retail consultant whose clients have included The Waldorf=Astoria and Plaza Hotels.  Easton's family traces their tea roots to the early 1800s, when ancestors first introduced tea plants from India and China to the Colony of Ceylon, thus building one of the largest and best cultivated teas estates on the island.

Purchase Ellen Easton's Tea Books:
Each 5 x 7 book is $20 postpaid Continental USA only.  Wholesale and fundraising accounts welcome.  Include name, address, zip code, and phone number for shipping.  Check or MO order payable to:  RED WAGON PRESS, 45 East 89th Street, STE. 20A, New York, NY 10128-1256.  All inquires to teatravels@aol.com
AFTERNOON TEA…TIPS,TERMS and TRADITIONS
72 pages of how to's, 27 photos, history, etiquette and FAQ about afternoon tea, serving styles and more. "Tea is the luxury everyone can afford!™"

TEA TRAVELS™ – FOR THE HOLIDAYS
64 pages, 21 color photos. A complete holiday menu includes 25 easy to prepare recipes; theme teas, decorating & gift ideas; invitation template and secret sources.
Comments and Reviews