Hand Decorated Easter Eggs
Ellen Easton shares with us her techniques for creating beautifully decorated Easter eggs with embellishments, decoupage, gold and silver dust.  Enjoy using the hand decorated eggs for an Easter egg hunt to delight the children in the family, or make a lovely holiday table centerpiece.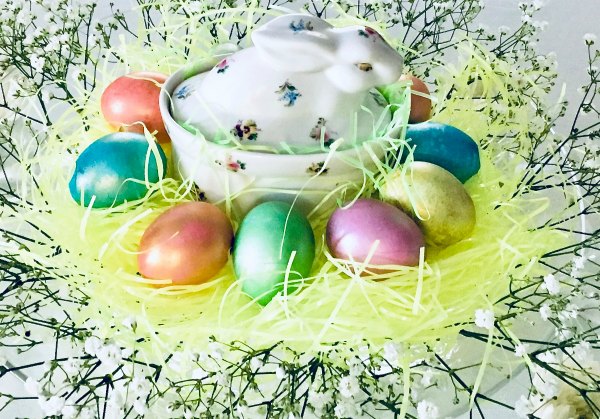 Article and Photos by Ellen Easton 2020© All Rights Reserved
Check out more of Ellen Easton's Tea Travels™ articles and recipes.
Also, enjoy Ellen's Tea Infused Marbled Eggs,and Learn how to make Natural Easter Egg Dyes
List of Supplies:
12 cooled hard-boiled eggs with shells on (see instructions for Perfect Hard Boiled Eggs)
Water
White Vinegar
FDA approved food coloring
4 bowls
Optional Decorations:

Stickers, Edible Gold or Silver Dust, Glitter, Rhinestones or Decorative Paper
Elmer's Glue or Mod Podge
Lemon Extract
Cut Sponge pieces
Craft brushes
Scissors
How to Dye Easter Eggs:
Adult supervision with children is a must when coloring and decorating the eggs.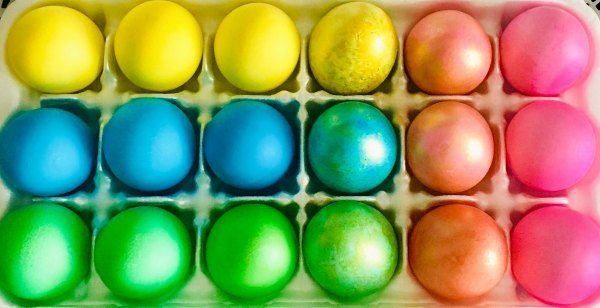 Home Made Egg Dye Per Color: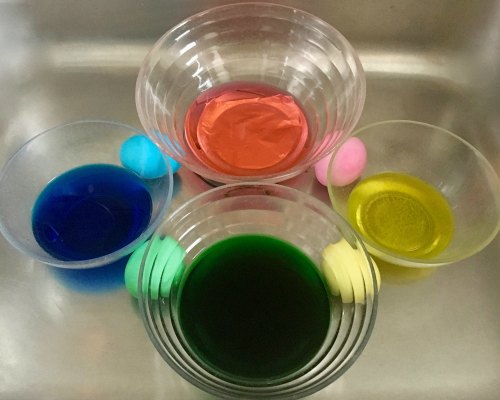 Directions:
In a medium-sized saucepan over high heat, bring water to a boil and remove from heat.
While the water is boiling, lay out some newspaper, paper towels, butcher paper or aluminum foil to protect the surface you will be working on to dye and decorate the eggs. Add 1/2 cup boiling water to each individual bowl. Then add 1 teaspoon vinegar per bowl and food coloring drops.  Add one drop at a time of food coloring (10-20 drops) until the desired color level is achieved in each different bowl
Use a slotted spoon to lower a hard-boiled egg into the dyed water. Let the egg sit for 1 to 2 minutes, then gently turn the egg to achieve even coloring on all sides for a total of 5 minutes per egg. Remove the dyed egg with a slotted spoon and set onto a wire baking rack to dry. Repeat for each different egg color.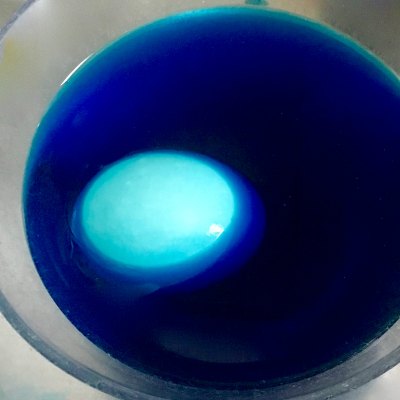 Egg Decoration Ideas:
Be mindful of small children who may pull off the decorations or try to place an egg into their mouths.  The decorated eggs shells are NOT to be eaten.
Decorating with edible gold or silver dust:
In a small bowl, dilute 1/2 teaspoon of edible gold or silver dust with 1/4 teaspoon lemon extract. Dip a cut piece of sponge into the gold or silver dust dilution and dab on the colored Easter egg until the desired effect is achieved. Allow the decorated egg to dry on a wire rack or egg carton.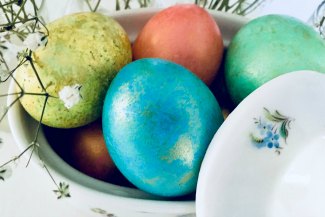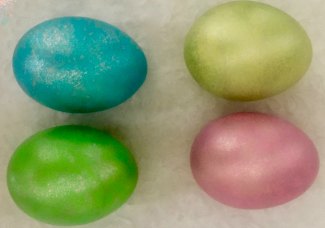 Decorating with rhinestones or glitter:
Use a craft brush to brush Elmer's glue or mod podge on the surface of the colored egg that you want to decorate with glitter or rhinestones. Sprinkle the glue surface with glitter or apply rhinestones in a nice pattern.  Place eggs on a wire rack to allow to dry.
Decorating with Decoupage:
Use scissors or paper cutouts to cut pretty designs in color paper or cut pieces of pretty paper designs ( wrapping paper, magazine cut-outs, stamped paper, dried flowers, leaves). Using a clean craft brush, dab a decoupage adhesive such as mod podge or a glue mixture of (3 parts Elmer's glue to 1 part water) to the back of the paper design and stick to the surface of the dyed eggs. Smooth out the surface of the paper with your finger or craft brush.
Continue to glue on paper cutouts until you are satisfied with the decorated egg.  Set the decorated eggs on a wire rack until the glue has dried.
Next, once the glue is dried, use a craft brush to coat the entire surface of the egg with mod podge or the glue solution. Place the coated eggs on a wire rack to allow to dry.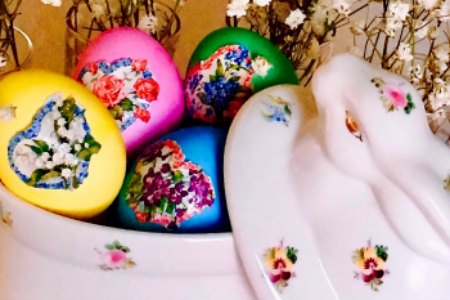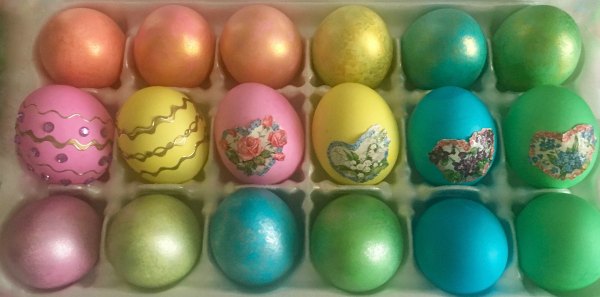 ---
TEA TRAVELS™ – Wishing You Happy TEA TRAVELS!™  Tea is the luxury everyone can afford!™ and Good $ense for $uccess are the trademarked property of Ellen Easton/ RED WAGON PRESS
Ellen Easton, author of Afternoon Tea~Tips, Terms and Traditions (RED WAGON PRESS), a lifestyle and etiquette industry leader, keynote speaker and product spokesperson, is a hospitality, design, and retail consultant whose clients have included The Waldorf=Astoria, Plaza Hotels, and Bergdorf Goodman.  Easton's family traces their tea roots to the early 1800s, when ancestors first introduced tea plants from India and China to the Colony of Ceylon, thus building one of the largest and best-cultivated tea estates on the island.

Purchase Ellen Easton's Tea Books:
Each 5 x 7 book is $20 postpaid Continental USA only.  Wholesale and fundraising accounts welcome.  Include name, address, zip code, and phone number for shipping.  All Sales Final. Check or MO order payable to:  RED WAGON PRESS, 45 East 89th Street, STE. 20A, New York, NY 10128-1256.  All inquiries to teatravels@aol.com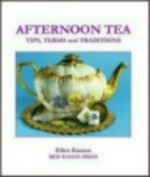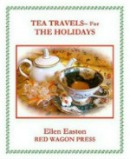 AFTERNOON TEA…TIPS, TERMS and TRADITIONS
72 pages of how to's, 27 photos, history, etiquette and FAQ about afternoon tea, serving styles and more.
TEA TRAVELS™ – FOR THE HOLIDAYS
64 pages, 21 color photos. A complete holiday menu includes 25 easy to prepare recipes; theme teas, decorating & gift ideas; invitation template and secret sources.
Comments and Reviews