This Mini Vanilla Meringue Kiss cookies are delicious melt-in-your-mouth cookies that makes a light treat and is also low in fat.  I absolutely love meringue cookies!  You will be happy your made them and your family and friends will love you.  Only egg whites, sugar, and flavoring (of your choice) is required in this cookie recipe.
They are a tasty treat to have on hand when guests drop by for a quick cup of tea or for your afternoon tea party.  I have heard that these cookie are sometimes called "Forgotten Kisses" because since you bake them at such a low heat, they are easy to forget and leave in the oven.  Only three ingredients are called for in the outstanding cookie recipe.  You can also be creative, as they can be formed into any shape you desire.  They look so cute!
Mini Vanilla Meringue Kiss recipe was excerpted from A Tea Party Planner, by Ellen Easton – All Rights Reserved.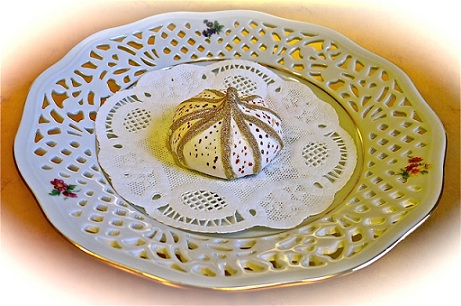 Tea Travels™ articles, photos and recipes by Ellen Easton 2020 – All Rights Reserved
More favorite Cookie Recipes and Secrets To Making Perfect Cookies.  Also learn How To Have A Successful Holiday Cookie Exchange or Cookie Swap.
Mini Vanilla Meringue Kiss Recipe:
Keyword:
Mini Vanilla Meringue Kiss Recipe
Ingredients
2

egg

whites, room temperature

1/2

cup

superfine sugar

1

teaspoon

pure vanilla extract
Instructions
Preheat oven to 250 degrees F. Line a cookie sheet with parchment paper or use a nonstick cookie sheet to prevent the cookies from sticking.

In a clean dry bowl, at a high speed, beat the egg whites. Slowly add in the sugar and vanilla extract until stiff and shiny. The egg white should form standing peaks. Check out How To Make A Perfect Meringue.

Either pipe with a pastry bag or spoon into mini peaks in the shape of a "kiss" onto the baking sheet.

Before baking, be inventive; add flavorings, cocoa, coconut flakes, chocolate bits, dried fruit bits, or nuts to this batter. You can also add a drop of food coloring to change the color and use colored sand sugar to dust the top.

Bake for 1 hour, until crisp. If the meringues look too dark, turn off the oven and allow to crisp inside the cooling oven.

Remove from oven and store in a tightly covered (airtight) container.

Variation Ideas: Meringues are also used to make small baskets and cups or finger shapes. The baskets and cups may be used to hold berries, fillings, and ice cream.

They may also be filled with jam, chocolate ganache and other fillings and served closed. Meringue can also be crumbled to sprinkle on top of other desserts or berries.
Painted Meringue Kisses:
To dress up your meringues, color the batter with food coloring.  When removed from the oven and still warm, take the tip of a toothpick and poke one hole for each drag into the top of of layer of the meringue in the pattern of your design.  Gently place and securely press one drag into each indent.

Thin bristled paintbrush
Food coloring
Lemon extract or vodka.

Pour a small amount of food coloring into a small dish. If a lighter shade is desired add a few drops of lemon extract or vodka into the food coloring.

Dip the tip of the brush into the food coloring and begin painting. Repeat as needed.
Recipe Notes
NOTE:  Make sure not to make these on a humid day, as they tend to leech on to any moisture and will not set up properly or stay crisp.
---
TEA TRAVELS™ – Wishing You Happy TEA TRAVELS!™  Tea is the luxury everyone can afford!™ and Good $ense for $uccess are the trademarked property of Ellen Easton/ RED WAGON PRESS
Ellen Easton, author of Afternoon Tea~Tips, Terms and Traditions (RED WAGON PRESS), a lifestyle and etiquette industry leader, keynote speaker and product spokesperson, is a hospitality, design, and retail consultant whose clients have included The Waldorf=Astoria, Plaza Hotels, and Bergdorf Goodman.  Easton's family traces their tea roots to the early 1800s, when ancestors first introduced tea plants from India and China to the Colony of Ceylon, thus building one of the largest and best cultivated tea estates on the island.

Purchase Ellen Easton's Tea Books:
Each 5 x 7 book is $20 postpaid Continental USA only.  Wholesale and fundraising accounts welcome.  Include name, address, zip code, and phone number for shipping.  All Sales Final. Check or MO order payable to:  RED WAGON PRESS, 45 East 89th Street, STE. 20A, New York, NY 10128-1256.  All inquires to teatravels@aol.com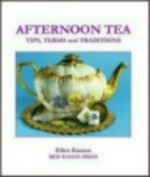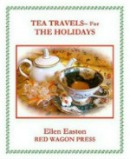 AFTERNOON TEA…TIPS, TERMS and TRADITIONS
72 pages of how to's, 27 photos, history, etiquette and FAQ about afternoon tea, serving styles and more.
TEA TRAVELS™ – FOR THE HOLIDAYS
64 pages, 21 color photos. A complete holiday menu includes 25 easy to prepare recipes; theme teas, decorating & gift ideas; invitation template and secret sources.
Comments and Reviews