This Mississippi Mud Cupcake recipe is a new version with a new twist on the classic Southern Mississippi Mud Cake recipe, which probably is the richest, darkest, most decadent chocolate dessert you have ever eaten!  
The sweet, chocolaty, brownie-like Mississippi Mud Cupcake, topped with whipped cream, is great served in this individual cupcake style, instead of a sheet cake, at an afternoon tea with your family and friends.  The cupcakes are amazing – everyone love it.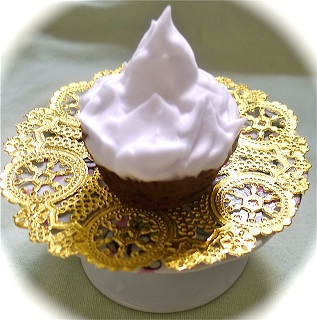 Mississippi Mud Cupcake Recipe:
Keyword:
Mississippi Mud Cupcake Recipe
Ingredients
Mississippi Mud Cupcake:
1

cup plus 2 tablespoons

unsalted butter

6

ounces semisweet

chocolate,

chopped into small pieces

1 2/3

firmly-packed cups light

brown sugar

1 1/4

cups

hot water

1

tablespoon instant

coffee

1 3/4

cups all-purpose

flour

1/2

cup self-rising

flour

1/2

cup Dutch-process

cocoa powder

2

large

eggs,

beaten

1

teaspoon

pure vanilla extract

Powdered sugar

(confectioner's sugar), for dusting
Instructions
Mississippi Mud Cupcake Instructions:
Preheat oven to 325 degrees F. Coat a 9-inch square cake pan with vegetable spray. Dust the bottom and sides of the pan with granulated sugar.

In the top of a double boiler over low heat, add the butter, chocolate, sugar, water, and coffee; stirring slowly and gently until the chocolate is melted and the mixture is smooth. Remove from heat and allow the chocolate mixture to cool for 15 minutes. Learn different techniques for How To Melt Chocolate.

Transfer the cooled chocolate mixture into a mixing bowl of your electric mixer. Sift in the flour and cocoa. Add the eggs and vanilla extract. Beat together until smooth.

Pour the cake batter into the prepared cake pan. Bake for approximately 60 to 75 minutes. The cake is ready to remove from the oven when a toothpick placed into the center of the cake comes out clean.

Remove from oven, let cake cool on a wire rack for 10 minutes, and then turn cake out of the cake pan onto the wire rack to cool completely.

Once the cake is cooled, cut the cake into bite-size shapes, if desired. Dust with powdered sugar.

Storage: Cake may be stored in an air-tight container for 5 days.

Serve with whipped cream.
Whipped Cream Instructions:
In a large bowl of an electric mixer, add the heavy cream, sugar, and vanilla extract..Beat until stiff peaks for. Do not over beat or it will turn to butter.
Ellen Easton is a lifestyle industry leader, tea and etiquette authority, author of Afternoon Tea~ Tips, Terms and Traditions, A Tea Party Planner and Tea Travels™ For The Holidays (RED WAGON PRESS), as well as a hospitality, design and retail consultant, whose clients have included The Waldorf=Astoria, and The Plaza.
Easton's family traces their tea roots to the early 1800s, when ancestors first introduced tea plants from India and China to the Colony of Ceylon, thus building one of the largest and best cultivated teas estates on the island.
REVA PAUL, an internationally acclaimed confectionery artist, hand decorated floral sugars and mints are available by special order for teas, weddings, and special events. Wholesale/Retail – Bulk & Gift boxed.  All prices on request via RED WAGON PRESS (212) 722-7981.
AFTERNOON TEA…TIPS,TERMS and TRADITIONS
By Ellen Easton
72 pages of how to's, 27 photos, history, etiquette and FAQ about afternoon tea, serving styles and more. "Tea is the luxury everyone can afford!™"
TEA TRAVELS™FOR THE HOLIDAYS
By Ellen Easton
64 pages, 21 color photos. A complete holiday menu includes 25 easy to prepare recipes; theme teas, decorating & gift ideas; invitation template and secret sources.
Each 5 x 7 paperback book fits into an A-7 envelope for easy mailing, great gift or party favor item.  Each book is $20.00 post paid.  Continental US Only.  Final sale. (Wholesale and Fundraising accounts are welcome.  Call for Special Prices)  Please include your name, address and telephone number for shipping.  Please make check or M.O. payable to: RED WAGON PRESS and send to: RED WAGON PRESS, 45 East 89th Street, Suite 20A, NYC, NY 10128-1256
TEA TRAVELS™, Wishing You Happy TEA TRAVELS!™, "Tea is the luxury everyone can afford!™" and Good $ense For $uccess™ are the trade marked property of Ellen Easton/RED WAGON PRESS.
Comments and Reviews