Tea Travels!™… History and Protocols of Napkins
Article and Photos by Ellen Easton 2013  – All Rights Reserved
Check out more of Ellen Easton's Tea Travels™ articles and recipes.
Blue Embroidered Organza Napkin Maker for linen storage
The linens are from Ellen Easton's family collection
For over six hundred years, the European culture of using table napkins has, in fact, been an evolutionary process.  What is now a custom, taken for granted, is actually a tradition rich in ceremony, etiquette and history.

Apomagdlies – The first documentation for cleaning ones soiled fingers is attributed to the Spartans, in ancient Greece, who used apomagdlies – small pieces of dough rolled and kneaded between the hands.
Sudarium – Altar tablecloths and large towel rolls hung on a wall for communal use were the predecessors to the napkin.  Ancestor to the first cloth napkins, as credited to the Romans, was the Sudarium.  A small cloth, similar to a handkerchief, used to wipe ones brow.
Mappas – Made of fine silks and linens with embroideries of gold and weaves of color, were brought by each guest to the hosts table, for which leftovers were placed in for the journey home.  As flags begin races today, the Romans tossed a mappa into an arena as a signal for the games to begin.
Touailles – towel size communal cloths, folded lengthwise, date to the Middle Ages to indicate a servant's rank at Court.  Draped over the left shoulder indicated a high rank, as today's Maitre'D, verses over the left arm for a lower rank, as today's waiter.
Surnappe – a long towel was at the guest of honors place, while an ewerer carried a communal napkin the size of a bath towel for the other guests.
Reims – Charles VII, 1422 Coronation in Reims, France records the gift and use of napkins.  Reims, renowned for its fabrics, wove the linens to tell a story.  A sign of wealth and position, from the Middle Ages to the nineteenth century, flax was the most used fiber.
The Italians preferred finer cloths and developed Damask.  During the Renaissance, Damask told stories of Court society.  "To spin a tale" derives from storied Damask.  It was the Italians who introduced the fork to England thus precipitating their use of napkins as well.
English Diaper Napkin – Made of cotton or linen fabric woven with small, repetitious, diamond shape patterns varied in size according to the events for which they were used.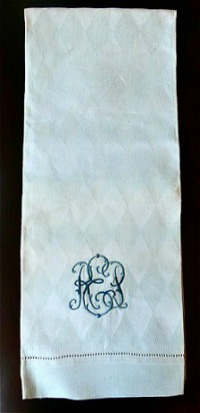 French Serviette – Was a larger napkin used at the table, while the serviette de collation was a smaller size, used while standing.
Portpayne Napkin – A folded, decorative napkin that held the bread and knife used by the lord of the Manor.  It was always folded to the left of the plate with the open end facing the lord, an example for today's etiquette.
As the Continents general acceptance and use of napkins increases, napkins recorded in trousseaux of the Royal Courts include 1497-Catherine de Rohan, Countess of Angloueme, 1546-King Henri lI, 1589-Catherine de Medici, 1601-Elizabeth of Shewsbury, 1610-King Louis XIII.
The standard size napkin during this period was 35vinches x 45 inches, approximately one-third the length of the tablecloth.  The expression "to make ends meet" derives from the 1729 French Court.  The dress code for men included decorative stiff ruffled collars.  When dining, a napkin was tied around the neck to protect their collars, hence the expression.
It was not until King Louis XV of France introduces the formal dining table with place settings using utensils, in his private apartments at the Palace of Versailles, that individual napkins, reduced to 30 inches by 36 inches, folded in half and placed on ones lap to the knees, are used as they are today.  The highest-ranking member of Court unfolded their napkin first, followed by the host, followed by the remaining guests.
Fancy Napkin Folds from the Marie-Antoinette table at the Court of Versailles, France
The art of napkin folding became elaborate, fanciful and popular during this time.  However, a napkin folded with a pointed edge was never placed pointed towards a Monarch on a Royal table, for it was a secret coded sign designating assassination.
Linen was considered more valuable than furniture to the settlers of the early American Colonies.  Records indicate that John Payne, in 1677, owned one dozen napkins and in 1698,  George Washington's great grandfather inventoried 10 old Virginia cloth napkins.  George Washington was accustomed to dining in the English traditions, including his love for teatime.
Napkin Fan Folding Art
©Mrs. Beeton's Cookery
Fleurs de Lis and Palm, Lily, Cactus Folding Art
©Mrs. Beeton's Cookery
---
It is noted that for a brief time, in the late 1770s, napkins disappeared allowing diners to use the edge of the tablecloth to wipe their mouths. This, however, did not last with fashionable hostesses and the napkin fast reappeared.  After all, the term civility was introduced, in 1530 Amsterdam, in Erasmus book De Civilitale Morum Puerilium and it stated that napkins were not for wiping ones teeth or nose but to press against the lips with the tips of ones fingers.
It is interesting to note that as the rules of etiquette became more structured, napkins became smaller.
The ideal napkin wardrobe would consist of 12 each
(Of course modifications should be made to fit your needs)
Buffet or Single Lap Dish – Medium square 18 inches to 24 inches or Lapkin 12 inches x 22 inches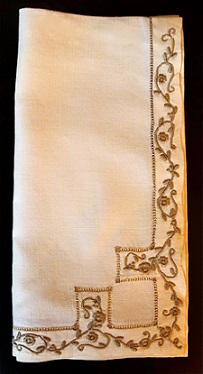 Simple Dinner Napkin – No Monogram
Square 18 inches to 20 inches
Luncheon Napkins – Grape Luncheon Napkin and Pink Linen Crochet Luncheon Napkin
Square 14 inches to 16 inches
Tea Napkins – Square 12″
Blue Embroidered Napkin
White Linen Embroidered Tea Napkin
Yellow Linen Tea Napkin
Crochet Details
Private Napkin Collection – Photos by Ellen Easton 2013 – All Rights Reserved
Cocktail Napkins
4" x 6" or square 9"
Embroidered and Applique Cocktail Napkins
Private Napkin Collection – Photos by Ellen Easton 2013 – All Rights Reserved
The multiple explanations of linen fabrications, embellishments, stitching, sizes and etiquette are a book onto itself.
Pre Revolution French linens were always white Damask, matching the napkins to the cloth. The ritual of white for table wares stems from the sacred meal only, followed by the monastic meal and then the secular.On formal occasions at Court, gold embroidery added embellishment to the linens. To this day, the custom of gold embroidery on white matching cloths holds true at dinners of State at the White House and official receptions worldwide.
Throughout history, the colors of threads and embellishments to linens reflected the time and position of those who commissioned them. To use gold, red or yellow indicated the head of a Royal house.
Gold Damask Cocktail Napkin
Photo by Ellen Easton 2013 – All Rights Reserved
In turn, silk thread monograms were used only by Royalty and nobility. Only the King's monogram could be embroidered, all others were stamped. By the nineteenth century, to imitate the aristocracy embroidered monograms came into fashion for all who could afford them.
Monograms were placed on linens, silver and crystal in lieu of a coat of arms.It is customary for a monogram to appear on a folded napkin in one of three places: The center of a square, the bottom tip of a triangle or the lower right corner of a rectangle or square.
Colored Monogram
Private Napkin Collection – Photos by Ellen Easton 2013 All Rights Reserved
For formal occasions white silk thread on white linens is customary.
White Silk Monogram on White Linen Napkin
Private Napkin Collection – Photos by Ellen Easton 2013 All Rights Reserved
Afternoon teas allow for light fabrications including lace and organza with appliqu and embroideries.
White is the customary color for traditional afternoon teas with the napkins matching the cloth. Tea napkins are placed unfolded on the lap.
White Linen, Italian Hemstitched Luncheon Napkins in Napkin Rings
Photo by Ellen Easton 2013 – All Rights Reserved
Napkin rings were used to identify an individual's napkin. After each meal the same fabric napkin would be replaced in the ring until used again. Today, napkin rings are a decorative accessory.
Napkins – Placement and Protocol:
Napkins are never scented. A truly formal table has only one correct placement for a napkin, to the left side of the place setting. The napkin should be folded with the closed edge to the left and the open edge to the right. There are no exceptions. This rule applies for rectangular, triangular, and square shape folds. Note: while once customary at less formal affairs to allow a fancy folded napkin to be placed in the center of the place setting, as protocols have evolved it is now acceptable to place a napkin in the center of a place setting at formal affairs
Shell Luncheon NapkinYellow Tea Napkin Photo
Private Napkin Collection – Photos by Ellen Easton 2013 – All Rights Reserved
Contrary to recent "experts" advise, there is nevera proper moment for one to place their napkin on a chair. The proper protocol when excusing oneself from the table, whether during or after a dining experience, is to gently place the napkin to the left side of your place setting. This rule is not negotiable for the simple reason if one's napkin were soiled it could damage ones clothing or the seat covering, damage that may be either costly to repair or irreplaceable. While the risk for soiling a cloth also exists, the cloth can be laundered with relative ease.
Upon completion of a dining experience, a napkin folded with a crease and placed to the left side of your place setting indicates to your host or hostess that you wish to be invited back.
---
Ellen Easton is a lifestyle industry leader, tea and etiquette authority, author of Afternoon Tea~ Tips, Terms and Traditions, A Tea Party Planner and Tea Travels™ For The Holidays (RED WAGON PRESS), as well as a hospitality, design and retail consultant, whose clients have included The Waldorf=Astoria, The Plaza, and Lady Mendl's Tea Salon. The Easton family traces their tea roots to the early 1800s, when ancestors first introduced tea plants from India and China to the Colony of Ceylon, thus building one of the largest and best cultivated teas estates on the island.
REVA PAUL, an internationally acclaimed confectionery artist, hand decorated floral sugars and mints are available by special order for teas, weddings, and special events. Wholesale/Retail – Bulk & Gift boxed. All prices on request via RED WAGON PRESS (212) 722-7981.
AFTERNOON TEA…TIPS,TERMS and TRADITIONS
By Ellen Easton
72 pages of how to's, 27 photos, history, etiquette and FAQ about afternoon tea, serving styles and more. "Tea is the luxury everyone can afford!™"
TEA TRAVELS™FOR THE HOLIDAYS
By Ellen Easton
64 pages, 21 color photos. A complete holiday menu includes 25 easy to prepare recipes; theme teas, decorating & gift ideas; invitation template and secret sources.
Each 5 x 7 paperback book fits into an A-7 envelope for easy mailing, great gift or party favor item. Each book is $20.00 post paid. Continental US Only. Final sale. (Wholesale and Fundraising accounts are welcome. Call for Special Prices) Please include your name, address and telephone number for shipping. Please make check or M.O. payable to: RED WAGON PRESS and send to: RED WAGON PRESS, 45 East 89th Street, Suite 20A, NYC, NY 10128-1256
TEA TRAVELS™, Wishing You Happy TEA TRAVELS!™, "Tea is the luxury everyone can afford!™" and Good $ense For $uccess™ are the trade marked property of Ellen Easton/RED WAGON PRESS.
Comments and Reviews