Tea Travels!™… Retro Dinner Party Menus
by Ellen Easton ©2020  – All Rights Reserved
Check out more of Ellen Easton's Tea Travels™ articles and recipes.
Learn about the History of English High Tea and more delicious Afternoon Tea Recipes.
I was looking for an old family photo, when I found the following two 1959 and 1960 retro dinner party menus in the album.  Read the oh-so retro selections and then check out the costs at the bottom of the menus – one could faint at the low prices.  Yes, the caterer is now out of business! For one night, forget your cholesterol count and blow caution to the wind!  These are perfect menus for a MAD MEN party!
1959 Backyard Tented Summer Dinner Dance for 50 People
Cocktail Hour Smorgasbord
HOT:
BBQ Ribs
Sliced London Broil
Fried Chicken Wings
Chicken Liver & Bacon
COLD:
Artichokes with Sour Cream Caviar
Cold Shrimp
Cold Lobster Tails
Dinner Menu
Assorted Dinner Rolls
Tettrezinni
Prime Rib Roast Beef with Tomato Aspic
Caesar Salad
Fresh Fruit
Dessert
Vanilla Ice Cream with Fresh Strawberries & Strawberry Sauce
Barman & Bar Supplies
Chairs,, tables, yellow cloths, hurricane lamps, club soda, ginger ale
Liquor supplied by hostess
Food
$6.50 per person = $325.00, tax $48.45
Barman
$17.00, plus extra items
Grand Total = $487.50
---
Early 1960 Sit Down Christmas Dinner for 20 People
Cocktail Hour Smorgasbord
Assorted Cold:
Stuffed Beets
Savory Filled Creme Puffs
Deviled Eggs
Cold Shrimp
Cold Lobster Tails
Hot Canapes Passed:
Chicken Liver & Bacon
Quiche Lorraine
Dinner Menu
Assorted Dinner Rolls & Butter
Crudit – Celery, Olives & Radishes
Roast Turkey with Cornbread Stuffing
Sweet Potato Casserole with Marshmallow Topping
Green Vegetable Platter with Stuffed Onions
Spiced Peaches
Ambrosia
Seafood Aspic
Dessert
Pumpkin Pie
Apple Pie
Whipped Cream
Food
Two tables of 10 at $14.00 per person
Plus chairs – $15.00
TA DA – Grand Total = $295.00
---
TEA TRAVELS™ – Wishing You Happy TEA TRAVELS!™  Tea is the luxury everyone can afford!™ and Good $ense for $uccess are the trademarked property of Ellen Easton/ RED WAGON PRESS
Ellen Easton, author of Afternoon Tea~Tips, Terms and Traditions (RED WAGON PRESS), a lifestyle and etiquette industry leader, keynote speaker and product spokesperson, is a hospitality, design, and retail consultant whose clients have included The Waldorf=Astoria, Plaza Hotels, and Bergdorf Goodman.  Easton's family traces their tea roots to the early 1800s, when ancestors first introduced tea plants from India and China to the Colony of Ceylon, thus building one of the largest and best cultivated tea estates on the island.

Purchase Ellen Easton's Tea Books:
Each 5 x 7 book is $20 postpaid Continental USA only.  Wholesale and fundraising accounts welcome.  Include name, address, zip code, and phone number for shipping.  All Sales Final. Check or MO order payable to:  RED WAGON PRESS, 45 East 89th Street, STE. 20A, New York, NY 10128-1256.  All inquires to teatravels@aol.com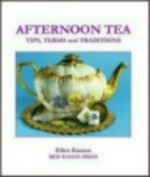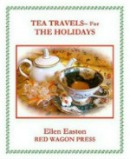 AFTERNOON TEA…TIPS, TERMS and TRADITIONS
72 pages of how to's, 27 photos, history, etiquette and FAQ about afternoon tea, serving styles and more.
TEA TRAVELS™ – FOR THE HOLIDAYS
64 pages, 21 color photos. A complete holiday menu includes 25 easy to prepare recipes; theme teas, decorating & gift ideas; invitation template and secret sources.
Comments and Reviews