Tea Travels!™…Understanding Tea Time Service
by Ellen Easton ©1999 – All Rights Reserved
Tea time should be a good experience for all involved-patrons as well as staff.
Check out more of Ellen Easton's Tea Travels™ articles and recipes.
Learn about the History of English High Tea and more delicious Afternoon Tea Recipes.
Most tea lovers are surprised to learn about the behind-the-scenes efforts that create a memorable and pleasant tea time.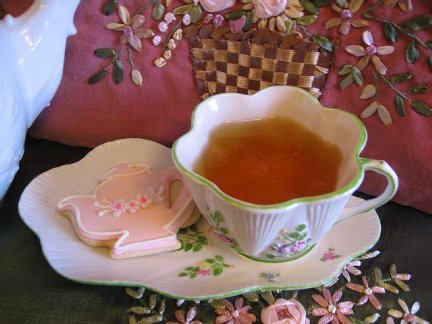 Afternoon Tea is one of the most special times of the day. An occasion one looks forward to with great anticipation and high expectations for a perfect experience.  But have you ever considered what your perfect experience entails to produce?
The entire process of creating Afternoon Tea in a commercial venue requires tremendous detail and cooperation.  To insure that all guests are satisfied, not only does the atmosphere have to be relaxing, but to be inviting, the service and menu must be balanced as well.
Remember the story of Goldilocks where too much or too little would not do and everything had to be just right in order to work?  Take the
Goldilocks theory and apply it to your Afternoon tea experience.
To begin with, be mindful of how high maintenance tea time service actually is. Y our wait staff person will be attending your table no fewer than six to eight times during the presentation of your tea.  In order to expedite your service, you can be a good customer by asking pertinent questions and making special requests to suit your individual needs at the time you place your actual order.
An example might be what specific fillings and ingredients will be served or whether or not a particular blend is caffeine-free.  Any adjustments can then be made accordingly along with your desire for milk, lemon, honey, scones that are heated, and/or having your tea decanted in its entirety rather than leaving the leaves or bags in the pot. Several trips back and forth to the kitchen are avoided, and your dining pleasure is enhanced by not having any delay in service.  It is also important to be gracious and respectful to those who are serving you if you expect them to be so towards you.
What a tearoom will serve at tea time will vary according to their facilities.  The location of the kitchen to the dining area will dictate a great portion of the menu.  While some tea sandwiches, savories, and sweets are capable of withstanding room temperatures for hours at a time, others may only be unrefrigerated for a little while.  The distance to where the water is heated and the tea is brewed will affect its quality, taste and temperature.  For that matter, the same may apply to all foods served heated or chilled.  The kitchen location can and will affect the menu. Consequently, a favorite tea time treat may not be available at a certain tearoom, so learn to appreciate the differences of the house specialties.  Each tea time experience should be unique unto itself.
What you can expect of a tearoom without compromise:
Sandwiches, savories, and sweets that are fresh (not soggy or stale), and scones warmed on request.
Tea that is properly heated, brewed and decanted with the first cup poured by your wait staff to insure no spills. Teacups should be refreshed, with the excess tea leaves removed, and hot water should be plentiful.
Staff that is friendly and polite.
What should be expected of you, as a patron, without compromise:
If you make a reservation and are not able to attend, please call to cancel and release the table back for rebooking. Your favorite tearoom will not be able to stay in business if they cannot fill their tables.  Plus, you will remain in their good graces the next time you call to have tea.
When you are attending an Afternoon Tea, your behavior is important.  Have a good time, but not at the expense of others around you.  Do not bring an infant or small child that will be disruptive.  In the event a child should become disruptive, simply excuse yourself from the table and take the child for a brief walk away from the dining area until calm is restored.  Do not speak in a boisterous voice for strangers may not enjoy your enthusiasm.  And certainly, do not smoke, as the tobacco will ruin the aroma of the other guests' tea.
If you received good service, please tip generously.  A minimum gratuity should be 15% to 20%.  If you had special requests or were a group of six or more people, a 20% gratuity would be in order.  This is how your wait staff and bus staff earn their livings and they work very hard to please.
It never hurts to sweeten the pot with a few extra dollars.  You will be remembered for your kindness.  Only if there were serious problems would you not tip, in which event, you should gently explain to the management exactly what displeased you.  This gives the management the opportunity to correct the service in the future.
Tea time should be a good experience for all involved-patrons as well as staff.
---
TEA TRAVELS™ – Wishing You Happy TEA TRAVELS!™  Tea is the luxury everyone can afford!™ and Good $ense for $uccess are the trademarked property of Ellen Easton/ RED WAGON PRESS
Ellen Easton, author of Afternoon Tea~Tips, Terms and Traditions (RED WAGON PRESS), a lifestyle and etiquette industry leader, keynote speaker and product spokesperson, is a hospitality, design, and retail consultant whose clients have included The Waldorf=Astoria and Plaza Hotels.  Easton's family traces their tea roots to the early 1800s, when ancestors first introduced tea plants from India and China to the Colony of Ceylon, thus building one of the largest and best cultivated teas estates on the island.

Purchase Ellen Easton's Tea Books:
Each 5 x 7 book is $20 postpaid Continental USA only.  Wholesale and fundraising accounts welcome.  Include name, address, zip code, and phone number for shipping.  Check or MO order payable to:  RED WAGON PRESS, 45 East 89th Street, STE. 20A, New York, NY 10128-1256.  All inquires to teatravels@aol.com
AFTERNOON TEA…TIPS, TERMS and TRADITIONS
72 pages of how to's, 27 photos, history, etiquette and FAQ about afternoon tea, serving styles and more. "Tea is the luxury everyone can afford!™"

TEA TRAVELS™ – FOR THE HOLIDAYS
64 pages, 21 color photos. A complete holiday menu includes 25 easy to prepare recipes; theme teas, decorating & gift ideas; invitation template and secret sources.
Comments and Reviews