Mini Vanilla Cupcakes are an outstanding cupcake recipe that will only add to the magic of your tea party.   They are just perfect, as all you need at tea, is just of few bits of each exquisite dessert.  There are an easy-to-make dessert and quite good.
Recipe, comments, and photos by Ellen Easton 2020 – All Rights Reserved.  Check out more of Ellen Easton's Tea Travels™ articles and recipes.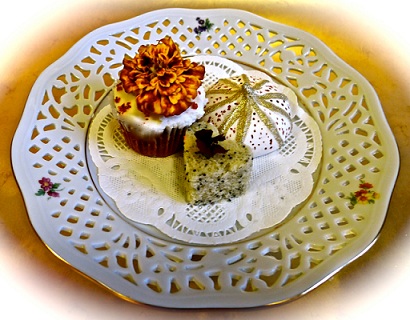 Learn about the History of English High Tea and more delicious Afternoon Tea Recipes.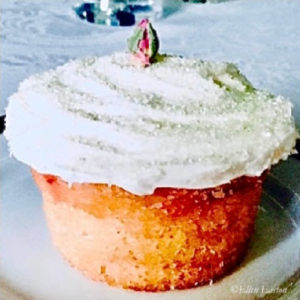 Mini Vanilla Cupcakes Recipe:
Keyword:
Mini Vanilla Cupcakes Recipe
Servings
:
24
mini cupcakes or 12 regular cupcakes
Ingredients
Mini Vanilla Cupcakes:
10

tablespoons

unsalted butter

1

cup granulated

sugar,

sifted

2

cups

cake flour,

sifted

2

teaspoons

baking powder

1/2

cup

milk

1/2

teaspoon

pure vanilla extract

1/2

cup

egg

whites (about 4 large eggs), separated
Basic Buttercream Icing:
1/2

cup (1 stick)

unsalted butter,

room temperature (use vegetable shortening when pure white icing is needed)

1/4

cup

milk,

room temperature

1

teaspoon

pure vanilla extract

or other desired flavoring

1

pound (boxed)

powdered sugar

(confectioners' sugar)

Pastel food coloring
Instructions
Mini Vanilla Cupcake Instructions:
Preheat oven to 350 degrees F. Lightly grease and flour (or line with paper or foil liners) a mini-muffin pan.

In a large mixing bowl, at a medium speed, cream the butter. Adding in a little sugar at a time, beat together until mixed and creamy. Add sifted cake flour, baking powder, and milk; beat until smooth. Add vanilla extract and set aside. In a separate dry bowl, beat the egg whites until soft peaks cling to the bowl (not stiff). Fold the egg whites into the butter/flour batter.

Divide batter among muffin cups, pour the batter almost to the top.

Bake approximately 20 to 25 minutes or until a toothpick wipes clean from the center. Remove from oven and let cupcakes cool before frosting them.

Prepare Basic Buttercream Icing. With a warmed flat knife, spread the icing over the top of each individual cupcake. Decorate with colored sprinkles or design of choice.
Basic Buttercream Icing Instructions:
In a large mixing bowl, combine butter, milk, vanilla extract, and confectioner's sugar; mix at a low speed until smooth. If stiffer icing is needed or the weather is very warm, add a little extra sugar.

To create pastel colors: Divide prepared Buttercream Icing into a separate bowls for each desired color. Using a toothpick, add one drop of color, at a time, and mix until desired color is reached.

Yields 3 cups Buttercream Icing.
Source:  Recipe excerpted from A Tea Party Planner, by Ellen Easton – All Rights Reserved.
---
TEA TRAVELS™ – Wishing You Happy TEA TRAVELS!™  Tea is the luxury everyone can afford!™ and Good $ense for $uccess are the trademarked property of Ellen Easton/ RED WAGON PRESS
Ellen Easton, author of Afternoon Tea~Tips, Terms and Traditions (RED WAGON PRESS), a lifestyle and etiquette industry leader, keynote speaker and product spokesperson, is a hospitality, design, and retail consultant whose clients have included The Waldorf=Astoria and Plaza Hotels.  Easton's family traces their tea roots to the early 1800s, when ancestors first introduced tea plants from India and China to the Colony of Ceylon, thus building one of the largest and best cultivated teas estates on the island.

Purchase Ellen Easton's Tea Books:
Each 5 x 7 book is $20 postpaid Continental USA only.  Wholesale and fundraising accounts welcome.  Include name, address, zip code, and phone number for shipping.  Check or MO order payable to:  RED WAGON PRESS, 45 East 89th Street, STE. 20A, New York, NY 10128-1256.  All inquires to teatravels@aol.com
AFTERNOON TEA…TIPS, TERMS and TRADITIONS
72 pages of how to's, 27 photos, history, etiquette and FAQ about afternoon tea, serving styles and more. "Tea is the luxury everyone can afford!™"

TEA TRAVELS™ – FOR THE HOLIDAYS
64 pages, 21 color photos. A complete holiday menu includes 25 easy to prepare recipes; theme teas, decorating & gift ideas; invitation template and secret sources.
Comments and Reviews