Flat Iron Steak Recipe … What's All The Buzz About?
This Flat Iron Steak article, recipe, and photos were shared with me by Eric Turner.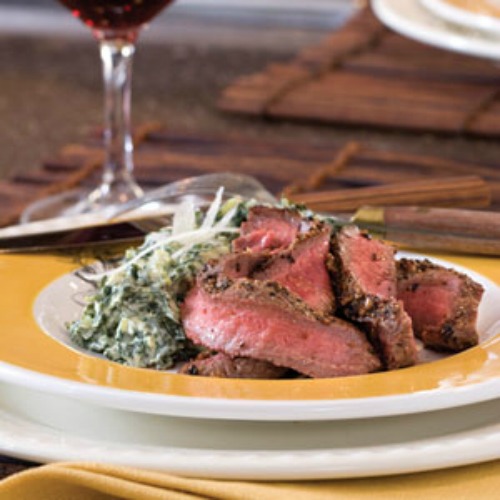 Just when you assumed there is nothing new under the sun and that the butcher's meat counter has given you all it's got, along comes an outstanding and brand new cut of beef – in a manner of speaking.  I will explain.
In 2000, the National Cattleman's Beef Association, in partnership with the Universities of Florida and Nebraska, conducted a study of 5,600 muscles throughout the beef steer to judge palatability and tenderness.  Among a heap of other findings, the study arrived at a new way to process the shoulder top blade muscle, producing a cut that resembles the business end of an old-time flat iron.  This 'new' cut quickly came to be known as, you guessed it, the Flat Iron Steak.  Furthermore, the study somewhat surprisingly determined that the flat iron is the second most tender cut of beef overall, just after the tenderloin.  Now that, my friends, is saying something!
Since then, the Flat Iron steak has exploded across the culinary world and the many great restaurant menus that dot its landscape.
Having spent my career in retail and wholesale meats, I had a bird's eye view of the Flat Iron's rocket ship ride to the top, where it still resides in immense popularity.  Nevertheless, I know there are many out there who are only now learning of this new steak 'invention', if you will.  Maybe they have peered with curious eyes into the butcher's meat counter at this nicely marbled and uniform cut, or maybe they have been present at one of a million backyard gatherings across America, where the guy a couple of lawn chairs down invariably declares, "We finally tried some Flat Iron steaks at our last cookout, and let me tell you, they were some of the best we ever had!"  So I hope a lot of you who fall into this category, curious but yet to have the pleasure, will take my advice – try a Flat Iron steak!  They're good.
The current average price for a Flat Iron steak is around $7.00 per pound, give or take a little in your particular area, well below the price of 'premium' grilling steaks.  But take a tip from this career butcher; you can save a bundle more by picking up a top or 'upper' blade roast from your butcher's meat counter, then asking him to remove the seam from the middle and portion into steaks.  This is where Flat Iron steaks come from, and your butcher should know just what you're asking.
Cooking methods for the flavor-heavy Flat Iron steak are generally the same as those of other grilling and broiling steaks, but owing to its unique grain and sliceability, it is also a great choice for stir-fry and fajita meat.  Check out this recipe to get acquainted with the excellent Flat Iron, and you may just be the one at the next backyard gathering raving about your new perfect steak!   At a minimum, I think you'll see pretty quickly what all the buzz is about.
More delicious Beef Recipes using various cuts of beef.
Flat Iron Steak with Red Wine and Rosemary Recipe:
Keyword:
Flat Iron Steak with Red Wine and Rosemary Recipe
Servings
:
4
to 6 servings
Ingredients
2

(1-pound each)

flat-iron steaks

2

cloves

garlic,

mashed

1

teaspoon

parsely,

freshly chopped

1

teaspoon

dry mustard

2

tablespoons

olive oil

1

cup of

dry red wine

1

teaspoon

rosemary

leaves, freshly chopped

Salt

and freshly-ground black pepper
Instructions
In a bowl, combine garlic, parsley, mustard, olive oil, red wine, black pepper, and rosemary; mix together well.

In a shallow baking dish, season the steaks moderately with salt and pepper. Cover the steaks with the marinade mixture and cover the dish with plastic wrap. Allow to marinate in the refrigerator for at least 1 hour or overnight. Remove steak from refrigerator and bring to room temperature before cooking.

Preheat the Barbecue grill over medium heat.  Place steaks onto the hot grill and grill to the desired degree of doneness, about 3 to 4 minutes on each side for medium rare.  Use a meat thermometer to test for doneness:

Medium Rare - 125 degrees F

What constitutes rare and medium-rare cooked meat? To satisfy government home economists, the Beef Council says rare beef means an internal temperature of 140 degrees F. Well, that is ok if you like well-done and dry meat. If you like moist, rosy meat (like I do), rare begins at 120 degrees and starts to become medium rare at 125 or 130 degrees F. To cook your meat properly, you must purchase and use a good instant-read digital meat thermometer.

Slice the meat into thin slices across the grain.

I get many readers asking what cooking/meat thermometer that I prefer and use in my cooking and baking. I, personally, use the Thermapen Thermometer. Originally designed for professional use, the Super-Fast Thermapen Thermometer is used by chefs all over the world.  I only endorse a few products, on my web site, that I like and use regularly.
You can learn more or buy yours at: Super-Fast Thermapen Thermometer.
Sponsored Content
Comments and Reviews