I created these Flambe Pineapple Boats with Shrimp recipe for a gourmet dinner that I put up for a local charity auction to benefit the Hillsboro School Foundation. Using the pineapple shells makes a very dramatic, exotic, and beautiful presentation! This wonderful dish will definitely delight your family and friends.
The term flambe [flahm-BAY] is a French word meaning "flaming" or "flamed." Flambe means to ignite foods that have liquor or liqueur added. This is done for a dramatic effect and to develop a rich flavor of the liqueur to the foods without adding the alcohol. Impress your family and friends by serving these Flambe Pineapple Boats with Shrimp.
Learn how to flambe.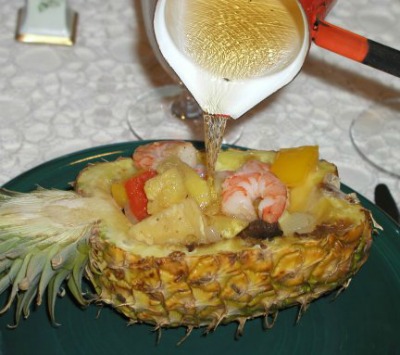 Flambe Pineapple Boats with Shrimp Recipe:
Keyword:
Flambe Pineapple Boats with Shrimp Recipe
Ingredients
1

small fresh

pineapple,

ripe with leaves attached

1

medium

onion,

cut into 1/2-inch cubes

8

mushrooms,

cut into 1/2-inch cubes

1/2

sweet red

bell pepper,

cored, seeded, and cut into 1/2-inch cubes

1/2

sweet orange or yellow

bell pepper,

cored, seeded, and cut in 1/2-inch cubes

8 to 10

large raw

shrimp,

peeled and deveined

4

tablespoons

butter

Black pepper,

freshly ground, to taste

4

tablespoons

rum

or brandy
Instructions
Preheat the oven to 300 degrees F.

Using a sharp knife, cut pineapple in half lengthways from top to bottom, leaving leafy crown on each half. Leaving a 1/2-inch-thick shell, remove the core and flesh; discard core and cut half of pineapple flesh into 1/2-inch chunks (reserve remaining pineapple for another use); set aside. NOTE: Be careful not to puncture the shell of the pineapple because it will be used for serving the finished dish. Turn the empty pineapple skins upside down on a tray to drain.

Place the pineapple shells, with fronds still attached, on a rimmed baking sheet. Wrap pineapple tops in aluminum foil to prevent browning. Warm in the oven until ready to serve. When ready to use, remove from oven and place on individual serving plates.

In a large frying pan or wok over medium-high heat, saute shrimp in butter for approximately 4 to 5 minutes or until shrimp have turned pink and opaque in center (cut to test). Remove from pan with a slotted spoon or spatula to a plate; set aside.

Add onion, mushrooms, and bell peppers to hot butter; saute approximately 5 minutes or until vegetables are slightly soft. Add pineapple, shrimp, and black pepper, stirring until just warm. Remove from heat.

Using a slotted spoon, divided the pineapple mixture among the hot pineapple shells. Sprinkle lightly with shredded coconut.

In a small saucepan, heat the rum just until bubbles begin to form around the edges. Can also be heated in a microwave oven by heating 30 to 45 seconds in a microwave-proof dish at 100 percent power.

To serve, ignite warm rum with a long match.

NOTE: Always ignite the fumes and not the liquid itself. Never lean over the dish or pan as your light the fumes.

Using a ladle, pour flaming rum over each pineapple boat.

For additional information, learn how to flambé.
Comments and Reviews