Five Cities to Visit in
Northern Spain – Basque Country
From Provincial to Pamplona
I arrived in Madrid after catching a few carefully plotted "Zzzz's"  on the plane.  It was mid morning, customs went quickly and the majority of my time was spent at the car rental kiosk.  Decisions, decisions!  For 7 euros more per day, I found myself driving North through central Spain toward the La Rioja region in a bright shiny-red mini cooper with white racing stripes – my dream car.  I also opted to rent the GPS unit so I would not get lost, …. introducing to you, TomTom.
About an hour into my drive, TomTom had me going in circles, as I missed the exit that TomTom wanted me to take.  It was under construction, and I think by the looks of things, it might be sometime next year when it would be completed.  TomTom was confused about that and kept trying to turn me around to head back.  I pulled off the highway and forced my cell phone into action and plotted my course on Google Maps.   I soon found myself heading north on a smaller two lane road through the countryside past old cities and a variety of old Spanish castles in various forms of decay.  Some were regal and elegant standing tall along the flat land.  Others, such as the city of ruins of Turruncun, Spain, an abandon village along LR -123.  This place that has me charging my camera up ready for exploration.
Arnedo
Arriving at my destination after a three + hour drive (thank you TomTom for the +), I find a quite robust little town. Arnedo.  It is the third largest town in La Rioja, Spain.  The population is about 15,000 and a town whose economy is based on the shoe industry.  Arnedo has a little shoe museum that I plan to explore later.
I found my hotel just on the edge of the city; cute, small, redecorated, and empty shoe boxes celebrate the economy in the alcoves of each floor.  My room is adorable with a LED multi-colored lit shower head and antique switchboard as a desk in the corner.
I walked the streets of Arnedo to the Calle de los bares (Street of bars) where the evening breeze attracts the locals out into the cool evening air for La Merienda, the "fourth" meal of the day.  It is a social time that begins around 5:30 or 6:00 p.m. and lasts up until the Cena (Dinner) that starts after 9:00 p.m.  Cena the final meal of the day, can be a small lighter meal before bedtime.
La Merienda, usually consists of an evening snack, pintxos, in the north, known as tapas in the south, croquetas, or a sweet treat.  Also popular are the beverages such as, beer, wine, coffee, and bitter kas (a bitter soda).
I enjoyed a Café Manchado, (stained coffee).  Actually it is really a "Stained Milk" as the drink is mostly steamed milk with a a touch of espresso.  It is less than a shot of espresso and very milky.  More of a coffee flavored milk.  It is similar to the latte macchiato I found in Italy.  This is the perfect coffee drink for those that do not really like coffee.  It is beautifully presented in a a glass so that you can marvel at the layers.  On a hot day in Spain, you order it con hielo, with a cup of ice.  If you like your coffee sweet, be sure to add your sugar into the hot coffee, stirring well to dissolve it before pouring over the ice.  Otherwise you will have gritty undissolved sugar grains.
Another interesting coffee to try is the Café Bombon made with sweetened condensed milk which makes a sweet drink without having to add more sugar.
Good Morning
After a nice first evening in Spain, I find myself up late the next morning; sitting outdoors at a street side café with my morning tea and a group of Spanish women behind me enjoying their second breakfast, "the real breakfast" around 10 to 11 a.m.
When travelling, I find coffee traditions interesting.  So let's talk coffee for a moment, since it seems to be an important part of mealtimes in Spain.  There are several coffee options that will be helpful to know.
What to Order
Café Solo – "Only coffee" or "Coffee alone."  Simply a shot of espresso.  A thicker, bitter coffee with a small foam layer.
Café Cortado – An espresso "cut" with some steamed milk.  Very little milk, but a little easier to drink than the café solo.
Lecha y lecha – An espresso "cut" with half steamed milk and half sweetened condensed milk.
Café con leche – Made with equal parts espresso and steamed milk.  This is by far the largest, in volume, coffee and topped with a rich layer of milk foam.
Café manchado – "Stained coffee" or "Stained Milk" as this coffee drink is mostly milk with less than a shot of espresso.  Perfect for those who are not overly fond of the taste of coffee.  (That is me!)
Cafe Americano –  An espresso shot where hot water is added.
Café con Hielo – "Coffee with ice" – A glass with ice accompanies your shot of espresso, Café Solo.  Although con Hielo can be ordered with any coffee drink for the warm summer afternoons in Spain.  But caution here, when ordering con hielo, it is all about the pour.  It should be a quick flick of your wrist as you pour your hot coffee over the ice.
Carajillo –  This is an espresso shot with equal parts of brandy.  Do not try this one for breakfast – although it is a popular afternoon and evening drink.
Café Bombon or café cortado condensada –  Equal part espresso and steamed sweetened condensed milk.  A very sweet coffee drink like drinking a bonbon.
Descafinado – Decaffeinated coffee.  When ordering Descafinado, use the term "de maquina," to be sure it is made with the espresso machine.  If not you will probably get an instant coffee.
My Favorite Tradition the "Kiss", "Kiss 
As I sit here at the bar restaurante, finishing my morning tea (no coffee for me), the group of ladies break from their meal and rise from their table with very loud, exaggerated "Kiss," Kisses" to the cheeks, saying good bye to one another for now.
It is hot everywhere in Spain in July, but I really feel it here.  It is in the mid 90's and the late afternoon is the hottest.  I am still trying to adjust to the time difference and overslept a bit, which is acceptable after a long flight.  I eventually found my way downstairs to breakfast, consisting of a lot of meat, cheese, plain yogurt, and pastries.  After breakfast, I head outside sitting at a sidewalk table in the shade of the hotel enjoying the "cool" morning before the town heats up again.  I spent my morning writing then wandered down to the office of turismo to ask a few questions.  I also attempted to exchange my US Dollars for euros but have had no luck so far.  It is harder in a small town to exchange cash.  I suggest that you exchange your cash in a larger city before heading into the countryside.
I wandered around through the streets of Arnedo and found an open air market, where several produce stands were.  There were also a few fish stands that were selling salted cod called Bacalao.  Bacalao is common across the Iberian peninsula, but more so in the Basque country.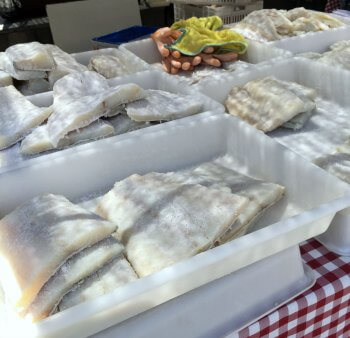 Bacalao is sold as dried, salted fillets, that are then soaked in cold water, which is changed often over several days until the fish is fully desalted and rehydrated.  Bacalao can be purchased in the salted form or already desalted.  When preparing Bacalao for a meal, it is better if you start the day before you plan to eat it.  Ingredients include a generous amount of garlic, yellow onion, parsley, and choricero peppers with the seeds removed and tomato sauce.
Choricero peppers are only used in the southern most part of the Basque country in the La Rioja region and are used in many types of dishes.  To prepare the classic "Bacalao La Rioja Style," the onion is slowly simmered until transparent.  Floured cod fillets are laid skin side down across the top of the onions and the pan is kept in gentle motion on a very low heat until the fish is almost cooked through.  The garlic, parsley, and tomato sauce are then added to the top of the fish and the pan is covered and removed from the heat and covered to let the cooking finish in it's own juices which creates a thick rich sauce.
The Choricero pepper is a green pepper that ripens to red.  Sweet varieties have a Scoville of 0 and mild varieties run from 0 to 1,000 on the Scoville scale.  A Choricero pepper is commonly used in the La Rioja region of Spain.  It is often dried and then powdered, called Pimentón, and used in soups and stews or made into a paste, (Carne de Pimiento Choricero) which is used to make Chorzio sausages.
This evening I was invited to dinner with a family at their country house located a few minutes outside of Arnedo near the river.  The property is shared by their family, which includes the parents, and their children and their families.  The yards are connected by a vegetable garden in the center and the three homes along the perimeter.  Our host  walked us through the garden, sharing his plants with us.  They were growing tomatoes, peppers, cucumber, lettuce, zuchinni, and Borraja (borage).  The borage is a common herb and vegetable that is known for it's diuretic properties and often seen on the meal plate.  The leaves are stripped away and the stalks are cooked in a pressure cooker.  The Borraja can also be served raw in salads similar to a cucumber or the leaf dried as an herb.
We spent the evening enjoying a eggs and choricero, borage and a family salad and wine and discussing our upcoming journey to Pamplona.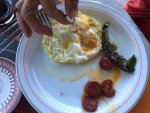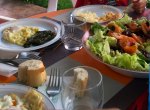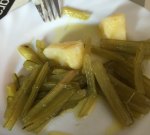 Pamplona – San Fermin
I headed to Pamplona for a few days to enjoy the festival of San Fermin.  I rented an apartment just outside of the central area, and walked to and from the central area of town.  When going to Pamplona, plan ahead.  I was able to locate the apartment for 50 euros per night per person and had access to a full kitchen, laundry, living room, and a bedroom.  The owner of the apartment also rented a balcony in downtown to view the running of the bulls for an additional 40 eruos.  If you compare this cost to what you are charged when searching from most U.S. Web sites, I paid considerably less for an apartment and balcony.  The secret, search Google.es for Spanish web sites for better deals.
I spent two days in Pamplona and rented the balcony for both mornings.  I was happy that I did as the running of the bulls goes so quickly.  You really need a second viewing to get all the photos you want.  The balcony was on Calle de la Estafada, the long street just past la curva (the middle of the route).  La curva ia a 90 degree turn that the bulls make where a lot of excitement can happen as the bulls often slip and take down runners here.  This area is the ideal place to see most action.  If you get too much further down the route on calle de la Estafada, the bulls slow as it is the long straight portion of the route.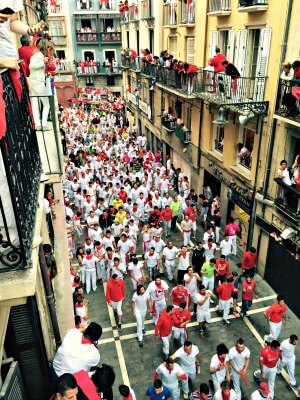 The morning alarm was set for 5:30 a.m., as the journey to the balcony began early.  You have to be in your building by 7:00 a.m. to assure you can get there before they close the street to pedestrians.  Once safe in your building above the street, many balcony renters serve a breakfast before the run.  Toast, hot chocolate, coffee, and pastries are popular in the morning.  The air is thick with excitement, and leaning out your balcony to look up and down the street brings the celebration up a notch as you can watch others fill balconies and doorways. The runners are allowed to walk the route to find the spot they wish to start running from.
There is a lot of reverie – jumping and stretching going on below and along the route as the runners prepare for the 8 a.m. release of the bulls.  During San Fermin, the bulls run every morning of the nine day festival.
When the run is over, it is time for chocolate and churros.  A very popular morning meal in Spain, it is known as the hangover cure and especially popular during festivals and carnival.  The chocolate is a thick dark chocolate and served in a drinking cup.  You also get a bag of freshly fried churros to dip into the thick dark chocolate.  The lines in front of the churro shops were 100's deep, and no one wavered about waiting.  People stood their place until they were served the morning treat.  It is part of the tradition!
The culinary landscape of San Fermin includes toros estafado or bull stew (a deep rich brothy stew with tender chunks of beef).  Ajoarriero (salt cod in tomato, garlic and pepper sauce), fresh white beans, Chistorra sausage, stuffed peppers, asparagus, and  ham in tomato sauce.  Wine choices are either vino tinto, vino rosa, or vino blanca.
The festival has a traditional culinary order:
The morning of a typical festival day starts with The Dianas (early morning reveille with musical bands) at 6:00 a.m. at city hall with hot broth served to the participants.
Next are Churros and hot chocolate after the bull run and a variety of pastries.
Then the parade of Gigantes (Big Heads) between 9:15 a.m. and 11:00 a.m. is the Chistorra (a fast-cured sausage made of either minced pork, garlic, salt, and paprika).  The paprika gives the sausage it's characteristic red coloring.  Chistorra are can be  baked, fried, or grilled and served as a side to another dish, or as tapas.  Another common food is asparagus and ham in tomato sauce.
Then the Meriendas or afternoon snack in the bullring, organised by the Peñas consisting of a packed lunch of local homemade cuisine.
The evening meal, La Cena starts at 9 p.m. and can go well after midnight.  This is a great time to try Estofado (bull meat, which is very tender, juicy, and flavorful or Rabo de Toro (literally meaning "tail of the bull" in Spanish) which is a rich stew that is simmered over many hours with vegetables, wine, spices, and sometimes even chocolate!
Another tradition of San Fermin are the meals with Peñas, the social societies of San Fermin.  The apartment owner, Camino, explained to that each day of the festival different social groups gather for a meal.  One day could be your immediate family, the next is the group of people you work with, the next day would be childhood friends, and so on.  Everyday there is a feast with different Peñas.  Often these groups can be seen dining in the streets during festival at long tables, enjoying the atmosphere of the festival and each other's company.  The musical parades of the Peñas are exciting and loud.  Some members gather as a band and they lead the crowds singing and dancing through the streets into all hours of the night.
Calimocho is also abundant during San Fermin.  It is a blend of red wine and Coca-Cola.  Calimocho was first served in Spain sometime back int eh 1970's.  During a festival the discovering of bad wine let the hosts to try and cover up the taste by adding Coca-Cola.  The result was an inexpensive cocktail that is popular in Spain during festivals
If you are heading to Spain in early July, do not miss the festivities and the foods of San Fermin.
San Sebastián (Basque: Donostia)
A natural transition from the festivities of San Fermin, is a relaxing day by the sea in beautiful San Sebastián (Basque: Donostia).  An hour drive north of Pamplona, this ocean side town is everything you would expect from a European seaside vacation destination.  Right from a postcard, San Sebastián's bayfront promenade is complete with yachts, a crescent beach, and blue and white striped beach tents.  You will find world-renowned restaurants nestled in old town (Parte Vieja), plenty of shopping opportunities and a busy nightlife with pintxo (Basque-style tapas) bars where you can enjoy small bites with local wines and ciders.

I walked the streets of the old town and stopped in at several hostels looking for the perfect one for my first hostel stay.  I found a cute room with a bay window and balcony over looking the cobblestone streets below.  I settled in to the room, then wandered out into the streets to hit the Calle de los bares in search for pinxtos.  There I found beautiful displays of the small plates filling the bar tops of many restaurants.  Choosing where to start was the most difficult part.  Common pintxos include Anchoas y Guindillas, Anchovy with Pickled Green Peppers, Chistorra y Padron, Sausage and Peppers, Piquillo Pepper Jam, Croquetas de Papas, Potato Crouquettes, Angulas, Baby Eels, Pulpo, Octopus, Pincho de Tortilla, tortilla Omelet, and of course Jamon Iberico, Cured Ham and many more.  There is always a vast, varied and interesting selection to choose from.
A trip to northern Spain into the Basque country would not be complete without a visit to San Sebastian.
Bilbao
The next stop was Bilbao where I found a cute hostel called the Basque Botique.  Each room in this adorable hostel was individually decorated with handcrafted furniture and unique artistic finishes inspired by the Basque culture.  My room was the La Marijaia (Marijaia is the symbol of Bilbao's festivities).  She was designed in 1978 and she is one of the most popular and beloved characters in Bilbao.
I used AirBnB to book and pay for the room, received a key code via text, checked in and never saw another soul there during our stay.  The common area had a game room and dressing area where you can dress in traditional basque attire for a fun selfie photo shoot.  It was a delightful and affordable hostel and after this second one, I was hooked on the fun and surprise of hostel travel.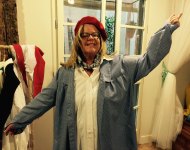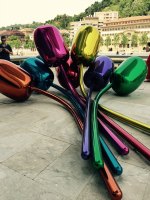 Bilbao is home to Frank Gehry–designed titanium-clad museum.  Guggenheim Museum Bilbao that is set along the banks of the Nervion River, which runs through the city of Bilbao to the Cantabrian Sea.  Bilbao is a very walkable city with a walkway along both sides of the river.  This is truly a treasure in the heart of the basque country as Bilbao has an interesting skyline with turn of the century buildings nestled in between modern skyscrapers, forests, ocean and mountains all nearby.
Arnedillo
After two days of festival that goes non-stop for nine days, a quick tour of the Northern coastline.  What do you do next?  Relax.  I started my journey back south to Madrid, stopping in the small town of Arnedillo.  Arnedillo is located about three hours south of Bilbao on your way back to Madrid.
Arnedillo's lure for me was the fact that it has a hot springs that bubbles up from the river Cidacos.  Nestled on the banks of the Cidacos is a centuries old spa hotel, as well as several natural pools "pozas."  Arnedillo also has an old railway line that has been converted into a fabulous walking trail along the river that extends to Calahorra to the south east about 33 km away.  The trail passes by small villages, olive groves, and vineyards if you travel the entire length.  There is an old railway tunnel that runs through the rock mountain into the city of Arnedillo where you can enjoy a brisk cool breeze before desending into the city if you choose the hike into town
This was definitely the best way to relax and rest after all the excitement, walking and festivities of San Fermin and food of San Sebastian and Bilbao.  You can stay at the Balneario Spa and take advantage of the facilities, pools, and treatments.  The spa's history dates back to Roman times, as evidenced by some remains that have been found.  Today, it is a modern spa that has been completely refurbished to include the latest technologies and facilities.  A room at the Balneario includes your meals.  You  can also stay inexpensively in town, and partake of the healing waters from natures source and stay in one of the small hotels which are pretty inexpensive.  I stayed at the Hotel Marrodan, just down the hill from a spa. This little town is a gem, hidden in a small valley in central Spain, not commonly known or visited by tourists and a great respite before hitting the big city of Madrid and your trip home.
Overnight in Madrid I like to stay in Barajas Madrid, near the airport, where I can visit my favorite restaurant on Avenida Logrono no. 132, Restaurante Campanillas, and see my friends Pepe and Carmen.  I met them on my first trip to Spain.  They are the most wonderful hosts and make a great meal.
Check out Pepe's Secret Spanish Sangria Recipe.
Comments and Reviews