Ten Days in Tokyo – Food, Fun and Trains

I am typing this from the last place I expected to be today, Honolulu, HI. The trip started with a little stress, as my flight was booked direct from PDX to NRT.  Two days before I left the flight was wide open, then one day before and the flight filled up and I was bumped down to the standby list, the plane was overbooked by 12.
My great friend Denise, went to work to re-route and got me on an early morning flight from PDX to SEA, then to HNL where I sit now in an airport hotel resting up after our early start today.  Tomorrow, I attempt the last leg of the trip from Honolulu to Tokyo.  With 165 open seats and only 17 people on the list, I hopefully will make this flight.
Arriving in Tokyo, customs went quickly and smoothly, and I found my way to the Tokyo railway station below the airport.  Amazingly enough it is easy to locate the Japan Railways and exchanged pre-purchased vouchers for the Japan Rail Pass.  I was also able to purchase the express tickets to Tokyo at the same time.  Less than 5 minutes later, I was settled on the train ready for the hour journey into Tokyo Central Station.

How to Get Around in Tokyo
Once at Tokyo Station, there didn't seem to be a huge crowd.  I was expecting an onslaught of people but it was not until I started up the station to toward ground level where I started to encounter the crowds.
There was one task at Tokyo Central – to follow the Green symbols to the Yomanoto line where I would find the next train to Shimbashi station.   The hardest part about the train journey was, after arriving at Shimbashi station, trying to figure out how to get out of the station to street level.  It is quite a maze underground with all the tracks, shopping, restaurants, and people.
There was a sign that said "Shiodome," which was part of the name on the hotel I was looking for.  I followed the Shiodome signs until eventually I saw daylight and came out on the street.  From there the next challenge was to find the hotel.   Now for full disclaimer – I am not getting any compensation from Google, but I must thank Google Maps for escorting me from the train station for the rest of the journey to our hotel.  In fact, Google Maps saved my entire trip!  All the apps that I preloaded did not help me in my journey.  Google Maps was my travel companion telling me foot step by foot step how to get where I wanted to go.  Complete with train schedules, platform, and cost all listed.  My best advice, do not buy any special navigation apps, just use Google Maps.
Arriving at the hotel, I broke the jet lag rule and flopped on the bed and fell asleep watching sumo wrestling on the television.  Now it is 3 a.m. Tokyo time, 16 hours ahead of our home base of Oregon.  I have texted with my bestie Denise, and used Facetime to call my sister Brenda and my nephew Bo.
Tsukiji Fish Market Part 1
Since it is very early in the morning and I am awake, I am going to head down to the Tsukiji Fish market, where you can find the world's largest wholesale fish market and the famous tuna auction. This is where one goes to eat the freshest sushi you can find.  My best advice for visiting the Tsukiji Market is – do not go on a Sunday, they are closed!
Where to Find The Food
It was back to the hotel for a short nap then off to the Ginza district.  It was still, only 9 a.m.  All the stores are closed until 11 a.m. on Sundays.  (Map my walk). I spent the morning wandering the streets and getting in my steps while waiting for the shopping bustle to start.
In the Ginza district, the shopping is fabulous if you have a few extra yen to spare.  I did not, so I didn't even bother browsing in the stores that were lined along the district.  Stores such as, Cartier, Burberry, Coach, Barneys, Louis Viton, Prada, just to name a few.
During my accumulation of steps, I set out to find The Ginza subway entrance A2.  I read that there was a vending machine colony living there where you could purchase almost anything.  I never found the right spot, but did find ourselves at the Ginza Station entrance to 座三越デパート – Mitsukoshi Department Store, Ginza Station Food Garden at opening time.  Mitsukoshi is the oldest surviving department store chain in Japan (founded 1673).  Many people were lined up waiting at the door for the store to open.  It was a delight to see the formality of the opening of the store for the day.  With over 100 food stations freshly stocked and ready for the day's customers, each sales clerk was standing in the aisle in front of their station.  They bowed greetings to the first customers as they walked by.  (VIDEO) (Panoramic Photo).  There was a bountiful display of many kinds of prepared foods. This food hall is known as a depachika.  Depachikas can be found in the basements of many department stores, but Mitsukoshi's is considered to be one of Tokyo's best.
There are two basement floors where you can find everything from prepared sushi, bakeries, Japanese desserts, bento boxes, French patisseries, chocolates, and wine.  The food garden, depachika, is immaculate and the food is beautifully crafted.  The displays are perfectly arranged and the attention to detail is evident in everything.   It is a foodie's dream destination to go and browse, sample, or buy snacks.  Linger in your favorite food area, and be sure to enjoy a dessert.  The good news; This wonderful plethora of food can be found in the basement of most department and grocery stores.

All of these prepared foods we found in the basement level of our local grocery store in Tokyo for a fraction of the most
of department stores or eating out at a restaurant.
Opening at the Mitsukoshi Department Store Food Garden
Are You Afraid of Heights?
After a short debate with myself, I also visited the Tokyo Sky Tree, the tallest tower in the world, reaching a height of 2,080 feet.  The tower is a broadcasting tower, but also have restaurants and an observation deck at the 1,150 feet and another at 1,480 feet.  The upper observatory features a spiral glass enclosed skywalk which gives the visitors a direct view downward to the street.

There is a fast line for international visitors only.  You can purchase your tickets (at a higher price) and skip the line of people waiting to ascend the tower in the elevators.  The elevator ride is smooth and quick. You barely notice the movement, but you do feel your ears begin to pop at the sudden change of altitude.  Once at the lower observatory, you can pay an additional fee to continue to ascend to the higher deck another 330 feet above.  The lower deck was high enough for me.  For those of you with a fear of heights, me included, it felt relatively safe.  The glass observatory was set out from the platform and had heavy railing about 5 feet back to keep you a safe distance from the glass.  The entire platform was fully enclosed and was quite large, able to hold a capacity of 2,000 people at a time.
The rest of the day was spent getting acquainted with the subway system.  It is easy to get around.  I have found Google Maps still to be the best travel partner.  I can put in a destination and start from the location where I am currently standing.  Google will map it out for me by bus, taxi, train or by walking. For longer distances, I can choose a train schedule and it tells me what station, train, and platform.  On foot, I use the walking guide and it gets me close to a destination.  There are times when surrounded by tall buildings, I had to stop and slowly turn, while standing on the sidewalk, trying to orient the arrow with the trail of dots that led the way.
Tsukiji Fish Market Part II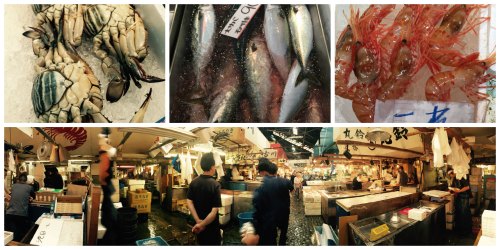 Still unaccustomed to the time, I was up early again on my way back to the Tsujiki Fish Market.  It was not quite as early as the previous day as I was able to sleep in until 6 a.m. This time the market was open and running in full speed.
Over 2,000 tons of fish are handled each day.  The tuna auction starts at 5 a.m.   You must line up before 5 a.m. to get one of the limited number of visitor tickets to observe the auction.  Only 120 visitors are allowed in each morning.
The Tsukiji Market is a large wholesale market of fish, fruits, and vegetables in central Tokyo.  It includes ten wholesale markets that handle the distribution of fish, meat, produce, and flowers in Tokyo.
The wholesale fish area did not open until 9 a.m. so we wandered the vendor stalls where you could find everything from paper towel rolls to fine Japanese fish filet knives.

Sushi for Breakfast
Down several of the alley ways, there were the many sushi restaurants.  Several small establishments that were only large enough to hold around 12 customers at a time.
There are many sushi places to choose from, but be sure to select the ones with the longest lines.   Those will be the best sushi eateries, and of course the longest waits!
To make sure you are not waiting longer than necessary, it is helpful to know that there are two lines for each establishment.  The line on the right, is the line you wait in to place your order.  The food is displayed in photos bordering the restaurant and on a reader board.  You are guided through your choices, based on a series of questions of what you like until you and your sushi guide decide on what sushi arrangement you would like.  Your order is taken on a sticky note and then you move to line 2 on the left.

By the time you reach the door and it slides open and you are seated, your order has been prepared and is brought to you within minutes of being seated.  Each order comes with a warm miso, pickled cucumbers, and cold tea. (Photo of order).  The fish is tender, silky smooth and very fresh.  Tsujiki Market has some of the best sushi in the world, and it sure makes an interesting breakfast!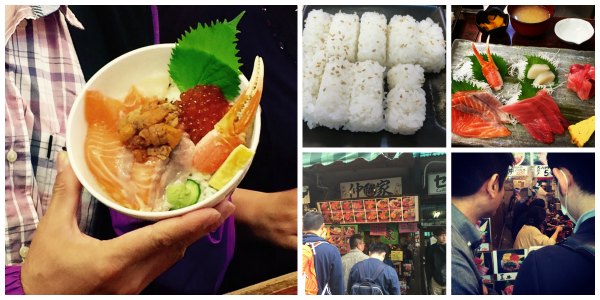 Luxury Fruit Emporiums
While visiting, Tokyo be sure that you seek out the fruit emporiums.  The first one I stumbled upon was the Sembikiya fruit emporium, which has been run by the same family since 1834.  The Sembikiya Fruit emporium began as a discount fruit store until a wife of the second-generation owner decided they could make more money selling fruit at higher prices and began the tradition of giving high-end fruit for special occasions.  This form of gift-giving has become a Japanese custom.
Visiting Sembikiya is like visiting a jewelry store.  There are glass cases where perfect fruit is displayed, and private consultation areas where a purchaser is handled with the greatest of care.  After the order is placed, the fruit is then gift-wrapped and the whole experience was as if you had just purchased a fine piece of jewelry.  You pay for this shopping experience dearly with melons that can sell for up to $500 each! (Photos)
What happens to the fruit that does not get purchased before its peak passes?  Fruit Parfaits!  We visited Takano Fruit Parlor for lunch at their  café where delicious and beautiful fruit parfaits are served.  Do not miss this treat.  I found myself planning the rest of my days in Tokyo to make sure I ended up by a fruit café to try them all.  As you probably suspect, the cost of a parfait is a bit high coming in around $25.00 each.  You must ignore the cost at least once and try these delectable treats.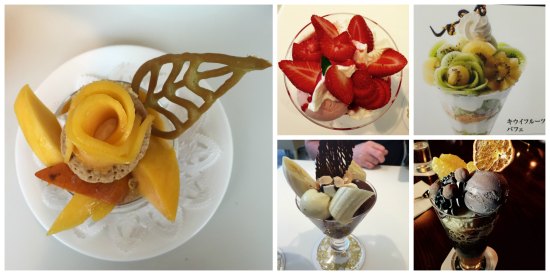 Free Government Tours
As a tourist in Tokyo, you can request a Government tour free of charge.  You need to pre-arrange your tour before arriving in Tokyo.  You have the option of choosing from several different districts for your private tour.  You will also have two English speaking guides to show you the way and explain the sights of your tour.  I chose the Harajuku district tour and its Meji shrine.
To begin your tour, you first get yourself to the Tokyo Metropolitan Government building #1.  We arrived early and found that the 32nd floor cafeteria is open to the public for lunch.  For less than $5, you can enjoy a wonderful traditional Japanese meal via cafeteria vending machines.  Fun!   The only requirement is to complete a security form and receive your security badge.  The vending machine meal was a new experience for me, so I began to sort it out by watching others and asking a few questions.  You start by choosing your meal via the plastic food menu display.  Once you decide, you note the number that is listed by your plastic meal.  Next you buy a ticket from the vending machine by inserting your coin and punch in in the number from the plastic food display.  The machine dispenses a ticket and you are off with the pre-paid ticket to the corresponding numbered line to wait for your delicious Japanese lunch.  It is made fresh for a fraction of the cost of lunch in a Tokyo restaurant.

What a great way to eat while traveling.  I asked and was told that many office buildings have cafeterias for their workers and visitors.  I was also told that many office buildings and department stores have restaurants on their upper floors where you can get a decent meal at a reduced price.  You just need to wander in from the street and explore the buildings to see what they offer.  It will save you a bundle!
Harajuku District, Where Everything is "Kawaii"
After lunch, I set off with the two guides to tour the Meji shrine and visit the shopping area of Tokyo's Harajuku district.  We visited the Takeshita Street where pop culture of Japan is on display in the "Kawaii" way.  "Kawaii" means cute and the Takeshita Street catering to teen girls is the Kawaii of Japan.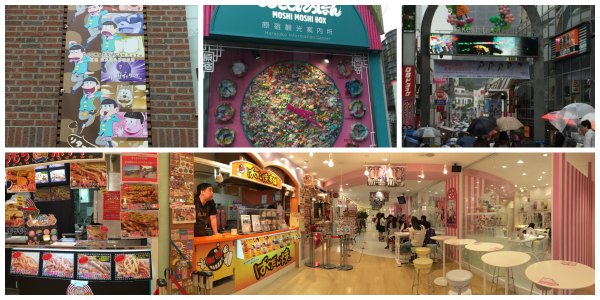 Shops line the busy Takeshita street with all sorts of entertainment and clothing.  Purikura stores or "print clubs" are a common place to find a group of teen girls dressed in "Kawaii" and posing in the many booths for instant photos that are printed on stickers.  The photos can be manipulated adding backgrounds, colors, text, and face altering technology.  It is very popular past time with the young girls.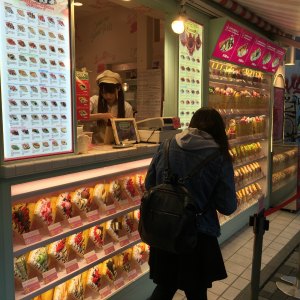 Crepes are also popular on Takeshita Street.  Colorful crepe shops with an array of plastic menus decorate the area and help in the decision making for the customers.  Crepe shops are plentiful and it is difficult to know where to start.  Do go with an appetite and try Angels Heart Café Crepe shop or Marion Crepes as both have been serving in the Harajuku district for over 40 years.
You will also find the Omotesando area, where shops catering to young women's fashion can be found.  I also noted that this is where the prices start to increase.
There are also several popular restaurants in the area that have long lines during meal time.  One is Gyoza Lou, located just off Omotesando in central Harajuku.  The menu is simple as there are just two styles of gyoza dumplings available, fried or steamed.  They are delicious and affordable at ¥290 for six dumplings.  Gyoza is often known as pot stickers.  They are dumplings filled with a ground meat, sometimes vegetables, and wrapped in a thin dough.  They can be either steamed or pan fried.  They are a great finger food and addictive.  Gyoza Lou is a great place to hang out and socialize and enjoy fresh gyoza and sake after wandering through Harajuku and Omotesando.

Touring Tokyo can take up all your time while there as the city is huge and there are many districts to visit.  If you are able, buy a ticket and head out of Tokyo on one of the bullet trains.  My train journey took me to Kyoto and past Mt. Fuji as I enjoyed my bento box lunch.  You can buy food on the train, but I highly recommend arriving at the train station early so that you can wander the many stores selling bento boxes for your train journey.  There are so many to choose from.  Of course, the displays are colorful and beautiful and the food is good too.  Each day, the bento boxes are made fresh and wrapped for the many millions of travelers that pass-through Tokyo station.  Nothing has time to go bad with the turnover on the shelfs.  You do need to buy your bento early, as the lunch rush will wipe out every shelf in every kiosk pretty darn quick.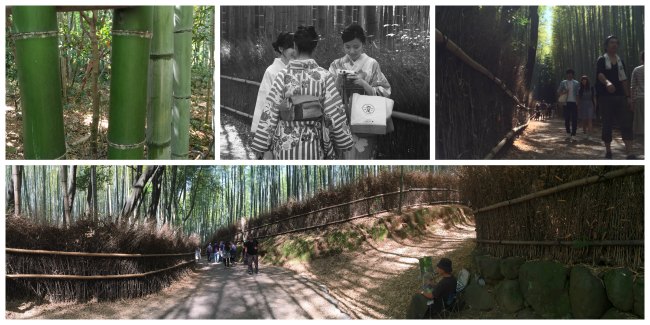 Arriving in Kyoto, our destination was the Bamboo Forest, via the JR Sagano line to Arashiyama.  It is a short walk from the train station to the bamboo forest.  The pathway is clear and shaded, and tourists and locals stroll along the peaceful bamboo trunks.  Here is where I first sighted the latest fashion trend in Tokyo, the return of the Kimono.  Young girls are recapturing their heritage and where the beautiful fabrics of the full Kimono.  A popular trend is to combine the traditional Kimono with modern accessories.
After walking through the Bamboo Forest, the natural path back to the train station is meandering through the town of Arashiyama.  Throughout the small town, you will find many treats to cool down, such as iced cucumbers and many places to enjoy match tea treats of all kinds.  There are delicate sponge cakes called Kuromaru Maccha, or the Kyoto Kuro Roll.  This dessert is infused with the natural taste of creamed Matcha.  Prepared by rolling the match with a bamboo charcoal in a sponge cake.  The flavor is unique and the bamboo charcoal paste is good for your health.  You will also find matcha parfaits, matcha Tiramisu, and for a unique matcha experience try the hisui mochi at Saryo Hassui in Arashiyama.  This treat is a shiny jade green firm jelly-like dessert loaded with matcha from Ippodo and arrowroot powder.

Left to right green tea ice cream swirl, Kuromaru Maccha photo courtesy eX Cafe and  Hisui mocha photo courtesy of Saryo Hassui, Arashiyama
If you have simpler taste, try one of the many ice cream cones in green and brown matcha.  If you want to really revel in matcha, visit one of the many tea lounges in Kyoto like the Tea cafe Saryou-suisen, Kaneta Café, Tea lounge Koishi, Nakamura Tokichi's JR Kyoto station in Isetan department store.  All serve gorgeous and delicious green tea parfaits
Tokyo Disneyland and Tokyo Disney Sea
After a few days wandering the districts of Tokyo, a little structure was in order.  I packed up my bags and took the train to the Tokyo Disney Resort station.   Here I found two Disney parks, Tokyo Disneyland and Tokyo Sea.  Both parks are connected by a single monorail train, so you don't need to worry about getting lost.  Each park is independent and has a different assortment of attractions and rides.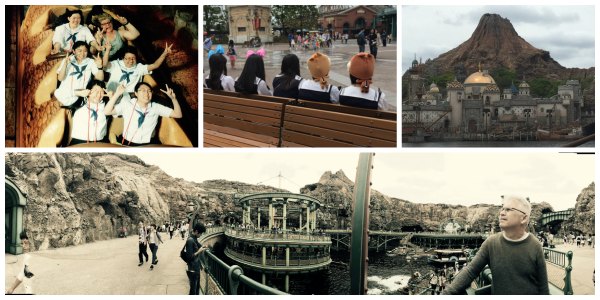 Tokyo Disneyland is the more traditional of the two parks.  This is where you will find a slightly scaled down version of Adventureland, a blend of New Orleans Square and Adventureland.  Also Westernland, similar to Frontierland, Fantasyland with Cinderella's Castle, and Tomorrowland which reflects more of the present than the future technology.  There is also a Critter County and Mickey's Toontown.
I spent a day in Tokyo Disneyland and found a few helpful tips that I really liked.  The lines at the park are reallly long.  It appears that groups of young people like to go on the rides in their friend group for the photo opportunity.   If you don't have an affiliation, you can head to the entrance of Splash Mountain and claim to be a single rider, where you just walk up through the fast pass line and onto a log with a group of total strangers.  It was much better than waiting for 4 hours and made for a great photo!   I also found this tip works on the Indiana Jones ride in Disney sea.   I did check with each line attendant to see if there was a single rider option for that ride.
I spent another day at Disney Sea, which was like the Disney Park, California Adventure.  Disney Sea was more of a water-themed park with more thrill rides, such as my favorite, The Tower of Terror (no single rider option).  Indian Jones Adventure (single rider option available) and Raging Spirits.  Many river-themed rides were available in Disney Sea as well, Venetian Gondolas, Transit Steamer Line, Aquatopia and many children's favorites, such as Ariel's Playground, Jumpin' Jellyfish, The Magic Lamp theatre, etc.   Disney Sea also had the Mysterious Island where there were two great attractions to visit, 20,000 Leagues Under the sea and the Journey to the Center of the Earth roller coaster ride.
Both parks served the same food, had the same gift shops, and snack areas.  Unlike Disneyland in California, where your food choices and gift shops reflected the land that you were visiting.  If you plan on eating in the park, be sure to stop by the restaurant first thing when you arrive in the morning.  Most the restaurants are by reservation only.  There were not many walk up options to have a sit-down meal on the fly.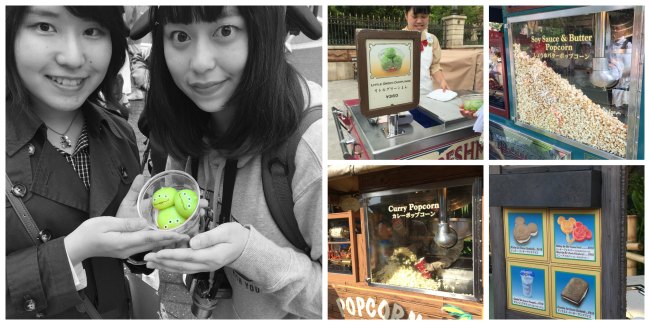 What I did love about the parks were; The rides had different storylines then the same attractions in California Disneyland.  Indiana Jones, had the same ride, but the story was the Temple of the Crystal Skull, while California Disneyland has the story line of the Temple of the Forbidden Eye.  The same holds true for the Tower of Terror.  In Tokyo Disney Sea, the Tower's storyline departs from the Twilight Zone theme altogether.  It made it fun to ride the same attraction, but experience a new story.  My other favorite thing was the snack food.  Although they did not have my favorite Mickey Mouse ears ice cream bar with dark chocolate and nuts, you could also find steamed buns, bubble tea drinks, as well as monster shaped mocha dumplings, and teriyaki chicken legs.   And of course, the famous Tokyo Disney flavored popcorn carts that you can find throughout the park.  The popcorn flavors included, salt, curry, caramel, honey, soy sauce, butter, sea salt, black pepper, and apple cinnamon.
Finally, I Cannot Leave Tokyo Without Talking About Ramen

Everywhere I went I tried the Ramen.   I love watching the process of making Ramen.  The flavor in the broth is so rich and slurping noodles is very satisfying.
There are a few choices to be made when ordering Ramen – what flavor stock: the traditional shio Ramen, (salt-based), Shoyu Ramen (soy sauce-based), Miso Ramen (soybean-based) and Tonkotsu Ramen (Pork bone-based.)   I also found Chicken based broths.
The Ramen bowl is made up of the basic elements consisting of broth, tare, noodles, and toppings.  The broth is a blend of pork, chicken, seafood, vegetables, and usually some secret ingredient that the ramen house holds close and makes their ramen come to life.
Tare or kaeshi is the strong, salty starter layer in the ramen bowl.  The tare is the element that determines the ramen type, shio, shoyu, miso or tonkotsu.
Next is the noodle, made of wheat flour, salt, water and kansui.  Kansui is a type of alkaline mineral water that gives the ramen noodles their distinct yellow hue and firm texture.  Eggs are often used as a substitute for kansui.  The noodles are the slurpable part of the Ramen.
Finally, the toppings, the toppings can vary widely and you can mix and match your proteins.  Common toppings include, scallions, seasoned boiled egg, bean sprouts, Menma, (lactate-fermented bamboo shoots) kakuni, (braised pork cubes) Narutomaki (formed fish paste) Nori (dried seaweed), butter, chashu pork and sometimes corn.  The exciting thing about ramen is that the ingredients can vary depending on the region, ramen house and the customer's preference.
I found Tokyo to be a large busy city that one cannot possibly fully appreciate unless you live there.   As a tourist, there is so much to do and see.  Even though I researched my journey to Tokyo, Japan, there was so much more to do that I didn't even know about.   Be sure if you go to enjoy some of the wilder aspects of Tokyo.   Dress as a Harajuku in Kawaii clothes and make up.   Ride real-life Mario carts through the city streets of Tokyo.   Visit Godzilla atop of the Hotel Gracery in Shinjuku, spend a day browsing comic books and electronics as you get lost in the district of Akihabara.   Above all my biggest lesson was to leave the street and wander into the city buildings as there is a wonder of discovery from food to shopping on each floor.
Comments and Reviews