Cantaloupe with Spiced Wine Salad is so easy to make and makes a great brunch entree or a light summer dessert.  Very flavorful, refreshing, and so delicious!  This is a great make-ahead salad.
Did you known that this fruit, widely known as "cantaloupe" throughout the United States, is actually muskmelon?  Cantaloupes are members of the cucurbit family of plants (Cucurbitaceae) that also includes cucumbers, pumpkins, squashes, gourds, and a long list of melons.  This tasty melon is pack with good nutrients.  Although available throughout the year, cantaloupes are at their best in its season sometime from June to September.  When purchasing a cantaloup at the market, pick a heavy, aromatic cantaloupe, with stem ends that yield slightly when pressed.
More of Linda's delicious Melon Recipes and Fruit Recipes.  Also more wonderful Salads and Salad Dressing Recipes.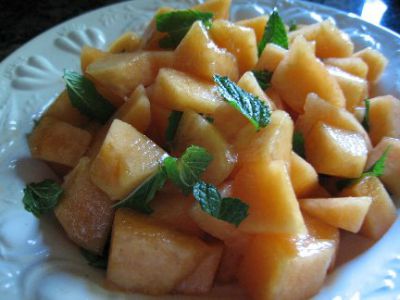 Cantaloupe with Spiced Wine Salad Recipe:
Keyword:
Cantaloupe with Spiced Wine Salad Recipe
Instructions
In a small heavy saucepan, simmer the wine, sugar, mint leaves, and crushed peppercorns until mixture is reduced to about 1/4 cup, approximately 10 to 15 minutes. Remove from heat and let cool.

Strain cooled wine mixture, discarding mint leaves and any peppercorns that come through strainer. Store in refrigerator until ready to use. NOTE: Spiced wine can be made 1 week ahead and refrigerated in an airtight container.

With a melon baller, scoop out 1-inch balls (or cut with knife into bite-size pieces) from the melon and place into a medium bowl.

Just before serving, drizzle cantaloupe pieces with the wine/mint sauce. Sprinkle fresh mint leaves over the cantaloupe and gently mix in.
Recipe Notes
* I like to use our Oregon Pinot Gris wine.
Source:  I adapted this recipe from Gourmet Magazine, February 2002.
Comments and Reviews