Fig Brulee with Balsamic Vinegar is an outstanding appetizer that will amaze and delight your guests at your next dinner party.  All fig lovers will definitely love and rave about this recipe.  When fresh figs are available, this appetizer is an absolute "must make."  This Fig Brulee with Balsamic Vinegar appetizer is so easy to make and so delicious.  Using a cooking blowtorch makes it extra easy to caramelize the figs.
Purchasing and storing fresh figs:  Fresh figs are one of the more perishable fruits.  Ripe figs will feel plump and give slightly when squeezed but are not overly hard or mushy.  I always try and use my figs within two days of buying them.  To avoid any unnecessary bruising, store the figs in the refrigerator on a plate or a shallow dish and cover with plastic wrap to avoid getting crushed or absorbing other odors.  Before using, wash them under cold water.  Make sure to remove the stem before using.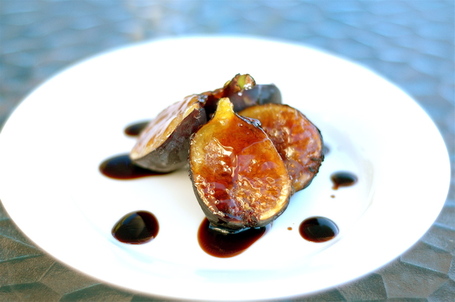 Fig Brulee with Balsamic Vinegar Recipe:
Keyword:
Fig Brulee with Balsamic Vinegar Recipe
Ingredients
2

ripe fresh

figs*

2

teaspoons granulated

sugar

1

teaspoon aged

Balsamic Vinegar

Traditional Aceto Balsamico

* Whatever variety or figs you select, the figs must be ripe.
Instructions
Cut the figs in half lengthwise. Lay them skin-side down on a flameproof surface, such as a cookie sheet. Find a safe place to use your torch.

Put a good mound of sugar on the cut surface of each fig, completely covering it. Use more than you think you would need because the blowtorch will blow some of it off.

Turn on your torch and, working quickly, move back and forth over each fig turning the sugar into a melting dark brown syrup which will rapidly turn to "glass" when you remove the torch. NOTE: You will want to experiment a bit to find the optimal distance to hold the flame. Remember that hot caramel will give you a nasty burn.

Transfer the figs carefully to serving plates, and drizzle on some balsamic vinegar.

Serves 1 (multiply as needed)
Oven Method - Using the Broiler:
Once sugar is sprinkled on the cut figs, lay them, skin-side down, on a broiler pan. Broil the figs for approximately 3 to 5 minutes.  Keep an eye on them so that the sugar does not burn.  Remove from oven and drizzle with Balsamic Vinegar.
Variation Ideas:
Serve on top of a scoop of vanilla ice cream.

Serve with a few thin slices of a blue cheese or a triple-cream soft cheese.
Recipe Notes
* Whatever variety or figs you select, the figs must be ripe.
Source:  This wonderful recipe and photo highlighting aged balsamic vinegar is courtesy of Michael Natkin and his web site, Herbivoracious.  Thank you Michael for this easy-to-make fig recipes that is so good!
Comments and Reviews