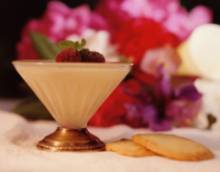 Chilled Pear Soup with Port is a very easy-to-make soup.  This soup is great served as a beginning to your meal or as a dessert soup.  Chilled Pear soup is quick and delicious summer soup that you can enjoy anytime.  Do not wait for company to give it a try.
The opposite bite of the pepper and zest of a sweet orange in this cold soup make the pear flavor stand out.  This soup is a refreshing and elegant dish that will take your dinner party up a notch.
Poaching is gentle, stove-top cooking.  Winter pears are ideal candidates for poaching since they keep their shape.
Chilled Pear Soup with Port Recipe:
Keyword:
Chilled Pear Soup with Port Recipe
Ingredients
1 1/2

cups

water 

1

cup

tawny port wine

1/3

cup granulated

sugar
Zest

from 1/2 navel orange

4

black

peppercorns

3

large

eggs

1 1/2

teaspoons

anise seeds

6

medium Bartlett

pears

(firm but rip), peeled, halved, cored, and quartered*

12

gingersnap

cookies or thin shortbread biscuits

Fresh

raspberries

(for garnish)

Mint

sprigs (for garnish)
Instructions
In a large heavy saucepan, combine water, port wine, sugar, orange zest, peppercorns, eggs, and anise seeds. Bring just to a boil; reduced heat to low and simmer for 5 minutes. Add pear quarters and gently simmer until tender but not mushy (about 20 to 25 minutes). Remove from heat.

With a slotted spoon, remove pears from liquid and set aside. Strain poaching liquid and throw spices away. Place the poaching liquid in a saucepan and bring to a boil. Continue boiling over medium heat until reduced by about 1/3. Pour liquid into a medium container and add pears; set aside and let cool. When at room temperature, cover and refrigerate for at least 3 hours or up to one day.

About 1 hour before serving, remove from refrigerator. Remove pears with a slotted spoon and place in a food processor or blender (with a blender, you may have to work in batches). Pour approximately 1/2 cup of the poaching liquid into the pears. Puree until the pears are smooth, with no visible chunks. Add more poaching liquid until desired consistency is reached. Return to the refrigerator until chilled.

When ready to serve, pour chilled pear soup into goblets, pretty dessert bowls, or attractive dessert cups. Serve gingersnap cookies (or shortbread biscuits) alongside soup or roughly crumble and sprinkle on top. Garnish with fresh raspberries and mint sprig.
Recipe Notes
* If Bartlett pears are not available, substitute with any other sweet juicy pear, such as Bosc or Red Sensation.  Make sure you use pears that are not going to become to mushy while cooking.
Source:  Recipe has been provided by Diana Baker Woodall from Diana's Desserts website and it is reprinted here with her permission.
Comments and Reviews