Stuffed Roasted Strawberries are an inside-out version of chocolate dipped strawberries.  Since I love both strawberries and chocolate, this is the perfect dessert for me.  Use the largest fresh strawberries you can find when making this recipe.
In the stores, always choose locally grown strawberries during the harvesting season (they are sweeter and juicier than those that are bred for shipment).  Remember, your local strawberry season only lasts 3 to 4 weeks.
Roasting the fruit brings out even more flavor and juiciness.  You will never settle for plain old dipped berries again!  You can use any type of chocolate (milk, white, or semi-sweet), but remember bittersweet chocolate has less sugar and is lower in carbs. Try making Stuffed Roasted Strawberries for  your loved ones.
Read Linda's article on Dark Chocolate is Healthy Chocolate.  Learn about Strawberry Hints, Tips, and Information and more of Linda's Strawberry Recipes.
Stuffed Roasted Strawberries Recipe:
Keyword:
Stuffed Roasted Strawberries Recipe
Instructions
Preheat the oven to 400 degrees F.

Slice the tops of the berries off just below the stem. Cut the tips off (about 1/4-inch), so that the berries will sit upright. Next, use a small spoon or a melon ball scoop to hollow out the strawberries, working from their tops, in order to create a cavity in each one.

Stuff some chocolate into the cavity of each strawberry and place them upright in a baking dish. Lightly sprinkle the berries with sugar. Roast the berries in the preheated oven until soft and the chocolate is melted, about 10 to 12 minutes; remove from oven.

To serve, place 3 strawberries on a dessert plate in a triangle. If the berries have given off liquid in the baking dish, spoon it over them. Spray a small mound of cream in the center of the berries, and top each berry with a rosette of cream. Sift a little cocoa powder over the plate, and serve!
Recipe Notes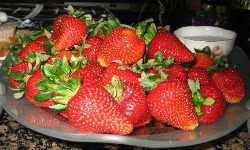 *  When purchasing berries from the grocery store, shop with your nose.  Always pick the plumpest and most fragrant berries.  They should be firm, bright, and fresh looking with no mold or bruises, and fresh green caps (stems).  The caps should be bright green, fresh looking and fully attached.  Berries should be dry and clean; usually medium to small berries have better eating quality than large ones.
Source:  Recipe from cookbook 365 30-minute Meals: No Repeats: A New Dinner For Every Night Of The Year, by Rachael Ray.  Recipe by Chef Revsin of Driscoll Strawberry Associates.
Comments and Reviews