This refreshing pink Grapefruit Star Anise Granita is an ice with a hint of spice.  This exceptional granita makes an especially delicious palate cleanser to serve at a dinner party.  The flavors are bright and vibrantly flavorful.  Serve in chilled glasses.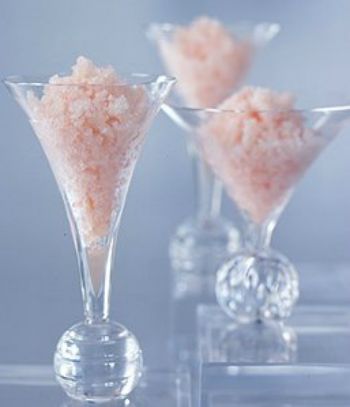 For more great Low Fat Recipes, Low Calorie Recipes, Low Carbohydrate recipes, and Diabetic  Recipes, check out my Diet Recipe Index.  Also check out my Nutritional Chart for fat grams, fiber grams, and calories for all your favorite foods.
More great Ice Cream, Sorbet, Granita, and Gelato Recipes.
Please check out my Veal Scaloppine Piccata dinner menu, Prime Rib Dinner Menu, and Fermenting Friends Winery dinner menu which includes this refreshing Grapefruit Granita.
Grapefruit Star Anise Granita Recipe:
Keyword:
Grapefruit Star Anise Granita Recipe
Ingredients
1/3

cup

water

1/2

cup granulated

sugar

2

whole

star anise

2 1/2

cups fresh red or pink

grapefruit juice
Instructions
In a medium saucepan over medium-high heat, bring water, sugar, and star anise to boil until sugar is dissolved. Remove and discard star anise and let the syrup cool. Once cool, stir the prepared syrup into the grapefruit juice.

Pour grapefruit mixture into a 13x9-inch baking dish. Cover tightly with plastic wrap and freeze approximately 45 minutes or until icy at edge of pan.

After 45 minutes, whisk to distribute frozen portions evenly. Cover and freeze again until icy at edge of pan and overall texture is slushy (be sure to scrape the ice crystals off the sides and into the middle of the pan) about 45 minutes.

After 45 minutes, again whisk to distribute frozen portions evenly. Cover and return to freezer and freeze about 3 hours or overnight until frozen solid.

When ready to serve the granita, remove from freezer. Using a fork, scrape granita down length of pan, forming icy flakes. Return to freezer for at least 1 hour.

When served, the granita should look like a fluffy pile of dry red crystals.

To serve, scoop flaked granita into tall goblets or parfait glasses. Serve immediately with iced tea spoons.
Source:  I adapted this Grapefruit Star Anise Granita recipe from Gourmet Magazine, February 2002. Photo also from Gourmet Magazine.
Comments and Reviews