Grilled Oysters are very easy to be as they can be cooked in their shells on your barbecue grill.  The heat from the grill steams the oysters and pops the shells open, while poaching the oysters inside.  These grilled oysters make a great appetizer.  So easy and so delicious!   My husband just loves these oysters.
Learn How To Shuck Oysters.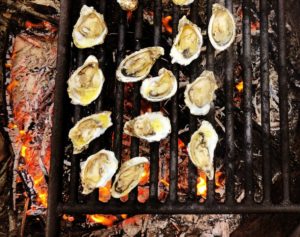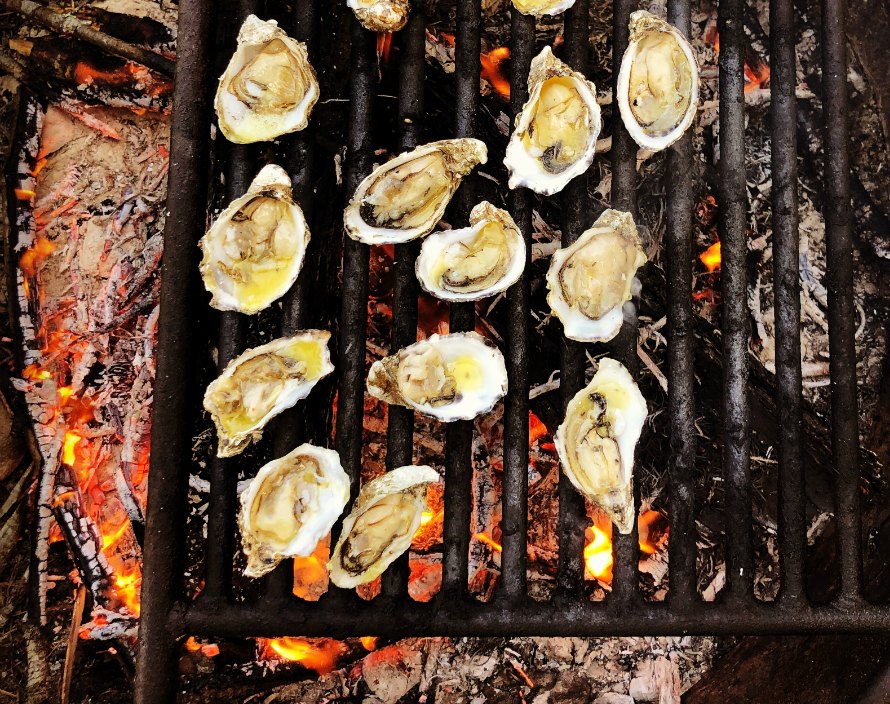 Grilled Oysters Recipe:
Keyword:
Grilled Oysters Recipe
Ingredients
Large fresh (live)

oysters

in the shell*

Butter,

melted

Hot sauce

Lemon

wedges
Instructions
Scrub the oyster shells under cold running water with a brush. Discard any open shells, as the oyster is dead and not edible.

Place oysters (cup side on bottom) on hot grill about 4 inches from hot coals. Cover barbecue with lid, open any vents, and cook 8 to 10 minutes (depending on size) or until shells begin to open to indicate doneness. Remove all oysters when the first one opens. I always personally check over all live oysters that I buy to make sure they are alive when purchasing. Some shells will not be opened, so some prying will be necessary. Using a mitt or towel to protect your hand, remove the oysters from the grill, taking care not to spill their juices.

Pry the oysters the rest of the way open with an oyster knife, paring knife, or screwdriver. Sever the muscle that connect the shells, leaving the oyster on the half shell. Transfer onto a serving platter. Learn how to How To Shuck Oysters.



Serve with melted butter, your favorite hot sauce, and lemon wedges. Serves many.
Recipe Notes
* Oysters in the shell must be sold live by law, as all bi-valves must be.  They should feel heavy and full of water.  Live oysters will be tightly clamped shut, or will clamp shut when tapped.  Dead oysters will have loose shells and must be discarded along with those which have broken shells.  The flavor is best when fresh oysters are consumed within 24 hours of purchase.
How To Store Fresh Oysters: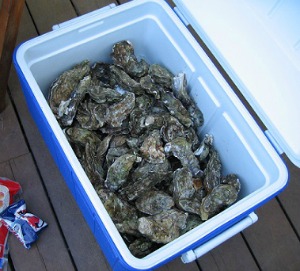 Keep the unopened oysters cold but do not store in water!  Remember, oysters are alive and need to breathe, so never seal them tightly in a plastic bag.
Sandwich a layer of live oysters between two beds of ice.  Place them deep side down (to retain their juices).  I do this in a portable (picnic-type) chest cooler.  Never immerse live oysters in fresh water or melted ice – it will kill them.  Oysters stored this way will keep for 2 days. This is the method to use if you plan on using the fresh oysters soon.
Store live oysters in the refrigerator at 40 degrees F. if they are not to be used immediately.  Place them deep side down (to retain their juices) in an open container.  Cover the oysters with a damp towel or layers of damp newspaper.  Oyster store this way will keep up to 5 to 7 days.
Open (shuck) shortly before serving – not more than 2 hours.  The colder the oyster, the easier it is to shuck.  Keep oysters cold at all times, partly for safety and very much to enhance flavor and texture.
More Delicious Oysters Recipes:
Angels on Horseback
So easy and simple to make and so delicious! These oysters make a great appetizer. My husband just loves these! My husband and I can make a dinner of these oysters! Give them a try – if you are an oyster lover, you won't be disappointed.
Pan Fried Oysters
We had an oyster feed in our winery this Spring. I have never had oysters that tasted this good before. They were so easy to make and so absolutely delicious!
Oyster Cocktail – Oyster Shot – Oyster Shooter – Oyster Martini
The oyster cocktail, a popular West Coast treat, originated in a San Francisco restaurant around 1860 by a miner back from the gold fields. Makes a wonderful first course for your dinner party or just as a treat for your oyster lovers!
Oysters On The Half Shell
To those people who love oysters, there is little that can compare with a cold, plum, raw oyster that is sipped from its shell. Served with a homemade Mignonette sauceor cocktail sauce and it is perfect!
Comments and Reviews