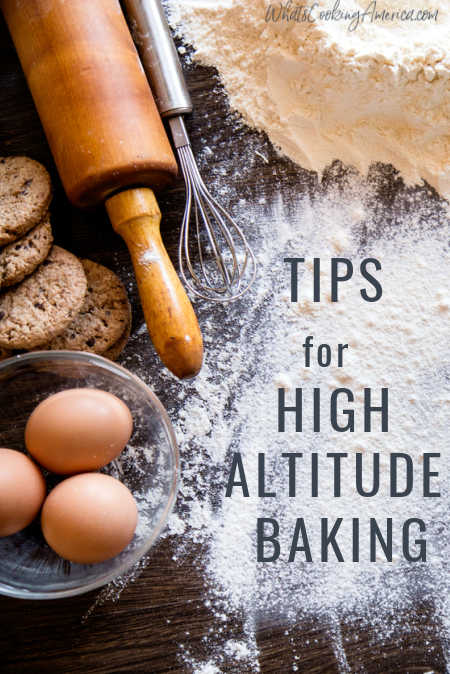 Baking at high altitudes of 3500 feet or more above sea level can be challenging! Baked goods can rise quickly and then fall flat. These baking issues are due to the air is thinner and drier in higher mountain altitudes. Recipes for breads, cakes, and cookies will require some ingredient, oven temperature, and cooking time adjustments.
Check out more of What's Cooking America's wonderful and delicious Cake Recipes and Pie Recipes.
The following baking adjustments are recommended for more successful results with your baked goods at higher altitudes:
Increase Oven Temperature by 15-25 degrees F. to help baked goods set up faster before they have a chance to dry out or over-expand.

Use the lower increase when making chocolate or delicate cakes.

Decrease Baking Time by 20-30% (decrease 3-8 minutes per every 30 minutes of baking time). The higher oven temperature will mean baked goods cook faster so the reduced time will help compensate.
Increase Flour by 1 Tablespoon at 3500 feet. and add 1 additional Tablespoon for each 1500 feet above. This will add structure to baked goods and steady the rise.

Add Flour With a Higher Protein Content by Substituting 25% Whole Wheat Flour. This could also help prevent collapsing.

Decrease Sugar by 1 Tablespoon Per Cup. The concentration of sugar goes up as liquid evaporates at higher elevation. The decreased sugar adjustment will help prevent baked goods structure from weakening and collapsing.
Increase Liquids such as Water, Milk, Oil and Eggs by 1-2 Tablespoons Per 1000 Feet (up to 3500 ft) and then 1 1/2 teaspoon per 1000 additional feet. To compensate for faster evaporation, this will help keep baked goods from drying out.

If baking cake: it is recommended to use egg for the extra liquid. If only part of an egg is needed, then use the egg white.

Decrease Baking Powder and Baking Soda by 20% Above 3500 Feet/ 50% Above 5000 Feet/ 75% Above 6500 Feet. Reducing the leavening agents will help baked goods rise more slowly at higher elevations.
Decrease Yeast by 25% Above 3500 Feet and Expect a Shorter Rising Time. Baked goods will rise faster at higher elevations but do require as much yeast.
Bread Rising Options:

Give the dough one extra rise by punching it down twice before forming.
Place covered dough in the refrigerator to rise. This will help slow the action of the yeast and give the dough more time to form.
Resources:
King Arthur Baking Company, Learning Resources – High Altitude Baking
Colorado State University Extension – High Altitude Food Preparation
Comments and Reviews