History of Cakes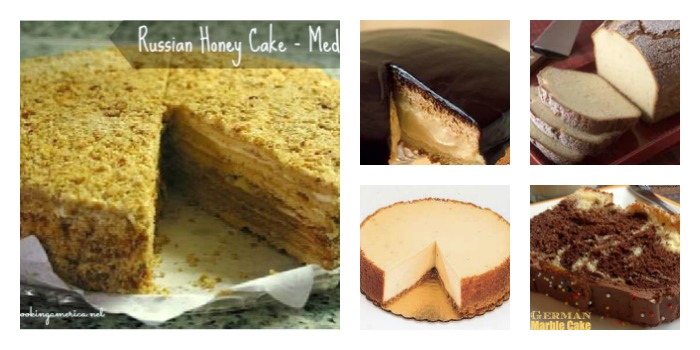 Cakes are made from various combinations of refined flour, some form of shortening, sweetening, eggs, milk, leavening agent, and flavoring.  There are literally thousands of cakes recipes (some are bread-like and some rich and elaborate) and many are centuries old.  Cake making is no longer a complicated procedure.
Baking utensils and directions have been so perfected and simplified that even the amateur cook may easily become and expert baker. T here are five basic types of cake, depending on the substance used for leavening.
The most primitive peoples in the world began making cakes shortly after they discovered flour.  In medieval England, the cakes that were described in writings were not cakes in the conventional sense.  They were described as flour-based sweet foods as opposed to the description of breads, which were just flour-based foods without sweetening.
Bread and cake were somewhat interchangeable words with the term "cake" being used for smaller breads.  The earliest examples were found among the remains of Neolithic villages where archaeologists discovered simple cakes made from crushed grains, moistened, compacted and probably cooked on a hot stone.  Today's version of this early cake would be oatcakes, though now we think of them more as a biscuit or cookie.
Cakes were called "plakous" by the Greeks, from the word for "flat."  These cakes were usually combinations of nuts and honey.  They also had a cake called "satura," which was a flat heavy cake.
During the Roman period, the name for cake (derived from the Greek term) became "placenta."  They were also called "libum" by the Romans, and were primarily used as an offering to their gods.  Placenta was more like a cheesecake, baked on a pastry base, or sometimes inside a pastry case.
The terms "bread" and "cake" became interchangeable as years went by.  The words themselves are of Anglo Saxon origin, and it's probable that the term cake was used for the smaller breads.  Cakes were usually baked for special occasions because they were made with the finest and most expensive ingredients available to the cook.  The wealthier you were, the more likely you might consume cake on a more frequent basis.
By the middle of the 18th century, yeast had fallen into disuse as a raising agent for cakes in favor of beaten eggs.  Once as much air as possible had been beaten in, the mixture would be poured into molds, often very elaborate creations, but sometimes as simple as two tin hoops, set on parchment paper on a cookie sheet.  It is from these cake hoops that our modern cake pans developed.
Cakes were considered a symbol of well being by early American cooks on the east coast, with each region of the country having their own favorites.
By the early 19th century, due to the Industrial Revolution, baking ingredients became more affordable and readily available because of mass production and the railroads.  Modern leavening agents, such as baking soda and baking powder were invented.  Check out the History of Baking Powder.
For a detailed history of the following individual types of cakes:
Cream Cheese and Neufchatel Cheese
Guava Chiffon Cake – Hawaiian Guava Chiffon Cake
Election Cake – Hartford Election Cake – Training Day Cake
Haupia Cake – Hawaiian Pudding Cake
Ladyfingers, Boudoir Biscuits, Sponge Biscuits, Sponge Fingers, Naples Biscuits, Savoy Biscuits (Savoiardi, Biscuits a la Cuiller)
Robert E. Lee Cake,General Robert E. Lee Cake
Sachertort, Sacher Cake, Eduard Sachertorte
Sally Lunn Cake,Soleil et Lune,French Solilemme
Stollen, Dresden Stollen, Strutzel, Striezel, Stutenbrot, Christstollen, German Christmas Cake
Tiramisu, Tuscan Trifle, Zuppa Inglese
Tres Leches Cake,Three-Milk Cake
Trifle, Tipsy Cake, Tipsy Pudding, Tipsy Squire, Tipsy Hedgehog, Tipsy Parson
---
Sources:
Biography: Benjamin Thompson.
Cheesecake Madness, A Treasury of the Lightest, Most Delectable Cheesecakes Ever, by John J. Sergreto, Macmillan Publishing Co., Inc, New York, 1981.
Election Cake, by Alice Ross, The Journal of Antiques and Collectibles, October 2003 Issue.
Escoffier: Master Chef, by Marjory Bartlett Sanger, Farrar Straus Giroux, New York, 1976.
Feed America: The American Cookbook Project, Buckeye Cookery, and Practical Housekeeping, by Estelle Woods Wilcox.
Helen's British Cooking Site, by Marion Watson.
Housekeeping In Old Virginia; Contributions From Two Hundred and fifty of Virginia's Noted Housewives, Distinguished For Their Skill In The Culinary Art And Other Branches of Domestic Economy, Edited by Marion Cabell Tyree, John P. Morton and Company, Louisville, KY, 1879.
Huguenots Refugees: French protestants driven to exile, The Other Side.
I Hear America Cooking, The Cooks and Recipes of American Regional Cuisine, by Betty Fussell, Penguin Books USA Inc., New York, 1986.
I'll Have What They're Having – Legendary Local Cuisine, by Linda Stradley, Peuquot Press. Guilford, Connecticut, 2001.
King Cake – A Rich Tradition, by Randazzo's Camellia City Bakery, Slidell, Louisiana.
Ladyfingers – A Royal History and Taste of Convenience, Specialty Bakers Inc.
Lamington or Lemmington? – The Ox National Dish.
PET Evaporated Milk History.
Rare Bits – Unusual Origins of Popular Recipes, by Patricia Bunning Stevens, Ohio University Press, 1998.
Sally Lunn, by Claire Hopley, British Fare.
Sally Lund's House.
Secrets of the Lost Empire, Roman Bath, Nova Online, PBS.
Simmons, Amelia. American Cookery: Or, The Art of Dressing Viands, Fish, Poultry, and Vegetables, and the Best Modes of Making Pastes, Puffs, Pies, Tarts, Puddings, Custards, and Preserves, and All Kinds of Cakes, from the Imperial Plum to Plain Cake… Hartford: Printed for Simeon Butler, 1798 Image 023/48.
Slumps, Grunts, And Snickerdoodles: What Colonial America Ate And Why, by Lila Perl, Clarion Books, New York, 1975.
The American Heritage Cookbook, by the Editors of America Heritage, published by American Heritage Publishing Co., Inc., 1964.
The Delectable Paste, by Esther B. Aresty, published by Simon and Schuster, Inc. New York, 1964.
The First American Cookbook: A Facsimile of American Cookery; 1796 by Amelia Simmons; Unabridged republication of American Cookery, as reprinted by Oxford University Press, New York, 1984 Dover Publications edition.
The Mediadrome, That Charming Confusion: Trifle, by Helen Stringer.
The Not-So-German Chocolate Cake, German Culture.
The Presidents' Cookbook – Practical Recipes from George Washington to the Present, by Poppy Cannon and Patricia Brooks, Funk and Wagnalls, 1968.
The Timeless Art of Italian Cuisine – Centuries of Scrumptious Dining" by Anna Maria Volpi, Palatino Inc, 2003.
Utah's Canning Industry, by Don Strack.
A Proper newe Booke of Cokerye, declarynge what maner of meates be beste in season, for al times in the yere, and how they ought to be dressed, and serued at the table, bothe for fleshe dayes, and fyshe dayes, Catherine Frances (editor), Imprynted at London in Crede Lane by John Kynge and Thomas Marche.
What is Tiramisu? by Craig Miyamoto, PastryWiz.
Comments and Reviews