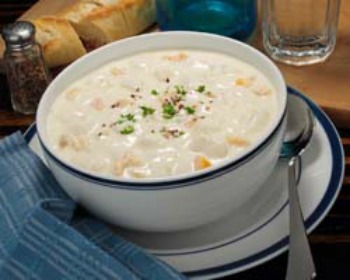 History of West Coast Clam Chowder:
West Coast Clam Chowder (California, Oregon and Washington), milk or cream is the key to outstanding clam chowder.  The debate among cooks is whether the chowder should be thick or thin.
The west coast boasts some 500 varieties of clams, though only some 30 are well known.  Razor clams are far and away the most popularly harvested.  They are chopped and minced and sold in small flat cans, making wonderful soups of every variety.  On the California coast, the Pismo Clam is a favorite.
In Oregon and Washington, wonderful chowders are also made with corn and fresh salmon.
Check out Linda's family favorite recipe for Pacific Coast Clam Chowder.
Comments and Reviews