Lobster Newberg is an American classic dish that is sure to impress everyone you serve it to.  It is a rich, creamy, saucy, and very delicious elegant entree for any special occasion.  There are more than one claim to the history of Lobster Newberg. The claims are a little confusing, as the dates do not seem to come out right.  You be the judge!
Did you know that it was among the most popular dishes served in the American Pavilion at the Paris Exposition of 1900.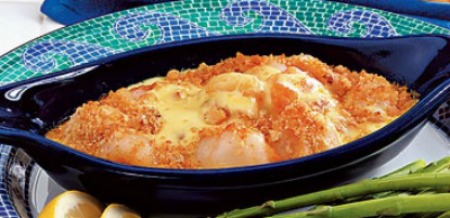 Photo from Taste of Home magazine, March/April 2003
History of Lobster Newberg – Lobster a la Wenberg:
1867 – Some historians believe that Lobster Newberg originated at the Hotel Fauchere in Milford, PA, as Lobster Newberg was the signature dish of this elegant hotel during the 1800s.  Louis Fauchere, known locally as the "crazy Frenchman," purchased a small saloon, (known as the "Van Gorden & La Bar" and also previously known as "The French Hotel" which is believed to have been owned by relatives of his wife, Rosalie Perrochet Fauche, who had come to Milford as part of the French settlement in the early 19th century.  He left his position as chef at New York City's famous Delmonico's restaurant to open this hotel and dining room, also called Delmonico's.
He originally built the hotel summer retreat for New York City society.  Louis Fauchere prided himself on the hotel's original cuisine and an elegant atmosphere,and the restaurant soon became famous.  He always claimed he invented Lobster Newberg, but this has not ever been proven.  He worked at Delmonico's Restaurant under the famous chef, Alessandro Filippini, who worked there from 1849 to 1888.  Louis Fauchere left Delmonico's Restaurant and permanently moved to Milford in 1867.  Fauchere opened the Hotel Fauchere eight years before Delmonico's Restaurant claimed it was created in 1876.  You be the judge!
Caesar Chiappini, master chef of the Hotel Fauchere for 42 years (1926-1968), is given credit for perfecting and popularizing the dish with his own secret recipe.
1876 – The most popular theory on the history of the dish was created at the Delmonico's Restaurant in New York City.  The first Delmonico's restaurant was opened in 1827 by brothers Giovanni and Pietro Delmonico.  The brothers hired French cooks of ability from the steady stream of immigrants who settled in New York.
Lobster Newberg was originally introduced and named after Ben Wenberg, a wealthy sea captain engaged in the fruit trade between Cuba and New York.  When on shore, he customarily ate at Delmonico's Restaurant.  One day in 1876, home from a cruise, he entered the cafe and announced that he had brought back a new way to cook lobster (where he originally got the idea for this new dish has never been discovered).  Calling for a blazer (chafing dish), he demonstrated his discovery by cooking the dish at the table and invited Charles Delmonico to taste it.  Delmonico said, "Delicious" and forthwith entered the dish on the restaurant menu, naming it in honor of its creator Lobster a la Wenberg.  The dish quickly became popular and much in demand, especially by the after-theater clientele.
Many months after Ben Wenberg and Charles Delmonico fought or argued over an as-yet-undiscovered and probably trivial matter.  The upshot was that Charles banished Wenberg from Delmonico's and ordered Lobster a la Wenberg struck from the menu.  That did not stop patrons from asking for the dish.  By typographical slight-of-hand, Delmonico changed the spelling from "Wenberg" to "Newberg," and Lobster Newberg was born.  This dish has also been called Lobster Delmonico.
Delmonico's famous chef, Chef Charles Ranhofer (1936-1899), altered the original recipe to add his own touch.  In 1876, Charles Ranhofer retired and returned to France.  In 1879, three years after he left Delmonico's to retire in France, Charles Ranhofer returned to America and Delmonico's as chef de cuisine at the 26th Street (Madison Square) restaurant.  He was the chef at Delmonico's from 1862 to 1896.  In his book, The Epicurean, published in 1894, Ranhofer gives the following recipe for Lobster a la Newberg:
"Cook six lobsters each weighing about two pounds in boiling salted water for twenty-five minutes.  Twelve pounds of live lobster when cooked yields from two to two and a half pounds of meat with three to four ounces of coral.  When cold detach the bodies from the tails and cut the latter into slices, put them into a sautoir, each piece lying flat, and add hot clarified butter;  season with salt and fry lightly on both sides without coloring; moisten to their height with good raw cream; reduce quickly to half; and then add two or three spoonfuls of Madeira wine; boil the liquid once more only, then remove and thicken with a thickening of egg yolks and raw cream. Cook without boiling, incorporating a little cayenne and butter; then arrange the pieces in a vegetable dish and pour the sauce over."
1880's– In the 1880's, it was the favorite lobster specialty at the resort hotels on Coney Island, which bough as much as 3,500 pounds of lobster daily to satisfy their customers' lobster longings.
Lobster Newberg Recipe:
Keyword:
Lobster Newberg History, Lobster Newberg Recipe
Servings
:
2
to 4 servings
Ingredients
5

tablespoons

unsalted butter

2

cups

cooked lobster meat,

cut into 1/2-inch pieces*

1

teaspoon

salt

1

cup

heavy cream,

divided

1/4

teaspoon

Tabasco

or 1/8 teaspoons cayenne pepper or to taste

1/3

cup

cognac,

sherry, brandy, or Madeira (your choice)
Instructions
In a large frying pan or chafing dish over medium-low heat, heat butter until the foam begins to subside. Immediately add the cooked lobster meat and saute, turning all the pieces, for approximately 2 minutes.

Add 3/4 cup of the cream and add the salt; stir and simmer for an additional 2 minutes (do not allow the mixture to boil).

Meanwhile in another bowl, beat the remaining 1/4 cup of cream together with the egg yolks.

Stir in the Tabasco and cognac to the lobster mixture. Stir or whisk in a few tablespoons of the simmering cream mixture into the egg/cream mixture. Reduce heat to low and stir the mixture until thickened (but not boiling).

Remove from heat and serve immediately on Toast Points.
Recipe Notes
* Use fresh lobster if available, but frozen lobster or 2 (6 ounce) cans of lobster may be used instead.  You could also substitute lobster tail meat.
Comments and Reviews