This old-time New York thirst-quencher is sweet and full of fizz.  Despite its name, the egg cream contains neither eggs nor cream.  In the beginning, it was a soda produced almost exclusively in New York (particularly Brooklyn).  The basic ingredients are milk, seltzer, and chocolate syrup.  It is traditionally made in a small Coke-style glass.
True New Yorkers insist that it is not a classic egg cream without Fox's U-Bet Chocolate Syrup.  It is perfectly proper to gulp down an egg cream.  In fact, egg cream will lose its head and become flat if it is not enjoyed immediately.
For many years, the egg cream remained a product sold only through New York soda fountains because bottled versions were  impossible to make.  The cream, chocolate, and soda had a tendency to separate and to go bad after a couple days at best, and efforts to pasteurize or preserve the product ruined the taste. Today,  Egg Cream drinks are being bottled by a few small companies.
Egg creams became so popular that author, Elliot Willensky, wrote in his book titled When Brooklyn Was the World: 1920-1957,  "a candy store minus an egg cream, in Brooklyn at least, was as difficult to conceive of as the Earth without gravity."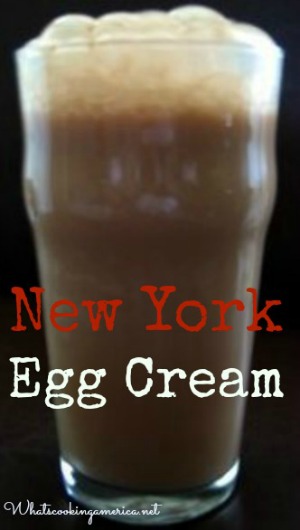 History of New York Egg Cream:
1880s – One version or legend says that it began in 1880s on the Lower East Side of New York with the teenage Yiddish theatre star, Boris Thomashevsky (1868-1939), who brought the first Yiddish play to New York from London and was also a  founding member and pioneer of the Yiddish theater in America.  After tasting a similar drink called "chocolate et creme" in Paris, France, he asked to have one made in New York.
1900s – According to most historians, the Egg Cream was allegedly created in the early 1900s by a Jewish candy shop owner, Louis Auster, who came to America and opened a candy store in Brooklyn, New York.  It is reported that 3,000 Egg Creams a day were sold until the day the store closed.
Personal remembrances of Lionel Levy, grandson of Harry Harmatz who was the founder of Ratner's Dairy Restaurant in Brooklyn New York.  Lionel shares his memories of the famous New York Egg Cream in the 1950s:
Louis Auster rented his store on the corner of 7th street and 2nd avenue in New York, from my grandfather, Harry Harmatz, the founder and owner of Ratner's Dairy Restaurant.  The Harmatz family owned the corner building where Auster rented his store.  This block was also the site of the Yiddish Second Avenue Village Theater which later became the Fillmore East Auditorium.  Yiddish theater was thriving and just a little bit uptown was where Carrol Burnett had her 1972 hit show Once Upon a Mattress, in the off-Broadway Phoenix Theatre before moving to Broadway.
The Auster store was a corner location with two entrance doors, one on 2nd Avenue and another on the side of 7th Street.  The front counter opened on to 2nd Avenue for walk up service where gum, cigarettes, pretzels, etc. were sold.  There was a black and white marble-topped counter with stools located on the left side of the store.  Halfway down the store, a group of telephone booths were on the left and right sides.  In the back of the store, there was a room with tables for sitting down and hanging out.  I knew little about what was going on inside the back room of Austers except it was out of bounds to me.  The local bookmakers found this place much to their liking.
Louis Auster's son, Mendy Auster, worked the counter and made the egg cream mixture in the basement when it was needed.  There were two other Auster brothers, one of them was a shady character who was involved in a murder.  Mendy's girlfriend was named Kate.  Across the street was a Bar called Foxe's Corner and it was a hangout for those connected guys.  You never asked what they were doing. It was a very colorful location.  Louis Auster ran the place until he died 1955, and then it was turned over to his son Mendy.
When I was in my early teens, I worked in Ratner's Bake shop which was the next store and would barter Danish pastry for egg creams with Katey.  Life was easy going and the drunks from 3rd avenue or Bowery would wander in once in a while and we would ask them to leave, and not bother our regular customers.  The smell of baked good and rye bread baking could drive you crazy.  I was one of the grandchildren of Harry Harmatz and was treated like royalty.  I have so many good memories of 2nd Avenue, but all my memories are through the eyes of a child.  Remember it was 7 cents for an egg cream and 10 cents for a lime rickey. Pretzels were a penny a piece.
I do not remember if there was a sign on the front of the store, but it was always Austers Egg Cream and the neighbors all would go to Austers for a drink.  NYU bought up the property on most of the block and are probably going to build on the site some time in the future.
When I was there as a youth, I tasted the original egg cream, and the taste still lingers in my memory.  I do not know who invented this drink, and I am not stating that Louis Auster invented the egg cream.  What I do state was that he did in fact hide his formula and never allowed anyone to watch him mix his formula. In later years,  Mendy Auster used to lock himself in and boil the mixture up and put it up in glass gallon containers.
The drink was memorable, and had a true chocolate base which was not overly sweet, but rather mellow.  I do know that every cab driver in New York City would take out of towners, who requested a taste of New York, to Austers.  Most of the east-siders would visit this site because he made the best tasting drink in the city.
Sitting down and writing these pages have brought so many flashbacks to the booming 2nd Avenue of my youth.  I used to buy and egg cream for 12 cents and would pay twenty dollars for that same drink today.
Lionel Levy, West Palm Beach, Florida
October 23, 2008
1974 – The last batch of the secret syrup recipe was made by Louis's son, Mendy Auster, and Louis's grandson, Stanley Auster, around 1974.
According to legend, Louis Auster was approached by a national ice cream chain, and they offered to buy the rights to the Egg Cream for a fairly small sum.  When Louis Auster turned them down, one of the executives called him by a racial slur, and Auster vowed to take the Egg Cream formula to his grave.  He died without revealing his original recipe and the origin of the name, and to this day his family has keep the secret.  As the Auster family were Jewish, as were most of his customers at the time the Egg Cream was invented, it is possible the Egg Cream is actually a Yiddish name or phrase that has been Americanized.
1900's – In the early 1900s, Fox's U-Bet Chocolate Syrup was created.  According to the cookbook called The Brooklyn Cookbook, by Lyn Stallworth and Rod Kennedy Jr., "You absolutely cannot make an egg cream without Fox's U-Bet."  The cookbook refers to Fox's grandson, David, for the story of the syrup's name:
"The name 'U-Bet' dates from the late-'20s, when Fox's grandfather got wildcatting fever and headed to Texas to drill for oil.  'You bet' was a friendly term the oilmen used. His oil venture a failure, he returned to the old firm, changing Fox's Chocolate Syrup to Fox's U-Bet.  He said, 'I came back broke but with a good name for the syrup,' his grandson relates.
New York Egg Cream Recipe:
This New York Cream Rrecipe was shared with me by Bonni Lee Brown, who lives in Bradenton, Florida. Bonni writes, "My Dad made egg creams all the time at his old-fashioned drug store and luncheonette, called Joe Fordham Pharmacy, that was at Kings Highway and East 5th Street in Brooklyn.  Egg creams were traditionally made in a small Coca-Coca glass.  Two cents plain was both the cost and the name of a plain glass of seltzer.  When Dad heard that my mother had given birth to me, around 11:00 a.m., he proudly offered free egg creams to everyone to celebrate!" - Bonni Lee Brown (2008).
Keyword:
New York Egg Cream Recipe
Ingredients
Approximately 1/2

cup

whole milk,

cold*

1

cup

bottled seltzer

2

tablespoons

chocolate syrup
Instructions
Pour 1/2 inch of cold milk into a tall soda glass.

Add seltzer or club soda to within 1 inch of the top of the glass; stir vigorously with a long spoon (this will cause it to become white and bubbly with a good head of foam).

Very gently pour 2 tablespoons of chocolate syrup slowly down the inside of the glass; briskly stir with a long spoon only at the bottom of the glass where the chocolate sits. The resulting drink should have a dark brown bottom and a 1-inch high pure white foam top (if you mix it too much, the foam disappears).

NOTE: Drink Immediately! Do not let the prepared Egg Cream sit for a long period of time (5 minutes or more) as it will go flat.
Recipe Notes
* Skim or 1% milk will not foam as well.
Comments from Readers:
I would like to give a possible explanation on the Egg-Cream debate on how it got it's name. – Seth A. Balustein (3/26/11)
1880s – One version or legend says that it began in 1880s on the Lower East Side of New York with the teenage Yiddish-theatre star Boris Thomashevsky (1868-1939), who brought the first Yiddish play to New York from London and was also a  founding member and pioneer of the Yiddish theater in America.  After tasting a similar drink called chocolate "et creme" in Paris, France, he asked to have one made in New York.
I am a punster and great with words.  I also am a foreign language speaker/nut (French, Japanese, German, Chinese, etc.).  I read your reference above from your online article about Egg Cream's History.  My understanding about Americans and their ears for foreign languages – they are pretty bad:  Peking = Beijing; Bombay = Mumbai; etc.
WELL – I see "Et Cre = Egg Cream".  They heard "Et" in French and did not know what it meant and maybe they heard "Egg."  They also heard "cream," which is the same sounding in French and English.  A French-speaking person would drop the "t" sound and the "A" sound is both in Et and Egg.  And the Et + Cre = the E (with silent t) of the Et and C of the cre causes there to be a bit of a hard end to the "A" sound which sounds kind of like a "g" sound. Therefore – E g Cream = Egg Cream.
As a Bklynite who's had his fair share of Egg Creams, I enjoyed reading your article. The most logical answer as to how it got its name: when made properly, it has a foamy froth on top that resembles beaten egg whites or the foam from a cappuccino. I also have no idea why you gave that reader the time of day, as his theory made very little sense. In the process, he also bashed Americans, claiming that we're unable to discern Peking from Beijing! LOL! – Darrin (12/2/14)
Comments and Reviews