History of Salads:
What exactly is the definition of salad?  Everyone's definition of salad seems to be different.  Salads can be an entree or side dish that is prepared and composed of a mixture of ingredients, and intended to be eaten cold.  The ingredients in salads could be vegetables, pasta, beans, seafood, tuna, eggs, chicken, fruit, rice, even jello.
Caesar Salad (SEE-zer):
The classic Caesar Salad consists of greens (classically romaine lettuce) with a garlic vinaigrette dressing.  In the 1930s, Caesar Salad was voted by the master chefs of the International Society of Epicures in Paris as the "greatest recipe to originate from the Americas in fifty years."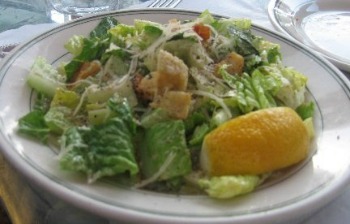 What's Cooking America's Classic Caesar Salad Recipe.

1903 – George Leonard Herter, is his book Bull Cook and Authentic Historical Recipes and Practices, Volume II, gives his account on who invented the Caesar Salad:
NOTE:  As I can not find any historical references to back this story, is it a myth or fact?  Definition of myth – A story containing within and having about it certain identifiable characteristics that are sometimes use to designate a story or the understanding of some matter as fictional and even downright false.  You be the judge.
"Caesar salad was invented in about 1903 by Giacomo Junia, an Italian cook in Chicago, Illinois. Giacomo Junia was the cook in a small restaurant called The New York Cafe.  He catered to American tastes as spaghetti and pizza in those days were little eaten by anyone including Italians.  It is sometimes falsely stated that this salad was invented in Tijuana, Mexico during the prohibition period and also in San Francisco.  Nothing could be further from the truth.  The only thing invented in Tijuana were the finest methods every produced to clip tourists.
Giacomo Junia called the salad Caesar Salad.  He put a few pieces of Cos lettuce (romaine) in the salad to add a slightly bitter touch to it. . . Giacomo called the salad Caesar Salad after Julius Caesar, the greatest Italian of all time. . . . Junia never thought that the salad would be popular and was more surprised than anyone when people began to ask for it.  Many itinerant cooks learned how to make the salad and soon it was made all over North America and even in Europe."
1924 – Most historians believe that Caesar salad honors restaurateur Caesar Cardini (1896-1956), who invented it in Tijuana, Mexico in 1924 on the Fourth of July weekend.  It is said that on this busy weekend, Cardini was running low on food and he put together a salad for his guests from what was left over in the kitchen.  His original recipe included romaine, garlic, croutons, and Parmesan cheese, boiled eggs, olive oil and Worcestershire sauce.  The original salad was prepared at tableside.  When the salad dressing was ready, the romaine leaves were coated with the dressing and placed stem side out, in a circle and served on a flat dinner plate, so that the salad could be eaten with the fingers.
In 1926, Alex Cardini joined his brother, Caesar, at the Tijuana restaurant. Alex, an ace pilot in the Italian Air Force during World War I, added other ingredients, one of which was anchovies, and named the salad Aviator's Salad" in honor of the pilots from Rockwell Field Air Base in San Diego.  It is reported that Alex's version became very popular, and later this salad was renamed "Caesar Salad."  Caesar was said to be staunchly against the inclusion of anchovies in this mixture, contending that the Worcestershire sauce was what actually provided that faint fishy flavor.  He also decreed that only Italian olive oil and imported Parmesan cheese be used in the dressing.
Over the years, it became quite the thing to do – to drive to Tijuana for a Caesar Salad. Californians, including Hollywood celebrities such as Clark Gable, Jean Harlow, and W.C. fields dined at Caesar's to escape the Prohibition laws in the U.S. In Europe, Caesar's Salad was also appearing in restaurants.
Julia Child, famous cookbook author, wrote about Caesar Salad in her cookbook From Julia Child's Kitchen:
One of my early remembrances of restaurant life was going to Tijuana in 1925 or 1926 with my parents, who were wildly excited that they should finally lunch at Caesar's restaurant.  Tijuana, just south of the Mexican border from San Diego, was flourishing then, in the prohibition era. . . Words spread about Tijuana and the good life, and about Caesar Cardini's restaurant, and about Caesar's salad.
My parents, of course, ordered the salad. Caesar himself rolled the big cart up to the table, tossed the romaine in a great wooden bowl, and I wish I could say I remembered his every move, but I don't.  They only thing I see again clearly is the eggs.  I can see him break 2 eggs over that romaine and roll them in, the greens going all creamy as the eggs flowed over them. Two eggs in a salad?  Two one-minute coddled eggs?  And garlic-flavored croutons, and grated Parmesan cheese?  It was a sensation of a salad from coast to coast, and there were even rumblings of its success in Europe.
Almost 50 years later, when we decided upon Caesar Salad as one of events for our program "Kids Want to Cook," I had, as usual, studied all the sources and found, as usual, there was no agreement among any of them.  I evolved what most appealed to me but it lacked a certain authenticity, and it had no drama.  Then my producer, Ruthie, suggested we try to locate someone from that era who knew Caesar and really knew that salad.  Was there anyone?  Indeed there was, Ruthie found Rose Cardini, his daughter, was living in the Los Angeles area, and was the head of a successful spice and salad dressing business.  I had a long Boston-to-Los Angeles telephone conversation with her, taking copious notes.  She was born five years after her father created his masterpiece, she said, but she knew every detail because it had been so much discussed and remembered."
In the book In Search of Caesar, The Ultimate Caesar Salad Book by Terry D. Greenfield, it is stated:
"In Europe, Caesar's Salad was also beginning to make an appearance.  The legend attributes the salad's debut across the ocean to Mrs. Wallis Warfield Simpson (mistress and ultimately wife of Prince Edward VIII of Wales, former King of England).  Mrs. Simpson often visited and partied in the San Diego and Tijuana areas in the 1920s.  It is said that Mrs. Simpson met the prince of Wales there, at the Hotel Del Coronado.  During this time, Mrs. Simpson visited Hotel Caesar's Place and became fond of Caesar's Salad and was sometimes an overbearing guest demanding that Caesar himself toss his salad at her table-side, creating quite a fuss
It is also that that as a result of Mrs. Simpson's extensive world travels, Caesar Salad was introduced to many of the great European restaurants by her instructing international chefs as they struggled to recreate the dressing to satisfy the soon-to-be-Duchess of Windsor's discerning palate. 
Legend has it that she was the first to cut the lettuce into delicate bite-sized pieces with a knife and fork rather than indulging in the finger food Caesar had intended, and as others had simply done.  In spite of her reputation and escapades, her manners exemplify the etiquette of a fine lady who preferred not to eat food with her finger.  The knowledge of Caesar's Salad quickly spread throughout Europe."
In 1948 Caesar Cardini established a patent on the dressing (which is still packaged and sold as "Cardini's Original Caesar Dressing Mix," distributed by Caesar Cardini Foods, Culver City, California.
---
Cobb Salad:
Typically a Cobb Salad consists of chopped chicken or turkey, bacon, hard cooked eggs, tomatoes, avocado, cheddar cheese, and lettuce.  It is served with crumbled blue cheese and vinaigrette dressing.  The original recipe for Cobb salad included avocado, celery, tomato, chives, watercress, hard-boiled eggs, chicken, bacon, and Roquefort cheese.  Some historians say it was invented in 1929 and others say 1937.  The official date recorded by the Brown Derby restaurant is 1937.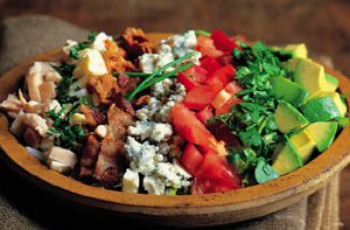 What's Cooking America's Classic Cobb Salad recipe.

1937 – It was the invention of restaurant manager, Bob Cobb, at The Brown Derby restaurant in Los Angeles, found a way to use up leftovers.  Cobb had been improvising with the salad for years.  The first one was created at the end of a long day, when Cobb realized he had not had time to eat.  Wandering over to one of the restaurant iceboxes, a weary Cobb scrounged around to see what he could fix.  Cobb's salad might have remained his own little secret had he not made an offhand comment about his new invention to one of Hollywood's legendary promoters, Sid Grauman, the man responsible for the elaborate, pagoda-like cinema on Hollywood Boulevard that came to be known as Grauman's Chinese Theatre.  The salad got Grauman's interest and he asked for one to try.  He fell in love with it.
Some historians say that it was the Executive Chef of the Brown Derby Restaurant, Robert Kreis, who actually developed the Cobb Salad in honor of Bob Cobb, owner of the restaurant. You be the judge!
According to Walter P. Scharfe, later president of the Brown Derby Restaurants, and current owner of the Hollywood Brown Derby licensing rights:
". . . its origin was quite by accident.  One evening the original owner, Robert H. Cobb, went to the icebox and found an avocado, which he chopped with lettuce, celery, tomatoes, and strips of bacon.  Later he embellished it with breast of chicken, chives, hard-boiled egg, watercress, and a wedge of Roquefort cheese for dressing, and the salad was on its way to earning an international reputation."
Disney World in Florida, located in the Disney-MGM Studios, has built a replica of the restaurant where they feature the Cobb Salad and the famous caricatures of Hollywood stars which lined the walls of the original Brown Derby Restaurant in Hollywood, California.
---
Crab Louie/Louis Salad:
Both spellings of the salad are used on restaurant menus, but it is usually pronounced LOO-ey.  This famous west coast salad is also called "King of Salads," and is sometimes written as Crab Louis Salad.
Today there are as many versions of this famous salad as there are cooks.  Credit for the origin of Crab Louie Salad depends on who you talk to and which state of the West Coast you are in.  Most historians agree that the salad began appearing on menus of finer West Coast establishments between the turn of the 20th century and World War I.  Other historians suggest that the salad was named after King Louis XIV who was known for his enormous amounts of food he could eat.  After his death, it is said than an autopsy was carried out and it revealed that his stomach was twice the size of that of ordinary men.  You be the judge.
1904 – Some credit the origin of Crab Louis Salad to the chef at Seattle's Olympic Club in Washington.  In 1904, when the Metropolitan Opera Company played in Seattle, Washington, Enrico Caruso (1873-1921), considered the world's greatest tenor, kept ordering the salad until none was left in the restaurant's kitchen.
1910 – It is also said the salad was created in San Francisco by either the chef at Solari's Restaurant.  Helen Evans Brown, in her cookbook West Coast Cook Book, states the following on the history:
Just which Louis invented this West Coast specialty I am not prepared to say, but only because I don't know.  I do know, however, that it was served at Solari's, in San Francisco, in 1914, for Clarence Edwords gives their recipe for it in his epicure's guide, Bohemian San Franciso.
1914 – The Davenport Hotel in Spokane, WA claims that the original founder and owner, Louis Davenport, created this dish for the hotel restaurant.  The salad is still on their menu today.  Lewellyn "Louis" Davenport came to Spokane Falls, Washington Territory, in the Spring of 1889 at the age of 20 from San Francisco, CA.
1919 – Famed chef, Victor Hirtzler, is said to have included a recipe for the salad in The Hotel St. Francis Cookbook, originally published in 1919.
1917 – James Beard (1903-1985), a native of Portland, Oregon spoke highly of the Crab Louis.  Evan Jones, in his book Epicurean Delight: The Life and Times of James Beard says:
Most prosaically, in those years his mother would take her son to restaurants that served food aimed at pleasing the average Oregon palate.  One of these was the Bohemian, a commendable dining place that Beard remembered particularly for a dish called Crab Louis. Writing about this chili-tinged way of serving Dungeness crab, he wanted to believe it had been first served at the Bohemian and later he sparred with his friend, Helen Evans Brown, who credited San Francisco's Solari Restaurant for its origin.
1950s – The Palace Hotel in San Francisco, California is noted as making the salad famous.  Dungeness crab is considered the symbol of the San Francisco fishing industry with sidewalk vendors selling fresh-boiled crab during the winter months.
---

Coleslaw (kol-slaw):
A cold salad made with shredded cabbage mixed with mayonnaise as well as a variety of ingredients.
The term coleslaw is a late 19th century term, which originated in the United States.  Cole slaw (cold slaw) got it's name from the Dutch "kool sla"- the word "kool" means cabbage and "sla" is salad – meaning simply, cabbage salad.  In English, that became "cole slaw" and eventually "cold slaw."  The original Dutch "kool sla" was most likely served hot.
---
Panzanella (pahn-zah-NEHL-lah):
Panzanella salad always includes bread and tomatoes plus vegetables from the garden.  Vegetables can include peppers, cucumbers, and onions.  Lots of garlic, capers, black olives, and anchovies are added to the salad.
This Italian salad probably was an invention of necessity.  Italian cooks waste nothing and this was a way to utilize stale bread and vegetables from the garden.  The record of panzanella goes back centuries.  In the 1500s, a poem by the famous artist, Bronzino, described the salad.  Of course, the tomato was quite a few years from being introduced into the Italian kitchen, so the ingredients did not include tomatoes.
---
Salad Nicoise (knee-SWAHZ):
Nicoise is a descriptive term for dishes served with particular foods used by the chefs of the City of Nice, France.  This garnish usually includes garlic, tomatoes, anchovies, black olive, capers, and lemon juice.
Salad Nicoise is the most famous of all these dishes, consisting of potatoes, olives, green beans, and vinaigrette dressing.  Even its "proper" assembly is disputed.  Some people say the salad is served on a bed of lettuce and others say that tomatoes are the base.  And some do not arrange the elements of the salad at all, but just toss it all together.
---
Salad Olivier:
A Russian-origin salad of potatoes with chicken, pickles, green peas, carrots bound with mayonnaise.  Also known as Russian Salad or salade a la Russe.  This salad appears at most festive meals in Russia.
Historians believe that this salad was the creation of a French chef, M. Olivier, owner and chef of The Hermitage restaurant in Moscow, Russia in the 1860s.  Originally cold roast game was used in the salad instead of chicken.
---
Waldorf Salad:
A classic American fruit salad that usually consists of apples, lemon juice, celery, walnuts, and mayonnaise.

1893 – Oscar Michel Tschirky (1866-1950), maitre d'hotel, is usually given credit for creating this salad for a private party on the pre-opening of New York's Waldorf Astoria Hotel on March 13, 1893.   He was known as "Oscar of the Waldorf."  Oscar worked at the Waldorf Astoria Hotel from its opening until he retired in December of 1943.
In 1896, Oscar Tschirky compiled a cookbook called The Cook Book by Oscar of the Waldorf and gave the recipe for this salad using only apples, celery, and mayonnaise. Oscar recipe is as follows:
Waldorf salad – Peel two raw apples and cut them into small pieces, say about half and inch square, also cut some celery the same way, and mix it with the apple.  Be very careful not to let any seeds of the apples be mixed with it.  The salad must be dressed with a good mayonniase.
At some point, walnuts were added to the recipe.  In The Waldorf-Astoria Cookbook published in 1981 by Ted James and Rosalind Cole, it includes the walnuts or pecans.
1918 – Fannie Farmer (1857-1915) revised, edited, and reissued as Mary J. Lincoln's cookbook called The Boston Cooking-School Cook Book. In her 1918 edition of this cookbook is a recipe for Waldorf Salad:
Waldorf Salad – Mix equal quantities of finely cut apple and celery, and moisten with Mayonnaise Dressing.  Garnish with curled celery and canned pimentoes cut in strips or fancy shapes.  An attractive way of serving this salad is to remove tops from red or green apples, scoop out inside pulp, leaving just enough adhering to skin to keep apples in shape.  Refill shells thus made with the salad, replace tops, and serve on lettuce leaves.
---
History of Salad Dressings:
A sauce for a salad that are usually based on vinaigrette, mayonnaise, or other emulsified product.
Salad dressings and sauces have a long and colorful history, dating back to ancient times. The Chinese have been using soy sauce for 5,000 years; the Babylonians used oil and vinegar for dressing greens nearly 2,000 years ago; and the ever-popular Worcestershire was derived from a sauce used since the days of the Caesar. Indeed, early Romans preferred their grass and herb salads dressed with salt. Egyptians favored a salad dressed with oil, vinegar and Oriental spices. Mayonnaise is said to have made its debut at a French Nobleman's table over 200 years ago. Salads were favorites in the great courts of European Monarchs – Royal salad chefs often combined as many as 35 ingredients in one enormous salad bowl, including such exotic "greens" as rose petals, marigolds, nasturtiums, and violets.
In the Twentieth Century, Americans went a step further in salad development – making it a fine art by using basic dressing ingredients (oil, vinegar or lemon juice, and spices) and Yankee ingenuity, to create an infinite variety of sauces and dressings to make salads the best ever. "Store bought" dressings and sauces were largely unavailable until the turn of the century. Many of the major brands of dressings and sauces available today were on the market as early as the 1920's.
In 1896, Joe Marzetti opened a restaurant in Columbus, OH and began to serve his customers a variety of dressings developed from old country recipes. Consumer acceptance led Mr. Marzetti to bottle and sell his dressing to restaurant customers in 1919.
In 1912, Richard Hellmann, a deli owner in New York, began to sell his blue ribbon mayonnaise in wooden containers. One year later, in response to a very strong consumer demand, Mr. Hellmann began to market the mayonnaise in glass jars.
In 1925, the Kraft Cheese Company entered the salad products business with the purchase of several regional mayonnaise manufacturers and the Milani Company (which led to Kraft's initial entry into the pourable dressing business with French Dressing as its first flavor).
Green Goddess Dressing – A salad dressing that is a mixture of mayonnaise, anchovies, tarragon vinegar, parsley, scallions, garlic, and other spices.
The Green Goddess Dressing created at San Francisco's Palace Hotel (now called the Sheraton-Palace) in the 1920s. The Palace Hotel was built in 1875 and was San Francisco's first grant lodging hotel. The Palace Hotel was considered the largest hotel in the western United States.
The hotel's executive chef, Philip Roemer, named the dressing for English actor George Arliss (1868-1846), who stayed at the hotel and also ate in the Palm Court restaurant during the time he performed in the play called The Green Goddess. This play was considered the best play of the 1920-21 Broadway season and it later became on the earliest "talkie" movies in 1930. The actor frequently complemented San Francisco's marvelous weather and proclaimed that it induced a healthy appetite.
Russian Dressing – Consists of the mixture of mayonnaise, pimientos, chives, ketchup, and spices.  The name comes from the earliest versions that included a distinctly Russian ingredient, caviar.
Thousand Island Dressing – It is made from bits of green olives, peppers, pickles, onions, hard-boiled eggs and other finely chopped ingredients.
The history of Thousand Island Dressing dates back to the early days of the 20th century and centers in the small resort village of Clayton, New York.  A fishing guide named George LaLonde, Jr. guided visiting fishermen for Black Bass and Northern Pike through the waters of the 1000 Islands.  After a day of fishing, he and his wife, Sophia LaLonde, would serve what they called "shore dinners" with a different and unusual salad dressing.  The following story on the origin of Thousand Island Dressing was given to me by Allen and Susan Benas, owners of the Thousand Islands Inn:
"On one particular occasion, George LaLonde, Jr., was guiding a very prominent New York City stage actress named May Irwin and her husband. May Irwin, a renowned cook and cookbook authoress in her own right, was particularly impressed with the dressing and asked George for the recipe. Sophia La Londe, who created the dressing, was flattered by the request and willingly gave her the recipe. Sophia also had given the recipe to Ella Bertrand, who's family owned the Herald Hotel, one of the most popular hotels in Clayton. May Irwin and her husband had stayed at the Herald Hotel during their early vacations in the island and had already tasted the dressing. It was May Irwin who gave it the name Thousand Island and it was Ella Bertrand who first served it to the dining public.
Upon her return to New York City, May Irwin gave the recipe to fellow 1000 Islands' summer visitor, George C. Boldt, who was owner of the Waldorf Astoria Hotel in New York. Equally impressed with the dressing and its flavor. Mr. Boldt directed his world famous maitre di, Oscar Tschirky, to put the dressing on the hotel's menu. In doing so, Oscar Tschirky earned credit for introducing the dressing to the world."
In 1972, Allen and Susan Benas purchased the Herald Hotel and changed its name to the Thousand Islands Inn. Needless to say, Thousand Island Dressing is the "official" house dressing at the inn. The Benas now bottle and sell the dressing at the inn and on the internet.
---
Sources:
American Food Folklore and Culinary History: Buffalo Wings, Reuben Sandwiches, and Caesar Salads, by Jim Rader, Merriam-Webster Inc. via ADS-L 28 May 1998.
Bull Cook & Authentic Historic Recipes and Practices, by George Leomard Herter and Berthe E. Herter, 1969.
Caesar Salad – "Who Cooked That Up?" by J. J. Schnebel.
Epicurean Delight – The Life and Times of James Beard, by Evan Jones, Alfred A. Knopf, New York 1990.
From Julia Child's Kitchen, by Julia Child, Alfred A/. Knopf, Inc., 1970.
In Search of Caesar – The Ultimate Caesar Salad Book, by Terry D. Greenfield, Tjicknor & Fields, 1983.
Lights! Camera! Salad! – The Cobb Salad, by Vincent J. Schodolski, Tribune Staff Writer, August 26, 1998, Chicago Tribune newspaper.
New York Wanders Uptown, Old and Sold, Antiques Auctiion & Marketplace, originally published 1931.
Recipes Named After Restaurants Recall Bygone Era, by Fran Gardner, The Oregonian FOODday, June 19, 1999.
The Brown Derby Restaurant – A Hollywood Legend, by Sally Wright Cobb and Mark Willems, Rizzoli, 1996.
The Cookbook by "Oscar" of the Waldorf, Oscar Tschirky, Saafield Publishing Company, Chicago, 1896
The crab Louis' origin may be cloudy, but the salad's popularity is clear, by Penelope Corcoran, Seattle Port-Intelligencer newspaper, Wednesday, July 23, 2003.
The Davenport Hotel and Tower, Hotel History.
The Dictionary of American Food & Drink, by John F. Mariani, Ticknor & Fields, 1983.
The Food Chronology, by James Trager, Henry Holt and Company, 1995.
The Secret Life of Food: A Feast of Food and Drink History, Folklore, and Fact, by Martin Elkort, St. Martin's Press, 1991.
The Waldorf Astoria Cookbook, by Ted James and Rosalind Cole, Bramhall House, 1981 Edition.
Unusual Origins of Popular Recipes, by Patricia Bunning Stevens, Ohio University Press, 1998.
West Coast Cook Book, by Helen Evans Brown, Little, Brown and Company (a reprint of the original by The Cookbook Collectors Library).
What's Cooking America, by Linda Stradley, Chehalem Publishing, 1997.
Comments and Reviews