Classic Caesar Salad – My all-time favorite salad  
To many, including myself, this is the "King of Salads".  If a restaurant offers Classic Caesar Salad on the menu, I usually request it when dining out.  If you have never experienced "the show" that goes with the table side presentation, you do not know what you have missed.  What an opportunity for a waiter to show off his stuff, mixing and whisking to the delight of the patrons.
History:  Caesar Salad is named after chef Caesar Cardini (1896-1956) who created it in his restaurant in Tijuana, Mexico in 1924.  It became popular in Hollywood and is now considered an American classic.  The salad consists of greens (classically romaine lettuce) with a garlic vinaigrette dressing.
In the 1930s, Caesar Salad was voted by the master chefs of the International Society of Epicures in Paris as the "greatest recipe to originate from the Americas in fifty years."  In the 1970s, Cardini's daughter said that the original recipe included whole lettuce leaves, which were meant to be lifted by the stem and eaten with the fingers; coddled eggs; and Italian olive oil.  Learn more about the history Caesar Salad.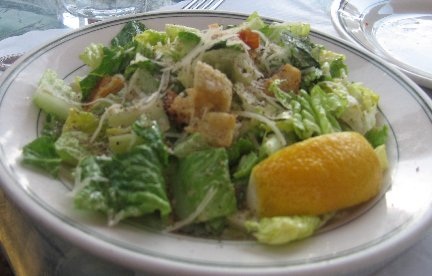 Check out Linda's wonderful Low Fat and Low Calorie Caesar Salad Recipe (this is the recipe that I usually make and serve to my family and guests).
Please check out my Prime Rib Dinner Menu and Pork Loin Dinner Menu which includes this fantastic Classic Caesar Salad.
Classic Caesar Salad Recipe:
Classic Caesar Salad Recipe
Ingredients:
1/2 to 3/4 cup homemade croutons (see directions below)
1 coddled egg (see directions below)*
1 to 2 teaspoons finely-chopped garlic (1 to 2 medium cloves with inner green germ removed - the sprouts add an unpleasant bitterness)
1 to 2 anchovy fillets, mashed**
Pinch of coarse salt
2 tablespoons (1/2 lemon) freshly-squeezed lemon juice***
3 drops Worcestershire sauce
6 tablespoons extra-virgin olive oil
4 tablespoons (1/4 cup) freshly-grated Parmesan Cheese (Parmigiano-Reggiano), divided
2 to 3 heads Romaine lettuce, hearts and tender leaves only
Coarsely-ground black pepper

* Coddled egg may be substituted with 1/2 cup mayonnaise. If doing this substitution, reduce some of the olive oil. Better yet, make Linda's easy-to-make and very delicious Low-Fat Caesar Salad Dressing.
** Use only good-quality Spanish or Portuguese anchovies in your dressing. Anchovy paste may be substituted (approximately two inches squeezed from the tube will provide the equivalent taste of one anchovy fillet). More or less anchovy fillets may be added according to your personal taste.
*** Fresh squeezed lemon juice is essential. Some chefs squeeze the lemon through a cheesecloth to ensure that only the juice ends up in the salad. If you are careful to keep the lemon seeds out of the salad, a simple squeeze will do.
Instructions:
How to make croutons: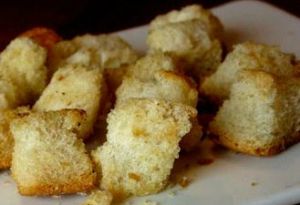 Preheat oven to 375 degrees F.
Trim the crust from day-old peasant-style bread (Italian or French bread) and dice into 3/4-inch cubes. Toss with enough olive oil to coat, but not drench. Sprinkle lightly with salt and spread out on a rimmed baking sheet.
Bake approximately 10 to 15 minutes or until just golden brown. Halfway through the baking time, give the pan a shake to make sure the croutons toast evenly. Remove from oven and completely cool croutons. Store in an airtight container.


How to coddle eggs: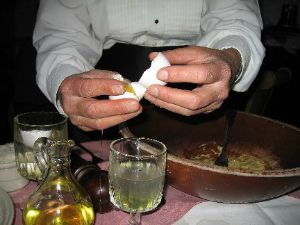 Coddling causes the yolk to become slightly thickened and warm.
Bring a very fresh egg to room temperature by immersing it in warm water (otherwise it might crack when coddled).
Place the egg in a small bowl or mug and pour boiling water around the egg until it is covered. Let stand for exactly 1 minute. Immediately run cold water into the bowl until the egg can be easily handled; set aside.


How to make Caesar Salad dressing:
In a bowl, using a fork, mash together the garlic, anchovy, and salt until well blended.
Whisk in the lemon juice and Worcestershire sauce.
Whisk in the coddled egg until the mixture is thick, approximately 1 minute (this enable the lemon juice to "cook" the eggs).
Slowly drizzle in the olive oil with one hand while vigorously whisking the mixture with the other. When the dressing is well combined, whisk in 2 tablespoons of the Parmesan cheese:
How to prepare the greens and assemble Caesar Salad:
Preparing the Greens: Separate the Romaine leaves and discard the coarse outer leaves. I also like to remove the woody rib from from the Romaine leaves by tearing away the outer leaves from the rib.
Wash, drain, and pat dry with paper towels or spin dry the remaining leaves. Romaine lettuce should be prepared ahead of time and refrigerated until ready to use as they are best well chilled.
After rinsing and drying, I like to store the leaves by loosely rolling them in paper towels, then place the rolled greens inside a large resealable plastic bag, and then place in the refrigerator until ready to use. This will give you wonderfully crisp Romaine leaves.
When ready to use, tear Romaine leaves into bite-size pieces.
Assembling the Caesar Salad:
In a large wooden salad bowl, add 1/3 of the prepared Caesar Salad Dressing and toss with the croutons until well coated.
Add the Romaine lettuce pieces and the remaining dressing; toss until coated.
How to serve Caesar Salad:
Divide the salad between chilled plates and sprinkle each salad with the remaining 2 tablespoons Parmesan cheese and coarsely-ground black pepper.
Serve immediately with chilled forks.
Makes 2 to 4 servings (depending on serving sizes).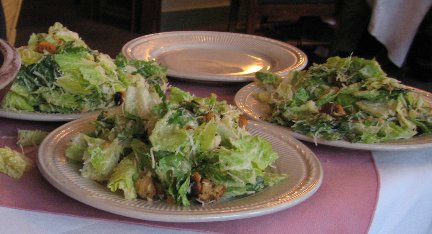 https://whatscookingamerica.net/CaesarSalad.htm
Comments and Reviews