Classic Caesar Salad – My all-time favorite salad  
To many, including myself, this is the "King of Salads".  If a restaurant offers Classic Caesar Salad on the menu, I usually request it when dining out.  If you have never experienced "the show" that goes with the table side presentation, you do not know what you have missed.  What an opportunity for a waiter to show off his stuff, mixing and whisking to the delight of the patrons.
History:  Caesar Salad is named after chef Caesar Cardini (1896-1956) who created it in his restaurant in Tijuana, Mexico in 1924.  It became popular in Hollywood and is now considered an American classic.  The salad consists of greens (classically romaine lettuce) with a garlic vinaigrette dressing.
In the 1930s, Caesar Salad was voted by the master chefs of the International Society of Epicures in Paris as the "greatest recipe to originate from the Americas in fifty years."  In the 1970s, Cardini's daughter said that the original recipe included whole lettuce leaves, which were meant to be lifted by the stem and eaten with the fingers; coddled eggs; and Italian olive oil.  Learn more about the history Caesar Salad.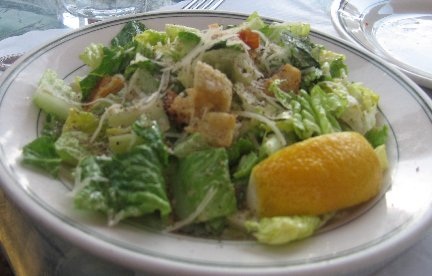 Check out Linda's wonderful Low Fat and Low Calorie Caesar Salad Recipe (this is the recipe that I usually make and serve to my family and guests).
Please check out my Prime Rib Dinner Menu and Pork Loin Dinner Menu which includes this fantastic Classic Caesar Salad.
Classic Caesar Salad Recipe:
[amd-zlrecipe-recipe:13865]
Comments and Reviews