The Monte Cristo Sandwich tends to vary from restaurant to restaurant.  A classic Monte Cristo Sandwich should come with a side of jelly to dip it in.
If you love French Toast, you will definitely love this sandwich.  The basic sandwich is a double-decker sandwich, two slices of white bread containing ham, turkey, or chicken, and a slice of cheese that are dipped in beaten egg and fried in butter.  The secret to this sandwich is the batter, and getting it fried just right.  This sandwich is crisp on the outside and custardy on the inside.
This sandwich is definitely not a health food or diet food!  Sometimes we just want good food with all the calories and fat included.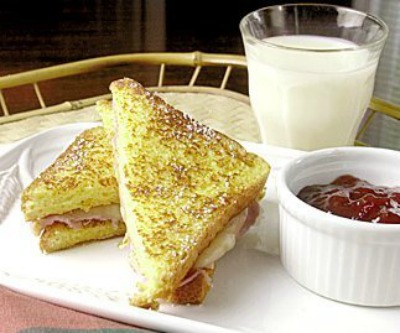 1910 – Most food historian generally think that the Monte Cristo sandwich is a variation of a French dish called Croque Monsieur.  This original grilled cheese sandwich consisted of Gruyere cheese and lean ham between two slices of crust-less bread, fried in clarified butter.  It was originally served in 1910 in a Paris cafe.
This sandwich is still a popular snack or casual meal throughout France and Switzerland in most bars and cafes.  It is usually made in a special sandwich grilling iron consisting of two hinged metal plates, each with two shell-shaped indentations.  At most Paris cafes, the Croque Monsieur is no longer prepared as a square sandwich but rather as a one-sided tartine made with a large single slice of bread from a round loaf.
1930s to 1960s – Many American cookbooks, published in the 1930s to1960s, featured this sandwich under different names such as French Sandwich, Toasted Ham Sandwich, and French Toasted Cheese Sandwich.
1950s – Although there are no existing documents to support this, it is felt that the Monte Cristo Sandwich was first served in southern California in the 1950s.
1966 – Disneyland in Anaheim, California also contributed to the trend of eating this sandwich. In 1966, it appeared on their menu of the Blue Bayou and Tahitian Terrace restaurants in New Orleanss Square in Disneyland and has continued to be a popular menu item to this day.
Comments and Reviews