Shave ice can be found everywhere in the Hawaiian Island – in coffee shops, mom and pop stores, shave ice stands, lunch wagons, crack seed stores, and especially at any and all public events.  In Hawaii, shave ice is thought of as a snack and a thirst quencher.  No trip to Hawaii is complete with tasting shave ice.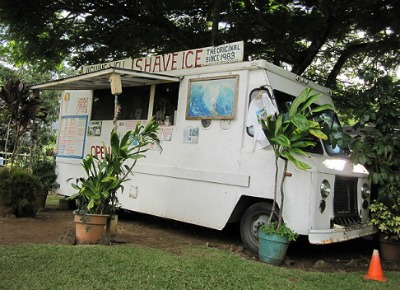 Mainlanders call them snow cones, but locals in Hawaii call it shave ice (not shaved ice).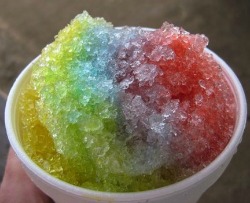 Unlike a mainland snow cone, shave ice is not ground ice.  The shave ice is so fine that flavorings are absorbed into the ice rather than settling to the bottom of the cup as with a snow cone.  In other words,  it is the gourmet's snow cone in tropical flavors.
In Hawaii, shave ice is sold in cone-shape cups.  Just as everyone has a favorite store, there are favorite flavors too.  Of course, if you can not decide on just one, go with the ever-popular rainbow shave ice.
Usually you can choose up to three flavors.  For an ultimate shave ice, add a scoop of vanilla ice cream or Azuki Beans (sweet red beans) in the bottom of the cone to create a delicious treat.
What are Azuki beans –  A sweet paste made from the East Asian-grown red azuki beans. The beans are first boiled then mashed into a paste and sweetened. Hawaii shave ice stands use a version of the paste that keeps a good portion of the softened beans intact rather than completely mashed.  As with ice cream, the paste is scooped into the center of the shave ice cone as ice is being added for an extra kick of sweetness midway through the treat.  In a shave ice bowl, azuki bean paste is more often ladled over the top of a finished ice dome after the syrup has been poured.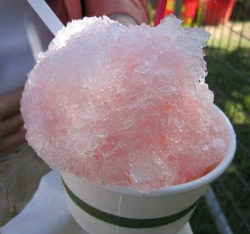 Some places you can also request a finishing layer of sweetened condensed milk or li-hing-mui powder (pulverized dried salted plum) to be poured over the ice dome after flavored syrups are poured.  No matter how you choose to have your shave ice, the result is always creamy, fruity, and delectable!
Shave Ice History:
Japanese plantation workers who migrated to Hawaii around 1920 to 1930 to work in the sugar and pineapple fields bought shave ice to Hawaii.  The workers enjoyed it as a refreshing break in the hot, tropical climate.  In those days it was only sold on Sundays, which happened to be the only day off the plantation workers received.  They would use their machetes to shave flakes of ice from a large block of ice into cups, then pour different fruit juices over the top.
In the 1950s, children would order their shave ice by color only, knowing what flavor each color represents.  A mix of colors was called kalakoa, Hawaiian for "calico."
When Japanese immigrants moved off the plantations and opened their own family-run grocery stores, shave ice went commercial and it was, and still is, hugely popular.  Today, these ice treats are also popular in Japan, which is the source of most shave ice machines.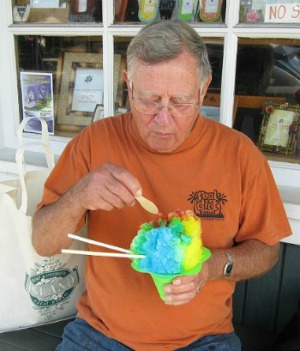 An authentic shave ice starts with a block of ice that is spun across a razor-sharp blade (which shaves the ice creating a soft snow-like texture.  Then it is packed into a paper cone, and flavored syrup is poured over the ice.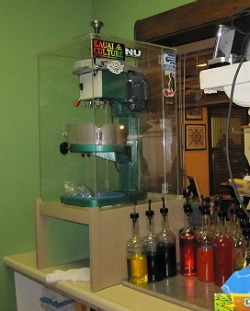 More delicious Hawaiian food to learn about and and make:  Hawaiian Saimin, Loco Moco, Poke, and Spam – Spam Musubi.
Comments and Reviews