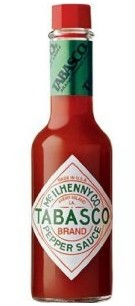 Tabasco Pepper Sauce is a condiment that is a spicy hot sauce made from Tabasco peppers, vinegar, and salt.  The hot peppers are picked by hand as soon as they ripen to the perfect shade of bright red.  The same day the peppers are picked, they are mashed, mixed with a small amount of Avery Island salt, placed in white oak wooden barrels, and allowed to ferment and then age for up to three years.  When deemed ready by a member of the McIlhenny family, the approved, fully aged mash is then blended with all natural, high grain vinegar.  Numerous stirrings and about four weeks later, the pepper skins and seeds are strained out.  The finished sauce is then bottled.
Avery Island is not really an island – it is a huge dome of rock salt, three miles long and two and a half miles wide.  At it's highest point it is only 152 feet above sea level.  It is located seven miles south of New Iberia, surrounded by wet marsh and the Bayou Peiti Anse.  It is one of five along the Louisiana Gulf Coast, formed when an ancient seabed evaporated, depositing pure salt, which rose up in large chunks and pushed the ground into a hill.
Long before its namesake Avery family settled there in the 1830s, American Indians discovered that Avery Island's verdant flora covered a precious natural resource—a massive salt dome.  There the Indians boiled the Island's briny spring water to extract salt, which they traded to other tribes as far away as central Texas, Arkansas, and Ohio.
19th Century
1850s – Edmund McIlhenny (1815-1890), a New Orleans banker, was given a gift by a soldier returning to New Orleans from Mexico of some dried peppers that were acquired in Mexico during the United States-Mexican War (1846-1848).  The soldier told him to try them in his food.  He used one or two and like it, so he saved the seeds from the remaining peppers and planted them. He grew them in his wife's garden at Avery Island.  McIlhenny did not raise them commercially for another twenty years.
1863 – In April of 1863, during the Civil War (1861-1865), Edmund McIlhenny fled with his wife when the Union Army entered the city.  They took refuge on Avery Island in rural Iberia Parish, where her family owned a salt-mining business.
Because of the salt on the island, the Union forces invaded the island and captured the mines in 1863.  The McIlhennys fled to Texas and did not return until the end of the war.  The area that would became Iberia Parish was hotly contested by Union and Confederate forces during the Civil War.  Their battle lines moved back and forth through the area, and Union troops twice looted the town.  They also seized the Weeks family mansion, now called "Shadows-on-the-Teche," and used it as a command post — but not before it, too, was looted.  As a Union officer noted:
"the boys were allowed to go through it, sack, pillage and destroy every article within its walls."
When the McIlhenny family came back, they found their plantation ruined and their mansion plundered.  One possession remained, a crop of capsicum hot peppers.
1868 – Determined to turn the peppers into income, he devised a spicy sauce using vinegar, Avery Island salt, and chopped capsicum peppers.  McIlhenny packaged his aged sauce in 350 used cologne bottles and sent them as samples to likely wholesalers.  He passed some of his sauce onto General Hazard, who was the federal administrator in the region.  The general knew a good thing when he tasted it.  His brother happened to be the larges wholesale grocer in the United States.  General Hazard sent some of the hot sauce to his brother in New York, and told him it was made from a new kind of chili pepper.  On the strength of the purchase orders that followed, Edmund McIlhenny began a commercial operation in 1868.
At first he wanted to call this new sauce Petite Anse Sauce (after the island), but when family members did not like the commercial use of the family's island name, he opted for his second choice "Tabasco."  Some historians say it is a Central American Indian word that means "land where the soil is hot and humid."  This certainly describes the climate of Avery Island.  Other historians have put forth that it actually means "place of coral or oyster shell."
1870 – McIlhenny secured a patent Pepper Sauce.  In 1872, he opened an office in London to handle the European market.  Bottles with metal tops replaced the corked bottles sealed with green wax as the increasing demand for Tabasco sauce caused changes in the packaging.
1893 –  Harvard University's Hasty Pudding Club produced a play called "Burlesque Opera of Tabasco" with the approval of Edmund McIlhenny's son, John Avery McIlhenny.  He bought the rights to the production and had it staged in New York City.
1895 – Lord Horatio Herbert Kitcherner's (1850-1916), British Field Marshal and statesman, troops brought Tabasco pepper sauce on their invasion of Khartoum in the Sudan.
20th Century
1906 – In 1898, another Louisiana entrepreneur (and former McIlhenny employee) named B. F. Trappey began growing tabasco chiles from Avery Island seed.  He founded the company B. F. Trappey and Sons and began producing his own sauce, which was also called "Tabasco."  The McIlhenny family eventually responded to this challenge and a several decades-long feud by receiving a trademark for their Tabasco brand in 1906.
1920s – In 1921, an American bartender in Paris, Fernand "Pete" Petiot, mixed up some vodka and tomato juice.  According to legend, Petiot said, "It was suggested we call the drink 'Bloody Mary' because it reminded him of the Bucket of Blood Club in Chicago, and a girl there named Mary."  In 1934, Petiot brought the drink to the King Cole Bar at the St. Regis Hotel in New York.  It was in New York that he added pepper, Worcestershire sauce, Tabasco, lemon, lime and horseradish.  Petiot pushed his tomato-based drink as a hangover cure.  Born the Bucket of Blood, the drink was later called Red Snapper and Morning Glory before finally being christened Bloody Mary, supposedly after American entertainer George Jessel accidentally spilled one of the crimson beverages over a young woman named Mary.
1929 – In 1929, Trappey's expanded to two plants, one in Lafayette and one in New Iberia.  That same year, the McIlhenny family won a trademark infringement suit against the Trappeys.  From that time on, only the McIlhenny sauce could be called "Tabasco," and competitors were reduced to merely including tabasco chiles in their list of ingredients.  The two companies had competed with identically named sauces for thirty-one years.
1932 – When the British government began an isolationist "Buy British" campaign, Parliament banned the purchases of Tabasco Pepper Sauce, popular in England since 1868 and available in the House of Commons dining rooms.  The result protest from members of Parliament was dubbed "The Tabasco Tempest," and inevitably Tabasco pepper sauce returned to parliamentary tables.  It is said, that to this day, Queen Elizabeth uses Tabasco pepper sauce on her lobster cocktail.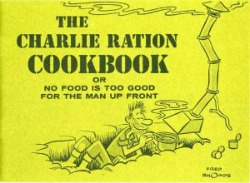 1966 to 1972 – Vietnam War Brig. Gen. Walter S. McIlhenny, son of the 2nd company president of McIlhenny Company, from his experiences with C-Rations as a soldier during WWII came up with the idea to send soldiers copies of the Charley Ration Cookbook filled with recipes for spicing up C-rations with Tabasco Pepper Sauce,
The book was wrapped around two-ounce bottles of Tabasco Pepper Sauce along with a handful of a P-38 type can openers all in a waterproof canister.
During the Vietnam War (1966 to 1972), the McIlhenny Company sent thousands of copies of the Tabisco's Charley Ration Cookbook, filled with recipes for spicing up C-rations with Tabasco pepper sauce, wrapped around two-ounce bottles of Tabasco pepper sauce in waterproof canisters?
21st Century
2002 – Archaeologists digging at the site of a black-owned saloon in the historic Old West mining town of Virginia City unearthed a 130-year-old bottle of Tabasco brand hot sauce.  The bottle, the oldest style of Tabasco bottle known to exist, was reconstructed from 21 shards of glass excavated from beneath the site of the Boston Saloon, which was owned by an African-American from Massachusetts and catered to blacks and whites from 1864-75, was among the first eateries to introduce the now-popular spicy sauce.  The Tabasco bottle is particularly intriguing because of what it implies about African-American cuisine and the development of the West," said Kelly Dixon, the administrator of the Comstock Archaeology Center who is supervising the dig in Virginia City about 20 miles southeast of Reno.
Did You Know?
Each 2-ounce bottle of Tabasco Sauce contains at least 720 drops?
The U.S. Territory of Guam is the world's largest per capita consumer of Tabasco sauce, according to the McIlhenny Company.  Some people say that Guamanians acquire a passion for hot sauce in the cradle, when mothers lace their babies' bottles with Tabasco.  True or not, that story started because those Pacific islanders consume the equivalent of almost two 2-ounce bottles of Tabasco sauce per person each year, a feat unmatched in any other country on Earth.
Sources:
American Profile – Pepper Seeds of Fortune, by C. Richard Cotton.
Hot Peppers – Cajuns and Capsicum in New Iberia, Louisiana, by Richard Schweid, published by New Orleans School of Cooking, 1987.
Hot sauce bottle offers peek into Comstock's past, by Scott Sconner,  Associated Press, 6/27/02.
McIlhenny Company.
Mexican Food Facts.
Panati's Extraordinary Origins of Everyday Things, by Charles Panati, published by Harper & Row, 1987.
Serious Pig, by John Thorne with Matt Lewis Thorne, published by North Point Press, 1996.
The Hot Sauce Bible, by Dave Dewitt & Chuck Evans, The Crossing Press, 1996
Weird Facts – Tabasco Pepper Sauce, by Joey Green.
Comments and Reviews