Dutch Oven Camp Cooking – Step-by Step Photo Tutorial
Dutch oven scrambled eggs and biscuits should be on the menu for your next camping trip.  They are a far cry from the pop tarts or cold packaged cinnamon rolls or donuts that often end up as a camp breakfast.  This is an easy-to-make camp breakfast that once you make you will have it on every camping trip.
The following recipe and photos are by Eileen Troemel of Janesville, Wisconsin (near Madison).  Check out Eileen's very interesting and informative article on Dutch Oven Camp Cooking.
Dutch Oven Scrambled Eggs and Biscuits Recipe:
Dutch Oven Scrambled Eggs and Biscuits Recipe
Ingredients
1

medium

Onion 

chopped

1

small

Bell pepper

chopped

2

Eggs

per person*

Salt and pepper

to taste

Garlic powder

1

tube

Store-bought biscuit dough

1/4

cup

Cheddar cheese

grated

2

tablespoons

Vegetable Oil
Optional Ingredients:
Mushrooms

Crumbled bacon

Pepperoni
* Egg beaters may be substituted if desired.  When camping, these might be easier to carry than eggs.
Instructions:
(1)  On a cutting board, chop onion and bell pepper into a small dice.  Also chop up any optional ingredients that you want to add to the scrambled eggs.
(2)  In a bowl, beat the eggs; add the onion, bell pepper, optional ingredients, mixing together with a fork.  Season to taste with salt, pepper, cayenne pepper, and garlic powder.
(3)  Prepare your fire using either charcoal coals or wood. Eileen is using the charcoal coal method for her Dutch Oven Camp Cooking.  Check out Eileen's article on
Dutch Oven Camp Cooking
for information and instructions on Dutch Oven cooking.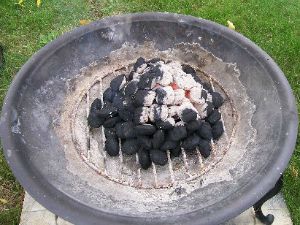 (4)  Fire pit with coal – using backyard fire pit to cook on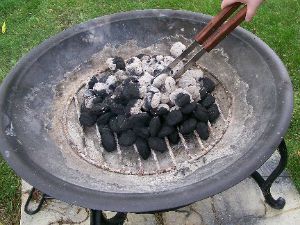 (5)  Coals being shifted around so more of them will get hot enough to cook with.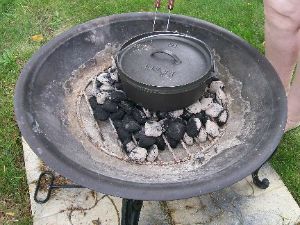 (7)  Pouring vegetable oil in the Dutch Oven.
Do not forget to stir the eggs once in awhile. Just remove lid (and aluminum foil if using), with the biscuits and set aside while stirring.  Then replace lid with biscuits back on top of the Dutch Oven.
A minute or so before the scrambled eggs are done, sprinkle with the grated cheddar cheese.  Place the lid back on to get the cheese to melt.

Comments and Reviews