This Southern Pimento Cheese Spread recipe is a passion in the South!  It has also been called the pate of the South.  There are as many different recipes for this spread as their are cooks in the southern states.  It can be made chunky, smooth, spicy or mild.  Whatever the cook decides to make to suit their tastes.
For several years, pimento cheese fell out of style and was labeled as tacky.  But no more, as southern chefs are recreating it into their cooking.  During the holidays such as Thanksgiving, Pimento cheese spread is popular to serve as an appetizer or part of the relish tray.  In the South, you can even purchase prepared pimento cheese spread at the grocery stores.  But as with all foods, homemade is always better.  Learn to make your own pimento cheese spread. Nothing could be easier.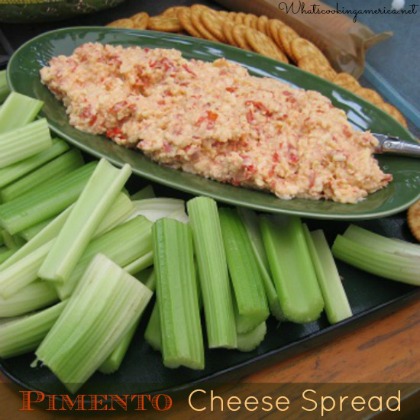 Southern Pimento Cheese Spread Recipe:
Keyword:
Paste of the South Recipe, Southern Pimento Cheese Spread Recipe
Ingredients
6

cups (1 1/2 pounds)

yellow Cheddar cheese,

extra-sharp

2

cups

mayonnaise

(good-quality)*

1

cup

sour cream

1

(7-ounce) jar

pimentos,

drained and finely diced**

1

(4-ounce) jar

pickled jalapeno peppers,

finely-chopped (optional for a spicy kick)

3 to 4

green onions

(green and white parts), small dice

Salt

and black pepper to taste
Instructions
Grate the cheese into a large bowl using the small side of the grater. The classic pimento cheese spread is chunky. You can make a smooth or creamy spread by whipping it in the food processor. If you decide to make the pimento spread creamy, reduce mayonnaise by 1/2 cup. This creamy style is easier to stuff celery, tomatoes, eggs, etc.

In a large bowl, combine grated cheese, mayonnaise, and sour cream. Using a fork, mix in the pimentos, green onions, and jalapeno peppers (if using). Add salt and pepper to taste. If the pimento spread is too thick, add additional mayonnaise - if too thin, add additional cheese.

Cover and refrigerate at least 2 hours or overnight for flavors to blend before serving. Bring to room temperature before serving.

Store in an airtight container in the refrigerator.

Pair the Pimento Cheese Spread with some cracker or chips and it is the perfect appetizer for a large or small group.
Recipe Notes
* Dukes Mayonnaise is preferred by the Kings Courtyard Inn.  This mayonnaise can only be found in the southern states, so if you live in other parts of the country, choose a top-quality mayonnaise.
** Pimentos are small, red chile peppers that have their own distinct sweet flavor that differs from the traditional red bell pepper.
Source:
This Pimento Cheese Spread recipe and photo are generously shared by Kings Courtyard Inn, a beautifully restored bed and breakfast that is located in the heart of historic Charleston, South Carolina.  The Inn serves this delicious pimento spread at their afternoon wine and cheese reception in their courtyard.  I slightly adapted this recipe for easier preparation.
Comments and Reviews