Almost Homemade Blueberry Pancakes are my take on boosting a boxed pancake mix and making it more like homemade.  I make these pancakes ahead of time, freeze them, and then always have them in the freezer for my husband and grand kids.  Preparing pancakes ahead of time and freezing them will save time, energy, and money.  It takes only a little more effort and time to make enough for several meals.
This very easy-to-make pacakes recipe and comments were shared with my by Karen Calanchini, Food Stylist and Photographer, of Redding, CA.
More delicious Pancake Recipes for your family's breakfast needs.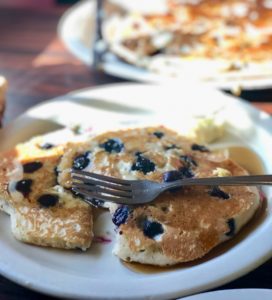 Almost Homemade Buttermilk Blueberry Pancakes:
Keyword:
Almost Homemade Buttermilk Blueberry Pancakes
Ingredients
Pancake Mix*

Milk

or water (amount listed on package)

1

egg**

1/2

teaspoon ground

cinnamon

per each batch made

4 or 5

fresh

blueberries

per pancake
Instructions
Use your favorite boxed (prepared) pancake mix and follow instructions on the box. Substitute any of the following ingredients you desire:

Substitute 2% buttermilk (shaken well)

Adding blueberries to partially-cooked pancakes.

Add one (1) extra egg per 1 cup pancake mix

Add 1/2 teaspoon ground cinnamon per each batch made

4 or 5 fresh blueberries per pancake

It is best if you wrap them either individually in a plastic food wrap instead of trying to freeze a whole stack of pancakes. This way, you just take as many as you want from the freezer and microwave. They microwave VERY quickly. Let the pancakes cool completely before wrapping and freezing. I, personally, make packets of two (2) pancakes:

Pull your food wrap out onto the kitchen counter.

Place one (1) pancake, about 4 to 5 inches up from the end of the food wrap. Bring the end of the food wrap up and over this pancake.

Place another pancake on top of the first pancake. Cut the food wrap and bring it up and over the top of the 2nd pancake.

You are now ready to freeze the pancakes. The easier way to store these wrapped pancakes is to place them in a large resealable plastic bag and then freeze.

Pancakes can be stored in the freezer for up to 2 months.

How To Defrost and Reheat Pancakes:

Remove the amount of frozen pancake packages you need from the freezer bag (I wrap two (2) to a package).

Unwrap and remove the plastic food wrap from around the pancakes.

Place the frozen pancakes on a microwave-safe serving plate. Cover with a paper towel or a microwave-safe cover, and zap the pancakes for approximately one (1) minute and twenty (20) seconds.

Check to see if they come apart (unfrozen), if not, zap until they do, then separate them and zap until heated to your liking. I like to add pats of butter the last few seconds. NOTE: Watch closely as the reheating time depends on the size of the pancakes and the type of your microwave oven (overheating can cause pancakes to toughen).

Serves with real maple syrup or your favorite syrup.
Related Pancake Recipes:
Buttermilk Pancakes
Oatmeal Pancakes
Sourdough Pancakes
German Pancakes – Dutch Baby Pancakes
Apple Pancake
Comments and Reviews