Baked Eggs and Spicy Black Beans in Tortilla Cups are a very easy and healthy Mexican-style breakfast to prepare for one, two, or even a crowd of people.  You could say that this is a dressd-up version of Huevos Rancheros (Rancher's-Style Eggs), which is a popular breakfast dish in Mexico and in the  Southwest states of America.   This would make a great holiday breakfast for your family.  It is fun to remove this from the oven and see the look of surprise on the faces of your guests!  Check out another delicious and easy-to-make version of Huevos Rancheros using scrambled eggs,
This tasty baked eggs recipe, comments, and photos were shared with me by Karen Calanchini, Food Stylist and Photographer, of Redding, CA.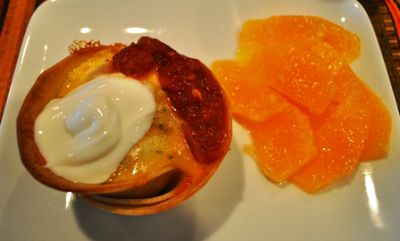 Baked Eggs and Spicy Black Beans in Tortilla Cups Recipe:
Keyword:
Baked Eggs and Spicy Black Beans in Tortilla Cups Recipe
Ingredients
2

Flour Tortillas,

low-fat or low-carbohydrate*

Butter

or butter substitute, room temperature

Scant

1/4 cup

black beans,

rinsed and drained**

2

tablespoons

salsa,

chunky***

Chipotle pepper sauce

or your favorite hot sauce, to taste

1

tablespoon

cilantro,

fresh, coarsely-chopped

Coarse salt

or sea salt and freshly-ground black pepper

2

large

eggs

1/4

cup

cheese

(Cotswold Double Gloucester Cheese with Onions and Chives, or Pepper Jack Cheese, or Sharp cheddar cheese), grated

Sour cream,

non-fat

Extra

salsa

(for garnish)

Fresh

cilantro

leaves (for garnish)
Instructions
Preheat oven to 400 degrees F.
To Make Tortilla Cups:
Depending on how many you are serving, you can use 1-cup ramekins, custard cups, or large muffin cups to bake them in. I am making two servings.

Cut two flour tortillas to about 5 inches. You want them to be even with the edge of the vessel you are using. If they are just a little above the edge that is OK. Too high over the edge, and the tortillas will be very crisp. Wrap the tortillas in a paper towel, and one at a time, zap them for 10 seconds in the microwave (this softens the tortilla and makes them easier work with and to place into the cooking bowls). Spread a little softened butter on both sides of the heated tortillas, and press into your cooking bowls, creating tortilla cups.

Prepare Ahead of Time: You can make the tortilla cups up to 2 days ahead of time. Just store them in a zip-close freezer bag at room temperature. Re-crisp them in a 425 degree F. oven for 2 minutes before using. If you prefer a soft tortilla, simply stack the tortillas, wrap them in aluminum foil, and warm in a 350 degree F. oven until heated through.
To Assemble:
In a bowl, mix together the black beans, salsa, pepper sauce, cilantro, freshly-ground pepper, and a little salt. Add or subtract ingredients according to your tastes (be creative).

Spoon 1/2 of the bean mixture into each baked tortilla cup. Crack one egg into each cup over the bean mixture. Note: Be careful not to break the yolks,

Bake until the egg is barely set, about 8 to 9 minutes (whites should be just starting to set). Watch closely so that the eggs do not overcook.

Top each cup with cheese, cover with aluminum foil, and bake for an additional 7 to 8 minutes until eggs are set and cheese is melted. The time will vary for your oven.

To serve, use a glove or towel to hold the ramekin or muffin tin, run a small off-set spatula around the egg cup to loosen the edges and carefully lift out of the cup.

Top with a dollop of sour cream and drizzle a little salsa on the edge. Top with extra fresh cilantro, if desired.

This is great served with fresh orange segments.
More delicious breakfast and brunch recipes the you might also like:
Bacon-Potato Bake with Swiss Cheese
This is a fun little dish to make. It is easy-to-make and so very tasty.  You get the smokiness from the bacon, with a nice contrast from the Swiss cheese.
Crusty Dinner Rolls with Baked Eggs and Herbs
This is a fun breakfast that the kids or grand kids love to help with.  I like my yolks to be just set, but not runny.  That way, I can pick it up and eat it out of my hand.  Our grand kids prefer it that way, as well.
Omelet with Buttermilk, Sun-Dried Tomatoes, and Fresh Salsa
This omelet is great served with an array of seasonal fresh, colorful fruits.
Tex-Mex Chile Eggs
This is a very tasty dish.  I like the idea of all the vegetables, without the addition of cheese.  Look for corn tortillas with 0 Trans fats and low in calories with high fiber content.  Serve with a dish of pink grapefruit, and orange slices.
Comments and Reviews