Hatch Chile Beef Tacos are mouth watering with the spicy flavor of hatch chile peppers.  These are always a favorite of adults!  Tacos are a go to on busy weeknights because all you have to do is prepare the beef, chop the toppings, and everyone can make their own tacos.  They are hard to beat for a weeknight dinner with your family!
This delicious Hatch Chile Beef Taco recipe, comments, and photos were shared with my by Karen Calanchini, Food Stylist and Photographer, of Redding, CA.
Read about the History of Tortillas and Tacos.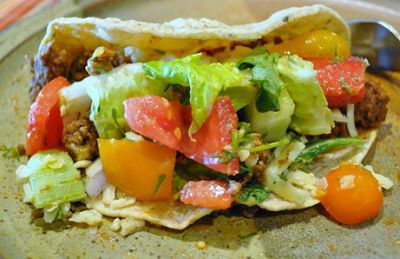 Hatch Chile Beef Tacos Recipe:
Keyword:
Hatch Chile Beef Tacos Recipe
Ingredients
Hatch Chile Beef Tacos:
1

pound lean

ground beef

(hamburger)*

4 to 5

cloves

garlic

1/2

(3-ounce) can

tomato sauce

1/2

cup

salsa

(homemade or your favorite store brand)

2

Hatch Chile Peppers

or your favorite chile peppers, skins, seeds, and blister skin removed**

1/2

teaspoon

Ancho

or Chipotle chile powder

4 to 6

corn tortilla

shells***
Garnishes:
1

red onion,

diced

Your favorite

cheese,

shredded (we like a combo of a white cheddar and jack cheese)

Your favorite red or

green taco sauce

Cilantro

leaves, chopped (optional)
Instructions
Hatch Chile Beef Tacos Instructions:
Prepare Salad (see recipe below).

Prepare Garnishes (see recipe below).

In a large frying pan, brown the ground beef. When the ground beef is half finished, add garlic and finish cooking the beef. Add tomato sauce, salsa, chile peppers, and chile powder. Turn heat to low and let the sauce barely simmer until most of the moisture has been absorbed by the meat. Remove from heat and set aside in the refrigerator until ready to proceed with the tacos.

When ready to make the Beef Tacos, place the pan with the beef mixture over low heat. Gently heat until very warm.

Reheating or toasting corn tortilla shell options:

Cooking tortilla shells for the first time can be tricky, but it is really easy and you will soon get the feel for how you like them cooked. I buy corn tortillas from Trader Joe's that are a homemade product and a little thicker than the usual corn tortillas. They hold up well and do not split on me. If you only make 4 tortillas for 2 servings, the remainder of the meat, salad, and garnishes are great the next day for lunch.

Deep Saucepan - over medium heat, add 1/2 cup vegetable oil. Heat until a drop of water sizzles. Using tongs, dip one tortilla shell into the hot oil. When it starts to bubble, flip it over. When it puffs up, remove from oil to a paper-towel lined plate.

Frying Pan or Griddle - Moisten hands lightly with water; rub over tortillas, one at a time. Place tortilla flat into an ungreased heavy frying pan or onto a cast-iron griddle over medium heat; turn frequently until soft and pliable, approximately 30 seconds. Remove from heat and stack hot tortillas in a covered dish or wrap in aluminum foil. Keep hot for up to 2 hours on an electric warming tray or in a 150 degree F. oven. NOTE: In place of water, I sometimes use non-stick cooking spray.

Oven - Either spray or brush vegetable oil on both sides of the corn tortillas. Place the tortillas on the aluminum foil lined baking sheet. Place in the oven for just a few minutes, until they soften and become heated through. Wrap in aluminum foil and bake in a 350-degree F. oven for approximately 10 to 12 minutes.

To microwave - wrap a stack of tortillas lightly in paper towels and warm on high for 6 or 7 seconds per tortilla.

Preheat oven to 200 degrees F.

Using a slotted spoon, place a large spoonful of the prepared beef mixture into each prepared tortilla shell, keeping in mind that you will be adding salad later. Fold the tortilla in half and place on a large plate lined with paper towels. Continue with the remaining tortillas, filling as many as you have the beef mixture for. Place the plate of beef-filled tacos into the oven to keep warm.

To serve, Remove Salad and Garnishes from the refrigerator. Place the warm beef-filled tacos out of the oven and place on a heat-protective pad on your table.

Each person takes a taco and loads it up with onion, cheese, and salad. Top with your favorite taco sauce. Remember that you will eat the tacos with your hands, so do not overload or they will split apart.
Salad Instructions:
Make enough salad to fill four (4) or more tacos.

In a large bowl, combine lettuce, tomatoes, cucumbers, avocado, salt, and pepper; refrigerate until ready to serve.
Garnishes Instructions:
To prepare garnishes ahead of time, cover and refrigerate until ready to serve.
Recipe Notes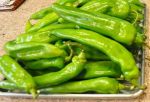 * Karen likes to use organic 85/15 ground beef.
** Learn how to prepare and store Hatch Chile Peppers.
*** You may use purchased corn tortillas, but you can also learn How To Make Corn Tortillas.
Comments and Reviews