Black Valentine Beans with Chile Pepper is a simple preparation that allows the rich nuttiness of these fabulous beans to really shine!
Once your tried these wonderful beans, they will be your new favorite.  If you source them very fresh from a grower, there is no need to soak them before cooking.  If using beans older than 1 year, soak the beans for at least 2 hours, or overnight before cooking; drain off soaking water before cooking.  Check out Dried Bean Hints and Tips.
This delicious recipe and photos were shared with me by Karen Calanchini, Food Stylelist and Photographer, of Redding, CA.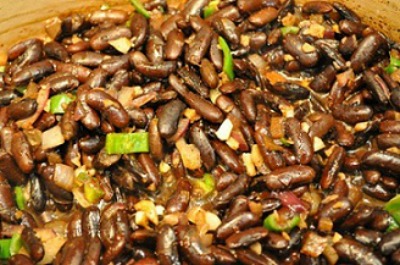 Black Valentine Beans with Chile Pepper Recipe:
Keyword:
Black Valentine Beans with Chile Pepper Recipe
Instructions
Cook Black Valentine Beans according to grower's instructions on the package, until just almost done. Also read Basic Bean Recipe for Cooking Beans to help you cook your dried beans. Remove from heat, drain, and set aside.

In a medium-size pot over medium-high heat, add olive oil and saute the red onions, yellow onions, garlic, and chile pepper approximately 1 minute.

Reduce heat to low. Add the black beans, 1/2 cup chicken/turkey stock, salt, and pepper to taste. Cook until beans are cooked to your liking, approximately 45 minutes to 1 hour until the beans have a meaty texture (not soft or mushy). Add additional salt and pepper to taste, if desired. NOTE: Watch beans carefully as they cook. You may need to add more chicken/turkey stock, as needed, to continue the cooking process.

Serve in individual soup bowls sprinkled with green onions on top and fresh lime wedges on the side.

Serves 4 to 6 as a side dish.
Recipe Notes
* Heirloom Black Valentine beans are the best black beans available.  They are a nice solid bean with a meaty texture and a rich, nutty flavor.  
** Use a green chile pepper of your choice. Jalapeno chile peppers will add heat and banana chile peppers will add a bit of sweetness.  Or for a milder heat, use a New Mexico red chile pepper, Hatch Chile Peppers, roasted first, then peeled and seeded.  Of course, you may also use any color of bell pepper to add flavor without adding the heat.
*** Learn how easy it is to make your own homemade chicken stock.
Comments and Reviews