Butternut Squash Puree with Fresh Lemon recipe is an delicious and unique way for your family to enjoy the wonderful taste of butternut squash.  Roasting squash creates a velvety texture with a sweet, nutty flavor, kind of like a sweet potato puree.  The fresh lemon is also a wonderful addition.
This easy-to-make squash recipe, comments, and photos were shared with me by Karen Calanchini, Food Stylist and Photographer, of Redding, CA.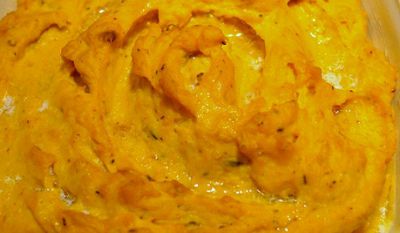 Learn about Squash Hints, Tips, and Information, and more delicious Squash Recipes.  Also check out What's Cooking America's delicious Butternut Squash Quick Bread using this squash puree.
Butternut Squash Puree with Fresh Lemon Recipe:
Keyword:
Butternut Squash Puree with Fresh Lemon Recipe
Ingredients
1

medium-size

butternut squash*

1/2

small head (bulb) of

garlic
Olive oil,

smoked**

Coarse salt

or sea salt and freshly-ground black pepper

1

teaspoon

thyme,

dried, crushed with you fingers

Zest

and juice of 1 large lemon

3

tablespoons

butter,

softened

1/4

cup

cream

1

tablespoon

mustard,

coarse-grain

1

tablespoon

parsley,

fresh, chopped (plus a little more for garnish)

Butter
Instructions
Preheat oven to 350 degrees F. Lightly grease a cookie sheet.

Slice the stem off the top of the butternut squash and discard. Using a good vegetable peeler that is able to cut through the tough skin of the squash, peel the squash and discard the peels. Cut the butternut squash in half, remove and discard seeds.

Peel off the skin, and chop the butternut squash into 1-inch dice.

Peel away the outer layers of skin of the garlic bulb, leaving the skins of the individual cloves intact; leave garlic bulb whole. Using a sharp knife, slice 1/2-inch off of the pointed end of the garlic bulbs, exposing the individual cloves of garlic.

Place prepared squash and garlic (cut side facing down) on prepared cookie sheet. Drizzle with smoked olive oil. Sprinkle with salt and pepper to taste. Sprinkle thyme, lemon zest, and lemon juice over the top; mix well. Bake approximately 1 hour. Test with a fork for doneness (you want the squash to be well done and just starting to brown). Remove from oven and let the squash and garlic cool slightly. Learn more about Roasting Garlic.

Squeeze the roasted garlic out of their skins and into a food processor. Add the cooked squash, 3 tablespoons butter, cream, mustard, and parsley. Process until the squash and garlic are smooth. If necessary, add additional cream if needed.

Place squash mixture into a baking dish, dot with butter, and place into the oven to heat just until the butter has melted and the squash mixture is heated through.

To serve, garnish with chopped parsley.
Recipe Notes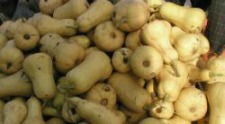 *  Butternut Squash is easily found in supermarkets.  Beige colored and shaped like a vase or a bell.  This is a more watery squash and tastes somewhat similar to sweet potatoes.  Butternut Squash has a bulbous end and pale creamy skin, with a fine-textured, deep-orange flesh with a sweet, nutty flavor.  Some people say it is like butterscotch.
** If smoked olive oil is not available in your area, try another flavored olive oil such as hazelnut, walnut, almond, or even regular olive olive.
Comments and Reviews