Butternut Squash Quick Bread  
Butternut Squash Bread is so very moist and delicious- I could not stop eating this bread!
Butternut Squash Bread is a moist and delicious quick bread with just the right amount of sweetness. I love to make quick bread in the fall to enjoy as an afternoon pickup, or if I can manage to save some leftovers, then I can enjoy with my morning coffee.
My husband's garden produced an abundance of butternut squash this year.  These squash were very large and weighed over 6 pounds each.  Since they were too large for the two of us to just bake and eat, I cooked them up and made a Butternut Squash Puree to use in several recipes. As you can see I got the idea to use the butternut squash puree in a quick bread instead of pumpkin and the results were fantastic! Once I pulled the bread out of the oven and sliced it up to serve, it disappeared rapidly! Spread a little butter on the warm slices of bread and you have perfection.
Learn about Squash Hints, Tips, and Information, and here for more Squash Recipes and Bread Recipes.
Check out Linda's Bread Making Hints: Secrets to using the bread machine, About yeast in bread making, Sourdough Starter, and Quick Breads.
Butternut Squash Bread Recipe:
Butternut Squash Bread Recipe
Ingredients:
1 1/2 cups all-purpose flour
1 teaspoon baking soda
1/2 teaspoon salt
1/2 teaspoon ground cinnamon
1/2 teaspoon ground cloves
1/2 teaspoon ground nutmeg
1/2 teaspoon ground allspice
1/4 teaspoon ground ginger
1 cup butternut squash puree*
1 cup granulated sugar
1/2 cup vegetable oil (I used part vegetable oil and part olive oil)
2 large eggs, beaten
1/4 cup water
1/2 cup toasted chopped walnuts or pecans (or your favorite nuts)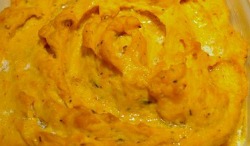 * To Make Butternut Squash Puree: Cut butternut squash in half lengthwise and remove seeds. Place squash, cut side down, in a shallow pan on aluminum foil or Silpat-lined baking sheet. Bake at 350 degrees F. until squash is soft, approximately 45 to 60 minutes (depending on the size of your squash). Remove from oven and let cool. When cool, scoop out the cooked flesh/pulp (discarding the shell), place the pulp in a food processor and process until smooth. Measure out the amount you need for this recipe, and reserve any remaining pulp (either in the refrigerator or freeze) for other uses. NOTE: This Butternut Squash Puree may be substituted in any recipe that calls for pumpkin puree.
Instructions:
Preheat oven to 350 degrees F. Place oven rack in center of oven. Generously grease a 9x5-inch loaf pans. In a medium bowl, sift together the flour, baking soda, salt, cinnamon, cloves, nutmeg, allspice, and ginger; set aside.
In a large bowl, combine butternut squash puree, sugar, vegetable oil, eggs, and water until well blended. Add the flour mixture and stir until just blended. Lightly stir in the chopped nuts.
Pour batter into prepared loaf pan and bake 50 to 60 minutes or until a toothpick inserted in the center comes out clean. NOTE: Be sure and poke the toothpick already to the center of the loaf. A good check is to use an instant digital thermometer to test your bread. The internal temperature of the bread should be at 200 degrees F. when done.

This is the type of cooking and meat thermometer that I prefer and use in my cooking. I get many readers asking what cooking/meat thermometer that I prefer and use in my cooking and baking. I, personally, use the Thermapen Thermometer shown in the photo on the right. Originally designed for professional users, the Super-Fast Thermapen Thermometer is used by chefs all over the world.
Remove from oven and cool on a wire rack 10 minutes; remove from pan. Cool completely before slicing.
Storage: Breads that contain fruit, nuts, or butter may be stored for 2 or 3 days, well wrapped in plastic wrap or aluminum foil. May be frozen for longer storage. After thawing frozen breads, reheat them in a 400 degree F. oven for a few minutes before serving.
Makes 1 loaf.
https://whatscookingamerica.net/Bread/ButternutSquashBread.htm
Older Comments from readers:
I have made your Butternut Squash Bread recipe several times now, and get great compliments on it every time.  I am giving loaves of out this Christmas to the neighbors, mailman, etc.  Excellent recipe!  Thanks for posting it.  (I even used the accompanying Squash Puree recipe to make my own puree.  Thanks for that, too.) – Shelly
Thanks to your website for the best quick bread recipe ever!   I recently made the Butternut Squash Bread recipe and it was a huge hit.  I have made a total of 6 loaves and have enough frozen squash for much more.  I plan to use this recipe for making gifts for many years to come.  I have been checking out your site again today and have found lots more recipes to try.  
Thank you – Julie Hamilton

Comments and Reviews