Melt-In-Your-Mouth Pot Roast has so many lovely flavors going on.  It is one of those great recipes you can fix, throw in the oven, and forget about for 3 or 4 hours. This is a perfect beef dish to serve during the beautiful Fall weather and is also company worthy.  I like to serve with a hearty red wine and some crusty bread to sop up the wonderful gravy.
This tender and tasty Melt-In-Your-Mouth Pot Roast  recipe, comments, and photos were shared with my by Karen Calanchini, Food Stylist and Photographer, of Redding, CA.  Karen adapted this recipe from the cookbook, Barefoot Contessa Back to Basics, by Ina Garten.
More delicious Beef Recipes using various cuts of beef.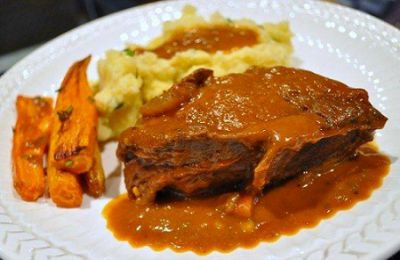 Melt-In-Your-Mouth Pot Roast Recipe:
Keyword:
Melt-In-Your-Mouth Pot Roast Recipe
Servings
:
6
to 8 servings
Ingredients
1

(4 to 5-pound)

7-bone chuck roast,

bone-in*

Coarse salt

or Kosher salt and freshly-ground black pepper

Flour,

all-purpose

Olive oil,

good-quality

2

cups (4 carrots)

carrots,

chopped

2

cups (2 onions)

yellow onion,

chopped

2

cups (4 stalks)

celery,

chopped

2

cups (2 to 4 leeks)

leeks,

chopped, white and light green parts

5

large

garlic

cloves, peeled and crushed

2

cups

red wine

(I used a good Shiraz)

2

tablespoons

brandy

or Cognac

1

(28-ounce) can

crushed tomatoes

1

cup

chicken stock,

preferably homemade*

1

cube

chicken bouillon

3

branches

thyme,

fresh

2

branches

rosemary,

fresh

1

tablespoon

butter,

unsalted, at room temperature
Instructions
Preheat the oven to 325 degrees F.

Pat the roast dry with paper towels. Sprinkle and rub the roast, on all sides, with 1 tablespoon salt and 1 1/2 teaspoons pepper. Dredge or rub the whole roast with the flour, including the ends.

In a large Dutch Oven, heat 2 tablespoons olive oil over medium heat. Add the prepared roast and sear for 4 to 5 minutes, until nicely browned. Turn and sear the other side and then turn and sear the ends. This should take 4 to 5 minutes for each side. Remove the roast to a large plate and set aside.

Add 2 tablespoons olive oil to the Dutch oven. Add the carrots, onions, celery, leeks, garlic, 1 tablespoon salt, and 1 1/2 teaspoons pepper; cook over medium heat for 10 to 15 minutes, stirring occasionally, until vegetables are tender but not browned. Add the wine and Cognac; bring to a boil. Add the tomatoes, chicken stock, bouillon cube, 2 teaspoons salt, and 1 teaspoon pepper. Tie the thyme and rosemary together with kitchen string and add to the pot.

Place the browned pot roast back into the pot, bring just to a boil and then cover. Place in the oven for approximately 2 1/2 to 3 1/2 hours or until the meat is fork tender or about 160 degrees F. internally. Turn the heat down to 250 degrees F. after about an hour to keep the sauce at a simmer.

Note from Karen: I cooked the pot roast for the 2 1/2 hours as suggested by Ina. When I checked my meat, it was beginning to fall away from the bone, but when I tasted it, it was chewy and a bit dry. So I left it in for another hour. The meat was very moist and tender.



Remove the roast to a cutting board. Remove the herb bundle and discard. Skim off as much fat as possible from the sauce. Transfer half the sauce and vegetables to a blender or a food processor fitted with the steel blade and puree until smooth. Pour the puree back into the pot, place on the stovetop over low heat, and return the sauce to a simmer.

Place 2 tablespoons flour and the butter in a small bowl and mash them together with a fork. Stir into the sauce and simmer for 2 minutes, stirring until thickened. Taste for seasonings. Remove the strings from the roast, and slice the meat.

Serve warm with the sauce spooned over it.

Serve this with Garlic Mashed potatoes with fresh garlic chives, and oven roasted carrots with fresh rosemary and Thyme.
Recipe Notes
* It is helpful if you tie your 7-bone roast to keep it from falling apart when you remove it after cooking.
**  Learn how easy it is to make homemade chicken stock/broth.
Comments and Reviews