This comforting and tasty Country-Style Pork Ribs with Sauerkraut dish really hits the spot!  It is easy to prepare and smells so wonderful while cooking.  Be sure to purchase very meaty, bone-in country style ribs.  The bone offers a lot of flavor and the ribs remain moist.
Excellent served with young roasted carrots and steamed potatoes garnished with butter and parsley.  The Kale Caesar Salad with baby kale is also a great side for this hearty dish.
This delicious Country-Style Pork Ribs with Sauerkraut recipe, comments, and photos were shared with me by Karen Calanchini, Food Stylist and Photographer, of Redding, CA.
More great Pork Recipes and also Pork Ribs/Sparerib Tips.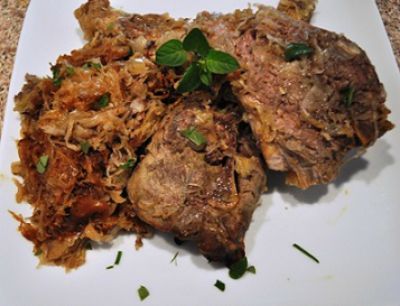 Country-Style Pork Ribs with Sauerkraut Recipe:
Keyword:
Country-Style Pork Ribs with Sauerkraut Recipe
Servings
:
4
to 6 servings
Ingredients
1

(32-ounce) jar of home-style

sauerkraut*

1

cup

applesauce,

unsweetened (homemade is best)

3

tablespoons

brown sugar

3

teaspoons

caraway seeds

6

pork ribs,

bone-in-country-style, any visible fat removed**

2

tablespoons

olive oil
Coarse salt

and freshly-ground black pepper to taste

2

medium

onions,

chopped

4 to 5

garlic

cloves, chopped
Instructions
Preheat oven to 350 degrees F.

In a large bowl, combine sauerkraut, applesauce, brown sugar, and caraway seeds. Add pepper to taste and set aside until ready to use.

Dry pork ribs with a paper towel and then sprinkle salt and pepper on both sides (not too much salt because there's plenty in the sauerkraut).

Heat olive oil in a large pot or cast iron Dutch oven over medium heat. Brown the pork ribs in batches (on both sides) to a nice golden brown. Do not crowd the pork ribs in the pan. Remove browned ribs to a plate and continue browning the remaining ribs. When all the pork ribs are browned; set aside on a plate until ready to use.

Add chopped onion and saute until almost soft. Add garlic and saute until fragrant. Sprinkle a little salt over the onion/garlic, mixing well.

Remove 1/2 of the onion mixture and set aside in a bowl, leave the remaining 1/2 onion mixture in the Dutch Oven. Layer 3 of the browned ribs on top of the onion mixture. Layer 1/2 the sauerkraut mixture over the ribs. Repeat layering with remaining 3 browned ribs, ending with the sauerkraut mixture.

Cover and bake approximately 2 hours. Remove lid and bake an additional 1 hour or the until ribs are tender. Meat should be tender and beginning to fall away from the bones.

When removing cooked meat, use a large spatula or spoon, trying to keep the meat and bone fairly intact, if you want to make a pretty presentation.
Recipe Notes
* The sauerkraut can be rinsed or not, depending on your taste for "sour," and the sweetness level also can be adjusted.
** Country-style pork ribs are cut from the sirloin or rib end of the pork loin, which are the meatiest variety of ribs.  These ribs are sold either as slabs or in individual servings.
Comments and Reviews